Since I began investing in earnest back in 2011 one company that I've had my eye on has been CVS Health Corporation (NYSE:CVS). However, for some reason or another the stars never aligned to where I had ample cash and shares of CVS were trading at a good valuation.
That's starting to change now though as CVS has severely lagged the S&P 500 this year and especially since May. Year to date the S&P 500 has climbed higher by 4.6% while CVS has declined over 16%.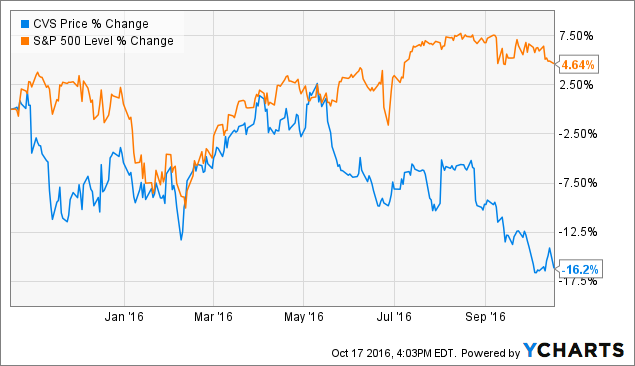 Some investors might be concerned to see that kind of underperformance; however, value investors should start getting interested. CVS' underwhelming share price this year has been largely due to the valuation coming back in check rather than something fundamentally wrong with the business.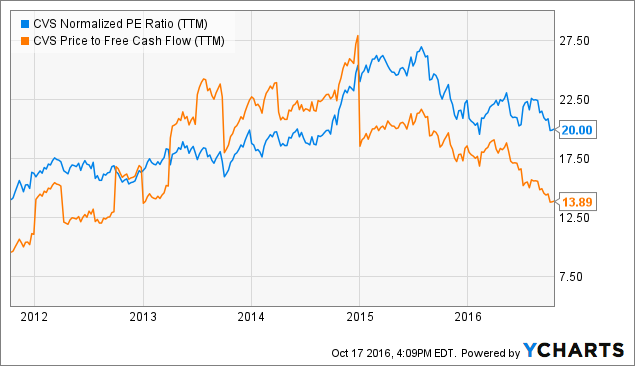 CVS Normalized PE Ratio (NYSE:TTM) data by YCharts
Let's see what the numbers say regarding the quality of CVS Health Corporation as a dividend growth investment.
Dividend History
For starters a dividend growth investment must do two things: pay AND grow the dividend payment. I primarily invest in companies that have paid and grown dividends since at least the last economic malady which would be 2007-2009. Companies that continued to pay and grow their dividend during that time have a high likelihood of having a strong competitive advantage that will allow them to continue growing the dividend payment in the future.
CVS Health Corporation has increased dividends for 13 consecutive years giving them the title of Dividend Contender. That said, CVS has paid the same or higher dividends since 1997 with a 4 year pause in dividend growth from 2000-2003. Even better is that based on the recent past investors can expect a raise to be announced in December.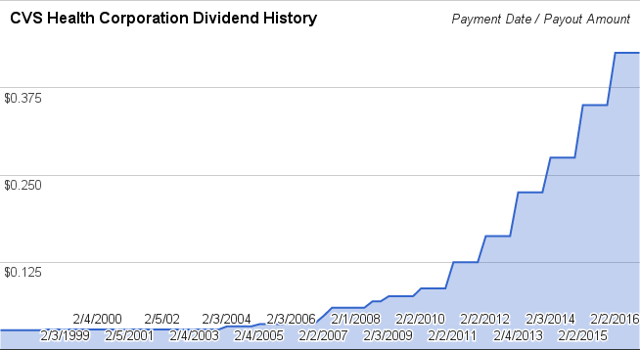 *Image source: Author. Data Source: CVS Investor Relations.
**An interactive version of this chart can be found here.
CVS has in fact grown the dividend every year starting in 2004. Even better though is the very generous raises that CVS' management has given to shareholders.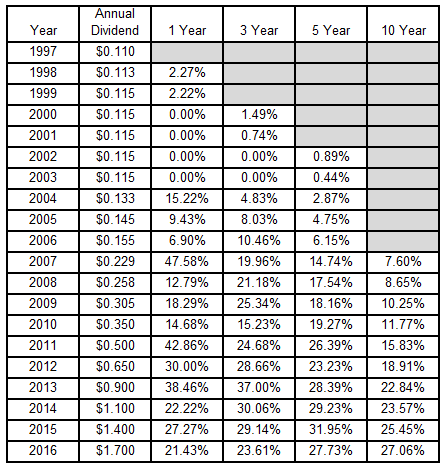 *Image source: Author. Data source: CVS Investor Relations.
**An interactive, graphical version of this table can be found here.
CVS' streak might not be as long as other companies; however, the pace of growth is truly impressive. Every year since 2007 the one year dividend growth rate has been greater than 10%.
It's All In The Numbers
Judging the quality of a company is a very subjective task. Some look at credit ratings, some try to gauge the management, others focus on the business model. The strength of a business model shows up in the numbers that they report.
I prefer to take a cash flow oriented approach in analyzing the numbers since the income statement can be hit with various non-cash charges and frankly, it can be adjusted a bit more than cash flow.
CVS has done an excellent job growing revenue over the last decade and has increased it 4-fold between 2005 and 2015. As such operating and free cash flow have likewise seen a boost.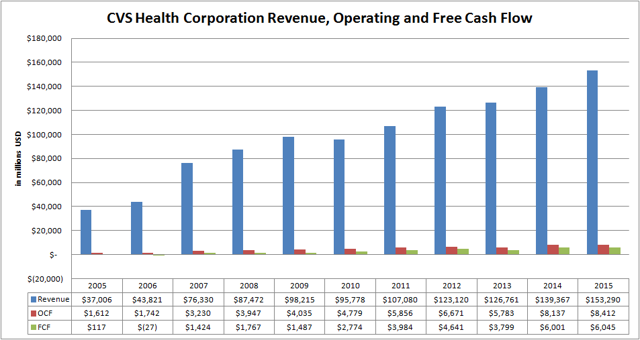 Unfortunately, being in the quick stop convenience store space CVS' margins are razor thin. Although the good news for investors is that cash flow margins have been improving, signaling better efficiencies throughout their operations.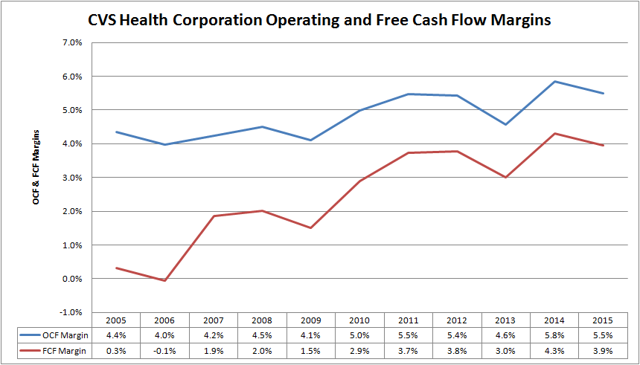 Free cash flow is the life blood of a company -- without it, any company, would be hard-pressed to find investors of any variety. That's why I like to look at 3 variations of free cash flow to see how much cash CVS has at its disposal at various steps in the capital allocation process.
Free Cash Flow, FCF - The traditional calculation for free cash flow of operating cash flow less capital expenditures.
Free Cash Flow after Dividend, FCFaD - FCF less the total amount of cash dividend payments.
Free Cash Flow after Dividend and Buybacks, FCFaDB - FCFaD less the net cash used for buybacks.
Companies that are free cash flow positive at all 3 steps have excess cash coming into their coffers. That excess cash can then fuel further expansion of the business, higher dividend payments, more share buybacks, reduce debt or to just stock up cash while investigating other opportunities.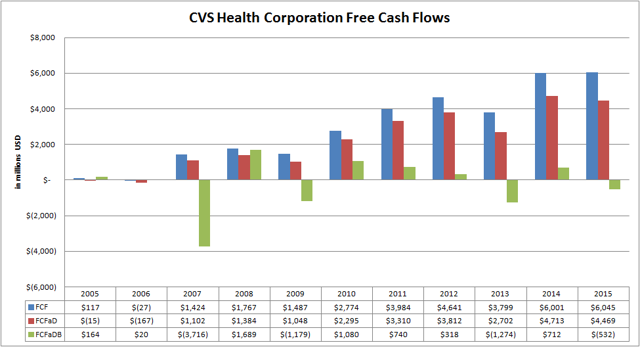 Back in 2005 and 2006 CVS' free cash flow was tight to non-existent. However, starting in 2007 CVS has done a wonderful job growing free cash flow with over $6B in 2015.
CVS generates plenty of excess free cash flow to pay and grow their dividend payment. For 2015 the total cash dividend payment came to $1,576M compared to free cash flow of $6,045M. That works out to CVS paying out only 26% of free cash flow via dividend, suggesting that the dividend is extremely well covered and has plenty of room to continue to grow with nearly $4,500M of excess free cash flow in 2015.
CVS has been using all, and then some, of their excess free cash after paying the dividend to repurchase shares. That can be seen by the several negative FCFaDB values. Cumulatively over the entire period CVS is FCFaDB negative to the tune of $1,978M. Over the last 5 years, though, CVS is only negative $36M, which is good to see.
Is The Valuation Right?
To me I think it's pretty clear that CVS is a high quality company that has a high likelihood to continue to grow the business and in turn grow their dividend payment to owners. However, a great company can still make for a bad investment if you're lax in your valuation guidelines.
If you recall from the earlier YCharts P/E ratio graph, the current P/E ratio sits around 20x on a TTM basis. According to Morningstar the 5-year average P/E ratio for CVS is around 18.8. Based on this the share price is slightly overvalued compared to what investors have hsitorically been willing to price CVS at.
This gives us a rough guideline for possible future P/E valuations that investors can expect going forward. That jives well with my personal maximum P/E as a buyer of CVS shares, which works out to 19.15.
We've identified a quality company in CVS; however, the problem now comes to determining a purchase price for shares. One method that I like to use is to estimate future earnings and dividends and look at varying future P/E multiples and calculating the internal rate of return on the future. Obviously this analysis is no sure thing since we're dealing with the future although if we use reasonable, but conservative, estimates for the growth potential of CVS we should arrive at a reasonable expected return range.
On average, analysts expect CVS to earn $5.86 in 2016, $6.54 in 2017 and to grow earnings 12.74% per year for the next 5 years on the whole. Moving forward from there I've assumed that CVS will grow earnings at just 3% per year which is admittedly a bit conservative.
For 2016, CVS will pay $1.70 via dividends putting the payout ratio at 29%. I've assumed that CVS will continue to pay 29% of earnings via dividends at the same intervals as they have historically with raises coming for the February payment each year.
For slower growing companies I typically aim for a 9-10% internal rate of return; however, CVS has a much larger growth runway with analysts projecting over 14% earnings growth over the next 5 years. Since the current yield is sitting around 2.0% and much of the future returns will be due to growth, I target a higher internal rate of return. That allows for a margin of safety in case the growth doesn't quite pan out as expected.
The following table shows the price targets assuming a purchase on October 18 and varying future P/E ratios for CVS. Returns include expected dividend payments and growth.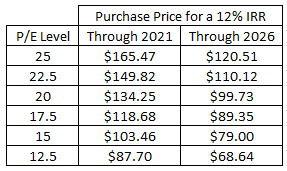 We see fairly high price targets to generate a 12% internal rate of return thanks to the high rate of expected earnings and dividend growth. Even in the case where the future P/E is only 12.5x, almost 40% P/E compression, the current price still supports a purchase at this level through the end of 2021.
Once we incorporate a slower growth period, 2022 through 2026, with earnings and dividends growing just 3% per year, the price targets shift down dramatically. Although it's a bit reassuring to see that you could still "lose" over 12% of your returns due to valuation in the case of a 17.5x P/E and still generate a 12% internal rate of return.
Analysts are notoriously great at being wrong in their projections, although admittedly that's understandable considering the millions of variables that go into any growth forecast for a company. As such I wanted to look at what the price targets would be based on a lower 5 year growth estimate of 10.5%, the low earnings growth forecast according to analysts. I've also increased the second 5 year growth rate to 4% since 3% is likely low given the growth trajectory for CVS.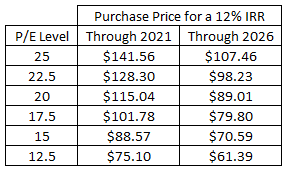 In this lower growth scenario the current share price around $87 still supports a P/E ratio down to 15x through 2021. Looking out further to 2026 the current share price still supports a 12% internal rate of return assuming a 20x P/E ratio based on 2026 earnings.
Conclusion
CVS' share price has severely lagged the general market throughout the second half of this year. However, that's exactly what value investors want to see in the companies they're interested in purchasing.
I think it's pretty apparent that CVS is a high quality company and the decline in share price has set investors up for attractive long term returns.
CVS's share price is trading at a valuation where investors won't be crushed by excessive valuation compression although much of the returns and dividend growth are reliant on CVS maintaining a high growth rate into the future. CVS is trading at a fair valuation and offers investors an attractive return scenario even in a lower growth environment.
The dividend yield is a bit low for many dividend growth investors. However, keep in mind that this analysis does assume a constant payout ratio although there's the possibility, or likelihood, of expansion in the payout ratio that will allow for even faster dividend growth than earnings growth would support.
Given the valuation, growth prospects and likelihood of continued mid-teen annual raises, CVS deserves a place in dividend growth investors' portfolios. Unfortunately, I'm sitting on little to no cash so CVS will elude my portfolio once again. This just reinforces my desire/need to hold a larger cash position.
Disclosure: I/we have no positions in any stocks mentioned, but may initiate a long position in CVS over the next 72 hours.
I wrote this article myself, and it expresses my own opinions. I am not receiving compensation for it (other than from Seeking Alpha). I have no business relationship with any company whose stock is mentioned in this article.
Additional disclosure: I am not a financial professional. Please consult an investment advisor and do your own due diligence prior to investing. Investing involves risks. All thoughts/ideas presented in this article are the opinions of the author and should not be taken as investment advice.