Nearly a year ago, I wrote about a 70% upside opportunity for Kohl's Corp. (NYSE:KSS). Unfortunately, since then, the stock price has dropped from $47.45 to $43.11 per share, or by 9%. However, the company has paid dividends over the last four quarters. Adding the accumulated dividends during this period results in a total performance of-4.6%.
You can read my previous article here.
Now I am going to make a revision of my initial recommendation.
Diagram 1.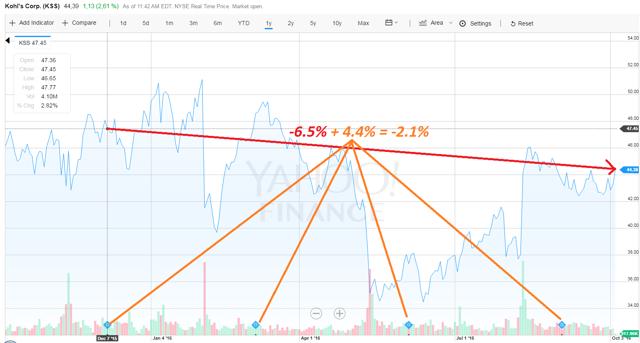 (Source: Yahoo Finance)
Trends
The truth is, I do not see any positive signs for Kohl's Corp. As you can see from Diagram 2, all margins have been declining over the last few years. The net profit margin has been sliced twice since 2012. The LTM value of 3.0% indicates that the business model is less efficient than Target Corp.'s (NYSE:TGT) or TJX Companies' (NYSE:TJX) (they have shown net profit margins of 4.6% and 7.2%, respectively). Despite the fact that these companies are not department store chains, they are the main competitors of Kohl's Corp.
The growth metrics are also unpleasant. The FY2016 increase in revenue of 1% was squeezed out by decreasing margins. At the moment, the company's recent 10-Q indicates that the three-month sales have fallen by ~2%, while the six-month revenue has fallen by more than 2.8%. I do not put my faith into the upcoming December sales figures. Hence, I see the full-year revenue down by 2.5% relative to the previous fiscal year.
The operating working capital management has also worsened. As you can see from Diagram 4, the cash conversion cycle has increased by more than 10 days in FY2016. The main reasons for that were the stretching days of inventory on hand and days of payables, which have increased by around 5 days each. This means that Kohl' s Corp. has significant problems with its suppliers. I also suggest that the declining margins are the outcome of poor working capital management.
Finally, the operating cash flows are also under pressure. In FY2016, they have decreased by more than 27% (see Diagram 5). One of the reasons of that is the company's generous shareholder compensation policy(read dividends and buybacks). As you can see in Diagram 6, the total cash outflow totaled 152% of free cash flow in FY2016. I am very skeptical about paying more than 100% of free cash flows even in good times. I suggest that neither the net profit nor the operating cash flows will increase significantly in the future as most of the existing cash is being distributed, not reinvested.
Diagram 2.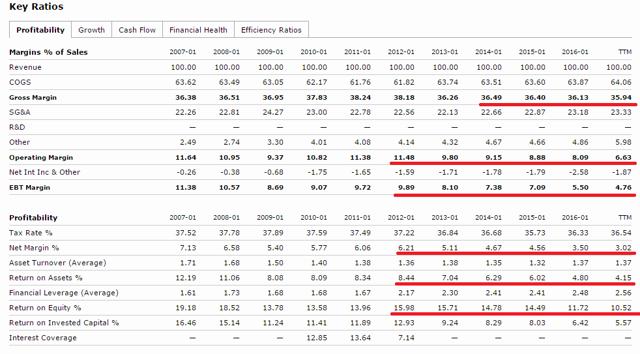 (Source: Morningstar.com)
Diagram 3.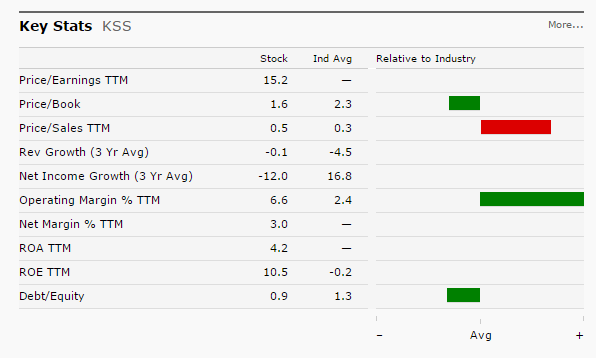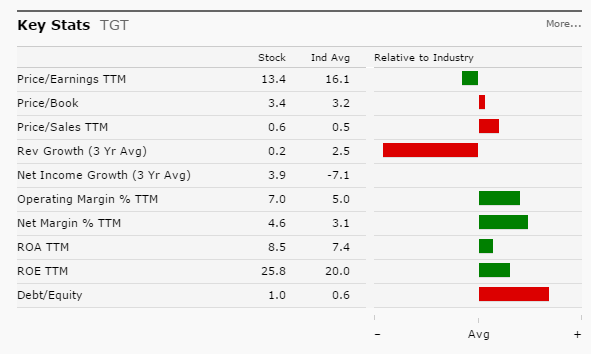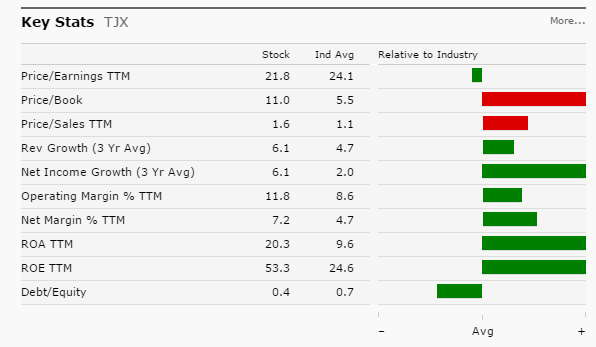 (Source: Morningstar.com)
Diagram 4.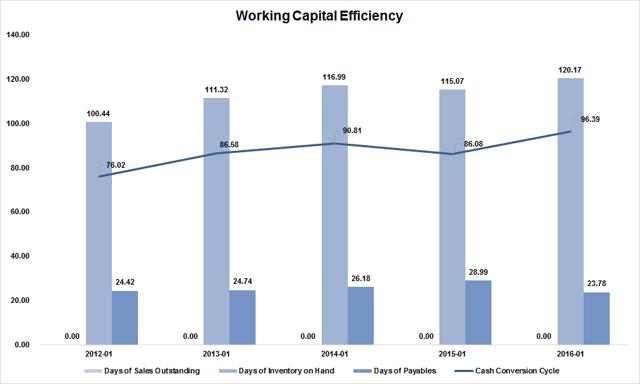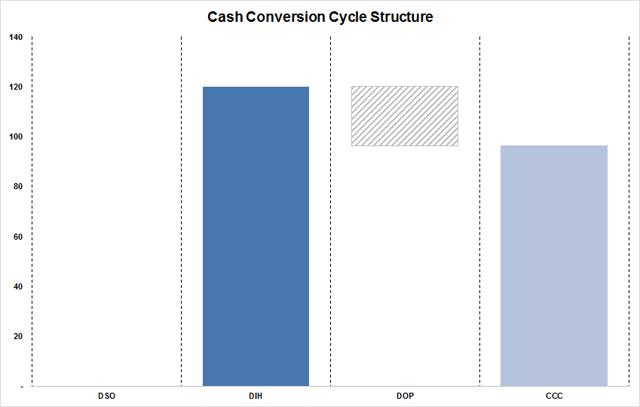 (Source: 10-K and 10-Q of Kohl's Corp., author's calculations)
Diagram 5.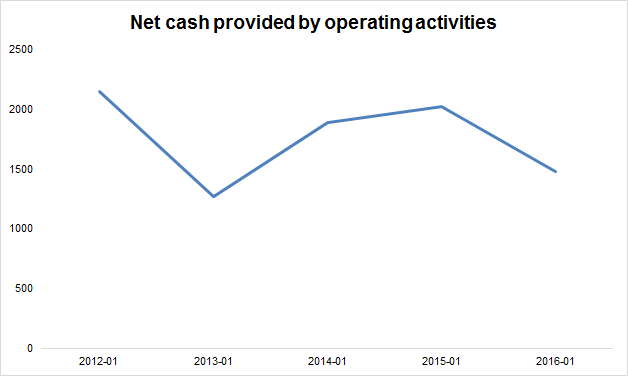 (Source: Morningstar.com)
Diagram 6.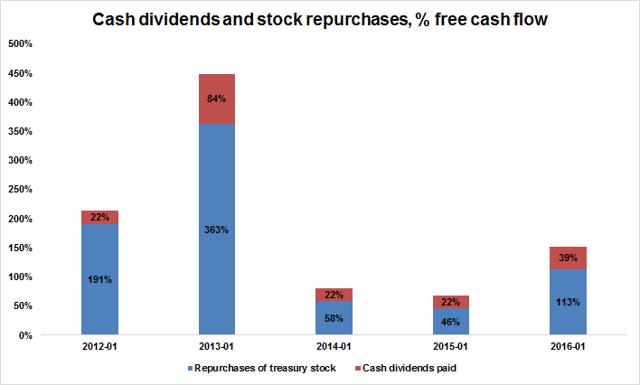 (Source: Morningstar.com, author's calculations)
According to the above information, it is clear that Kohl's Corp. has less opportunity for growth going forward than initially though a year ago. On the other hand, I do not think that there are good or bad companies - I think that there are good and bad prices paid for the companies. The stock has declined a lot over the last twelve months, indicating that there may be opportunities for value investing. Let the valuation part decide whether this stock is worth buying now or not.
DCF analysis
My DCF model is presented in Diagram 7. In Diagram 8, you can see how different metrics of the company are expected to change during this period. I have made and revised several assumptions, which can be seen in the "Assumptions" tab of my Excel file.
My model shows that, after subtracting the market value of debt, minority interest, adding back cash and investments, and other issues the market value of equity is around $10.5B in the Base scenario. Consequently, the stock's fair value is around $56 per share. It is more than 24% lower than my previous estimates. However, it is still 30% higher than current stock price ($43.11 per share).
Diagram 7.

(Source: data - Morningstar.com, DCF model by author)
Diagram 8.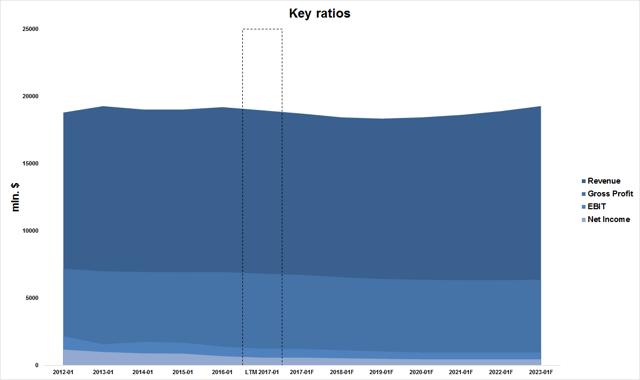 (Source: data - Morningstar.com, model by author)
Sensitivity Analysis
My DCF analysis is based on a number of assumptions, which create a certain expectation of the share price. However, we need to see the entire picture and derive a range of possible prices. A few assumptions about WACC and the Terminal EV/EBITDA multiple give a plausible price range of $50 - $63 per share. It means that the stock has an upside opportunity of 16% - 46%.
Diagram 9.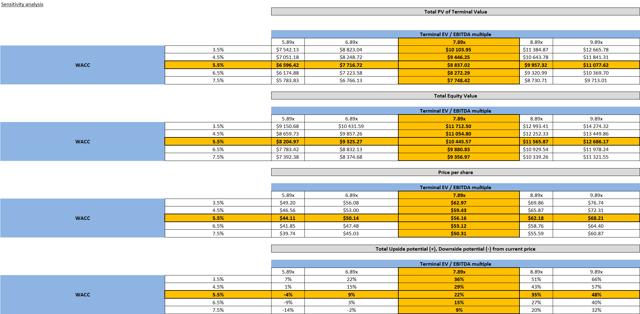 (Source: data - Morningstar.com, model by author)
Comparative Analysis
My comparative analysis is based on four key ratios: P/E, P/S, P/BV, and EV/EBITDA (see Diagram 10). The P/E, P/S, and P/BV ratios indicate that the stock is significantly undervalued. Kohl's Corp.'s current EV/EBITDA multiple is 5.4x, which is 33% lower than industry's average of 7.9x (according to Damodaran). Hence, the stock seems undervalued.
Diagram 10.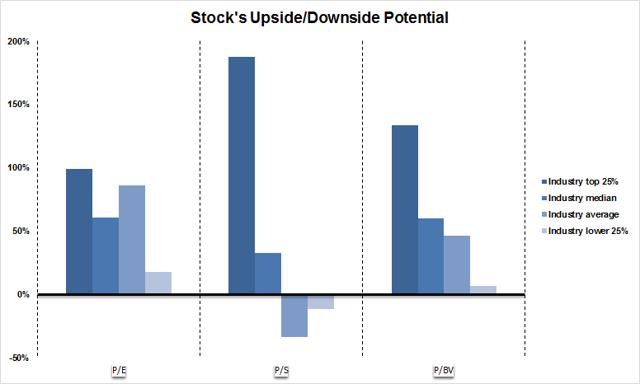 (Source: data - Morningstar.com, infographics by author)
Zero-growth analysis
The Zero-growth analysis has been described in one of my latest articles. You can read more about it here.
According to this analysis, the current stock price shows a good margin of safety. The valuation gives a fair market value of equity of $27.6B, which translates into a fair price of $148 per share. This price level is ~225% higher than the current level. If we only use net income in the numerator, the result will be ~$56 per share, which is 30% higher than the current price.
Recommendation
Despite the problems with growth in top line, declining margins, worsened working capital management, and decreasing operating cash flows, Kohl's Corp. looks attractive from the valuation's standpoint. As there are only good and bad prices in the market, I reiterated my BUY recommendation on this stock. The target price range is lowered to $50 - $63 per share.
Disclosure: I/we have no positions in any stocks mentioned, and no plans to initiate any positions within the next 72 hours.
I wrote this article myself, and it expresses my own opinions. I am not receiving compensation for it (other than from Seeking Alpha). I have no business relationship with any company whose stock is mentioned in this article.