Much like the Canadian banking sector, Canadian telecoms operate in an oligopoly dominated by a few key players. These companies are Telus (NYSE:TU), Rogers (NYSE:RCI), and Bell (NYSE:BCE).
Telus is my personal favorite among these stocks, and as such I've decided to share my investment thesis.
Note: All prices and other information is in Canadian dollars unless otherwise specified.
Business Overview
I always like to start any financial analysis with a business overview, preferably from the company's shareholder documents. The purpose of this is to give my readers an understanding of Telus's business model, straight from the horse's mouth -- this takes out the possibility of mis-representation on my part.
"TELUS is Canada's fastest-growing national telecommunications company, with $12.5 billion of annual revenue and 12.5 million customer connections, including 8.5 million wireless subscribers, 1.5 million residential network access lines, 1.6 million high-speed Internet subscribers and 1.0 million TELUS TV ® customers. TELUS provides a wide range of communications products and services, including wireless, data, Internet protocol (NYSE:IP), voice, television, entertainment and video, and is Canada's largest healthcare IT provider." - 2015 Annual Report
In my eyes, there is one major point that differentiate Telus from Bell and Rogers -- a focus on customer satisfaction.
Telecommunication companies are generally accepted to be painful to deal with. We've all had issues with either our cell phones, our internet, or our television that have proven painful to resolve. Telus is focused on fixing this issue, and in their last annual report they write that one of their 2015 highlights was "a decrease in customer complaints, for the fourth consecutive year, in the annual Commissioner for Complaints for Telecommunications Services report. Since 2011, the number of complaints directed at TELUS has dropped by 66 per cent." Telus also noted in the same document that their customers' likelihood-to-recommend (L2R) increased to 73%, the highest in their history.
By focusing on customer satisfaction, Telus is developing a competitive advantage and a sticky, positive reputation for putting customers first. This should pay off in the long run.
Now, onto the investment thesis.
Key Stats
Stock Price: $42.80
Market Cap: $25.32B
Price-to-Earnings Ratio: 17.98
Price-to-Book Ratio: 3.11
Dividend Yield: 4.31%
Dividend Payout Ratio: 73.95%
Returning Cash to Shareholders
Corporate management can return cash to shareholders in two ways: dividends and share buybacks. We will see that Telus delivers on both fronts.
First, the dividend. Telus has a healthy dividend yield and a low payout ratio relative to their peer group, which I will prove empirically later in this analysis. Right now I want to focus on their dividend growth prospects. To begin, they have a fantastic track record -- double digit dividend growth over the past decade. This has continued in recent times, as well -- in their 2015 annual report, Telus management guided for a 10% dividend increase in 2016 (which they achieved in the first quarter).
One thing I love about Telus is their clear communication of their dividend policy with shareholders. You can find it on their investor relations website here, but to summarize, it says: "TELUS announced its intention to target ongoing semi-annual dividend increases, with the annual increase in the range of 7% to 10%...to the end of 2019."
Morningstar has famously theorized that dividend yield plus dividend growth is equal to total return, at least over the long run. At today's yield of 4.31%, this 7-10% dividend growth target would translate to total returns of ~11.3%-14.3%. Granted, caution should be applied to Telus's prediction, as with any other forward-looking statements -- but the theoretical returns look promising nonetheless.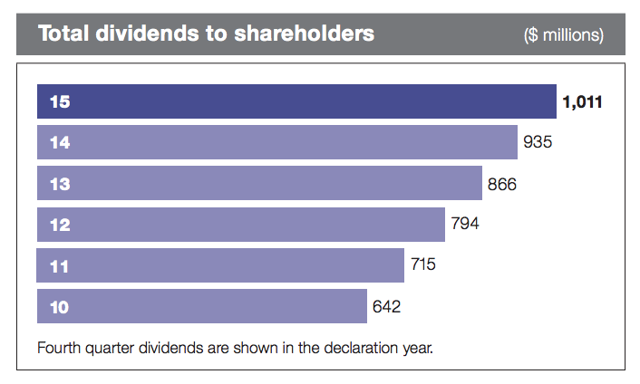 Source: 2015 Annual Report
Telus has also actively been repurchasing shares in recent months. In 2015, for example, the company repurchased 15.6 million common shares as part of their $2.5 billion share repurchase plan, set to conclude in 2016. I suspect that management will announce a new share repurchase program after the current program's conclusion.
Since 2004, Telus has distributed more than $12.7 billion of cash to shareholders in the form of dividends. This translates to $21 per share.
Considering the stock is trading at ~$42.80 right now, this is quite impressive; this continued combination of dividends and share repurchases will continue to yield solid total returns over the long run.
Dividend Yield and Safety
Canadian telecom stocks are known to be healthy dividend payers and make up a substantial proportion of the portfolios of many retirees. Let's compare the dividend yield of Telus against Bell and Rogers.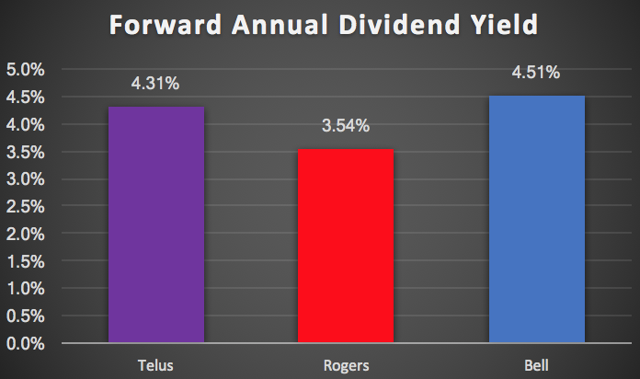 Source: Yahoo! Finance
With each of these companies' yields above 3.5%, it's easy to see why they are so popular with income-oriented investors. Right now Bell has the highest dividend yield followed by Telus and then Rogers. However, this has not been the historical trend, shown by examining their 5-year average dividend yield.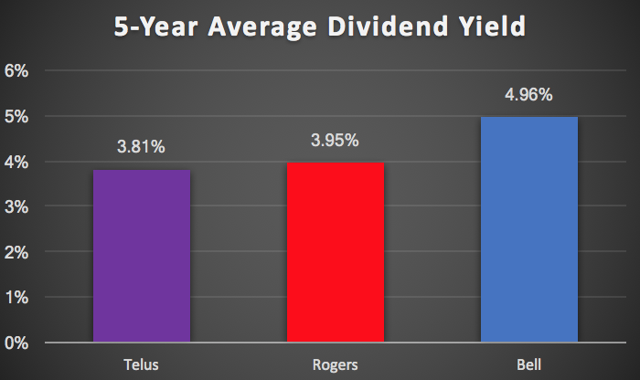 Source: Yahoo! Finance
As you can see, Bell and Rogers are currently at dividend yields much below their historical averages. Telus, on the other hand, has a dividend yield well above its historical average. Common sense suggests that this may mean that Bell and Rogers are currently overvalued or Telus is currently undervalued, or both (more on that later).
As always, it's also important to consider the safety of this company's dividend. We do this through examining their payout ratios, which are calculated as dividends per share divided by earnings per share.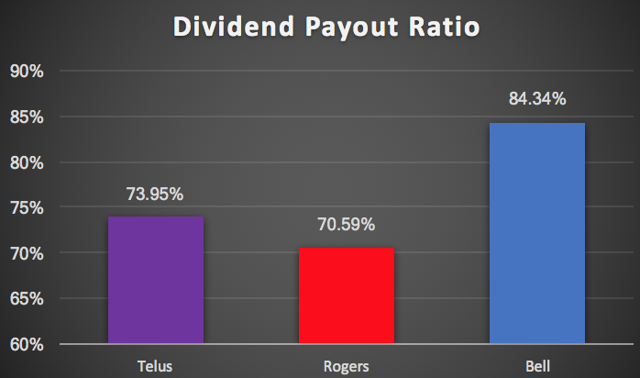 Source: Yahoo! Finance
Looking at the payout ratio of Telus compared to its competitors, it is clear that Rogers is the leader when it comes to dividend safety. However, the lead of Rogers over Telus is small in comparison to the gap between those two and Bell, so I think the real story here is that Bell lags behind the other two in dividend safety, and that the payout ratios of Telus and Rogers are close enough for the difference to be inconsequential.
To conclude my section on dividend yield and safety, I want to say that when combining Telus's yield and safety with their dividend growth history and prospects, I'm very impressed by their investment potential so far.
Valuation
As investors, our shares provide value through both earnings (current and future) and assets. The value of future earnings is measured through current earnings per share and estimates of future earnings, discounted to present value. The value of assets is measured via book value per common share.
With that in mind, let's consider how the valuation of Telus stacks up against its peers based on earnings (measured by the price-to-earnings ratio) and assets (based on the price-to-book ratio).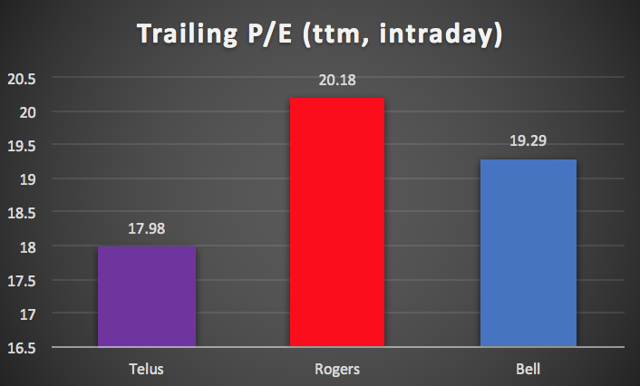 Source: Yahoo! Finance
Based on earnings, Telus is cheaper than either of its major competitors. A good start. However, I tend to place more emphasis on book value, as I have found that book value is less likely to change rapidly than earnings are. That is -- earnings volatility is higher than asset volatility.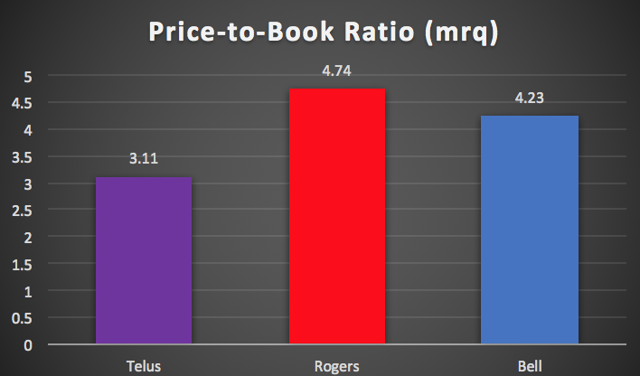 Source: Yahoo! Finance
We see a similar trend in the price-to-book ratios of these stocks as we did in their price-to-earnings ratio. Telus is materially cheaper than both Rogers and Bell.
The last valuation metric I'm going to look at is dividend yield. While not commonly considered a "valuation metric" per se, you may have noticed at the beginning of this article that Telus is trading at a dividend yield of 4.31% compared to a 5-year average dividend yield of 3.81%. The strong law of large numbers suggests that there will likely be an aspect of mean reversion here, and since I do not believe the dividend will be reduced, it's likely that Telus's share price will increase until the dividend yield is closer to historical averages. Taking into account that Rogers and Bell are both trading at dividend yields below their historical averages, I would argue that this presents a third argument for the attractive valuation of Telus.
The Bottom Line
The telecommunications sector is one of those "must-have" industries when talking about exposures for the individual investor in the Canadian stock market.
Here, I presented three major reasons why I believe Telus is the most attractive telecom stock right now. They have a fantastic history of returning cash to shareholders through share buybacks and dividend growth. Their current yield and payout ratio represent a great balance between income and safety. Lastly, it is inarguable that they are trading at a more attractive valuation than their peers.
I believe that Telus presents a best-of-breed investment opportunity trading at an attractive value with strong prospects of future dividend growth. I've placed a limit order and look to purchase a round lot (100 shares) of Telus for my portfolio in the next few weeks.
Disclosure: I/we have no positions in any stocks mentioned, but may initiate a long position in TU over the next 72 hours.
I wrote this article myself, and it expresses my own opinions. I am not receiving compensation for it (other than from Seeking Alpha). I have no business relationship with any company whose stock is mentioned in this article.