The second quarter featured the surprise bounce back of the beleaguered retail sector. Many beaten down companies like Macy's (NYSE:M) and Best Buy (NYSE:BBY) delivered impressive quarterly results on the back of improving online sales. The trend towards e-commerce has been made popular by retail giant Amazon (NASDAQ:AMZN). Amazon's success has been devastating to brick and mortar stores but it also has designed the blueprint for those very stores to expand into online retail.
What Amazon has been unable to do is break the foundation that has made Wal-Mart (NYSE:WMT) and Costco (NASDAQ:COST) so successful. Everyday low prices have led Wal-Mart to robust revenue totals while Costco's near cult following appears unbreakable. And with more comprehensive online resources it appears as if both Wal-Mart and Costco have more room to grow without losing in-store sales. Expectations for these three retailers are sky high heading into the third quarter. Amazon is looking to build on its recent growth while Wal-Mart and Costco continue to show steady signs of improvement.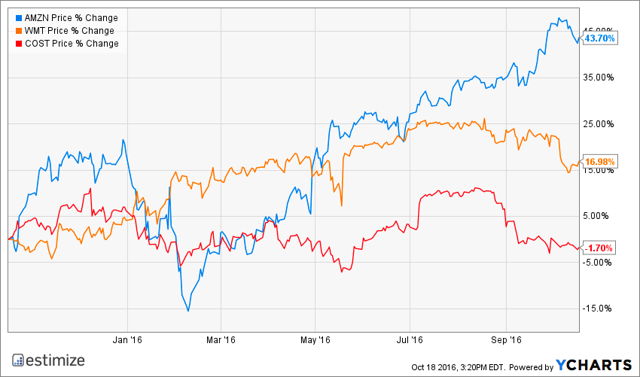 Amazon (AMZN) Consumer Discretionary - Internet & Catalog Retail
The way things have been going, it doesn't appear as if any retail company can catch Amazon in terms of popularly. Shares of the online giant are up over 130% after hitting 52 week lows in February of this year. Investor's simply can't get enough of the stock and without a slowdown in sight, their behavior appears warranted. Between Alexa, AWS and Prime, Amazon has solidified itself as a clear leader of technology innovation.
Amazon's turn to profitability had been driven by the success Amazon Web Services. This is what supports many popular websites including Netflix and has been the fastest growing part of the business. AWS has since slowed down slightly while other pieces start to hold their own. Amazon Prime and its hardware, Kindle and Echo, are becoming more widely adopted as efficient tools at modest price points. Meanwhile, new initiatives such as a courier service, fresh delivery and expansion in India will certainly help boost sales moving forward. Because Amazon has its hand in so many projects, it makes them the focus of competitive headwinds. Amazon's cloud computing faces threats from Microsoft and Google while its retail platform competes with pretty much every retailer. FedEx and UPS aren't likely to wait patiently while an Amazon courier services runs amuck on their market share. While all these factors can come into play, there doesn't appear to be anything that can slow down Amazon. Our analysts are calling for earnings per share of 99 cents on $32.74 billion in revenue for the upcoming quarter. Compared to a year earlier, that represents a 490% increase on the bottom line and 29% on the top.
Wal-Mart Stores Consumer Discretionary - Internet & Catalog Retail
Wal-Mart has been the subject of numerous headlines this quarter. In August, Wal-Mart agreed to acquire up-and-coming online retailer Jet.com for $3.3 billion. The deal will help improve its online algorithms and infrastructures to further push the envelope on everyday low prices. More recently the company took greater stake in China's JD.com. JD.com is the second largest ecommerce platform in the region only behind Alibaba (NYSE:BABA). It's clear that Wal-Mart is positioning itself in the fast growing online market to complement its successful brick and mortar stores. Unfortunately, management recently indicated that sales and earnings would be flat through fiscal 2018 and they would no longer pursue rapid new store expansion. Shares are sliding on the news but are still up 13% year to date. Our consensus is calling for earnings per share of 99 cents on $118.90 billion in revenue this quarter.
Costco Consumer Discretionary - Internet & Catalog Retail
Costco is one of the few remaining companies that report earnings and revenue on a monthly basis. This means investors are neither surprised or disappointing when a quarterly report is announced. Earnings and revenue were in flux the past few quarters but have since stabilized. The transition to Visa from American Express is proving to be a non factor after some initial confusion. It was widely expected that the switch would deter customers and dent memberships but that doesn't appear to be the case. In fact, the wholesaler delivered healthy gains in new memberships and renewals in its most recent report last month. Our community is expecting Costco to jump start growth this quarter. Analysts are calling for earnings per share of $1.21 on $28.79 billion in revenue, reflecting a 12% increase on the bottom line and 7% on the top.
Disclosure: I/we have no positions in any stocks mentioned, and no plans to initiate any positions within the next 72 hours.
I wrote this article myself, and it expresses my own opinions. I am not receiving compensation for it. I have no business relationship with any company whose stock is mentioned in this article.