There is no doubt that one of Tuesday's biggest winners was Netflix (NASDAQ:NFLX). The streaming giant saw its shares surge after the company reported better than expected Q3 subscriber numbers. While the quarter wasn't as bad as some had hoped, investors buying at current levels are taking on a bit of risk. Here's why:
Rally takes buyout off the table:
Part of the reason why shares bounced back after last quarter's report is that speculation increased that Netflix could be bought out. Had shares done the opposite on Tuesday, falling to say $80, I'm sure that these rumors would have started up again. At those levels, maybe you could find a large tech or media firm willing to spend $40 billion on an acquisition.
After Tuesday's rally, however, the math gets extremely more difficult. With a market cap of around $52 billion, a 25% acquisition premium means a buyer would need to shell out roughly $65 billion to purchase Netflix. There probably aren't that many CEOs out there willing to take on that kind of risk for a business that currently is barely profitable and is burning cash at a more than $2 billion a year annualized rate. Add in the $8 billion or so (and growing) of off-balance sheet liabilities, and the post-earnings rally all but eliminates a buyout in the near term in my opinion.
Was subscriber growth that impressive?
Don't forget, Netflix had lowered the bar for Q3 a few months ago, so expectations were rather low. There was even some talk in the days leading up to earnings that the US could show a subscriber decline in Q3. That didn't happen, with Netflix gaining 0.37 million subscribers versus its 0.30 million guidance, but that's still down half a million from last year's Q3 figure of 0.88 million.
Also, Netflix required a lot of marketing spend during Q3 to barely beat its sub guidance. The company reported $108.5 million of quarterly marking expenses, up almost $22 million sequentially and a 45% rise from Q3 2015. While the price raise un-grandfathering process continues, Netflix is going to see its lowest US streaming sub growth in the past five years, as seen below.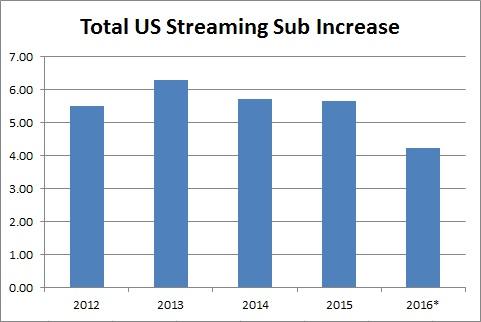 *2016 figure based on year to date results and Q4 guidance.
With the company expected to be around 49 million subs by year end, the question of market saturation does come into play. It's going to be hard to gain 4-5 million or more subs every single year going forward, and this is a stock that trades on sub growth more than anything else.
International sub growth also beat lowered expectations, although it did take an additional $44 million marketing increase sequentially to accomplish that. Netflix is on pace to add roughly 13 million international subs this year, although management has already started to talk about tough comps next year. With global expansion being pretty much done at this point, Netflix has already gained those initial subscribers from launching in many countries. Can the company add another 10 million plus subs in 2017, and even if it does, will the slowing down of growth worry investors?
It's also a little worrisome that DVD sub losses have accelerated in the past two quarters. This pushes up the timeline for when this segment could start losing money and potentially force management to exit the business. DVD is the most profitable segment for Netflix, and currently serves over 4.1 million subscribers. When this service goes away, Netflix either converts these subs to a lower margin streaming sub, or loses them altogether if they already have a streaming subscription.
Cash needs won't slow down:
The one area where investors were completely shocked was free cash flow, where Netflix burned over $500 million in the quarter. With another burn of this size expected in Q4, Netflix is looking to tap the debt markets again in coming weeks. I'd be looking for probably a $2 billion raise, which given the company's debt history, likely means another $100 million or so of pre-tax annual interest expenses. That will limit bottom line increases moving forward. The chart below shows this ugly situation.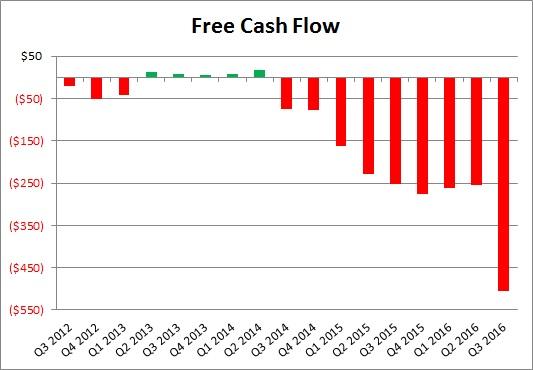 Additionally, I'm worried about the rising cash piles at many other tech and media giants. Amazon (NASDAQ:AMZN) has now started turning decent profits, and its cash flow is starting to impress. As a result, Amazon will be spending a lot more on Prime Video offerings, which will likely increase Netflix's content costs and limit selections moving forward. I also think it is only a matter of time before Apple (NASDAQ:AAPL) or others make a decent move into this space. We're even seeing Wal-Mart (NYSE:WMT) give free access to older movies if you'll watch some ads. The quality of Netflix's movie portfolio has dropped in recent years, especially with the budget shifting to original programming. That could limit subscriber growth going forward.
If Netflix proves it can be profitable around the globe, others will certainly jump in. While the company has a great start in this race, the future of internet and streaming video will have more participants in the next couple of years, ones that have deeper pockets. Even if you believe there is space here for a few companies, tougher competition could raise content costs to the point where Netflix has to raise prices again.
If market pulls back, momentum stocks usually first to go:
The $0.12 per share profit Netflix delievered in Q3 was its best in a number of years. If we annualize that profit, the company trades for about 253 times annual earnings. While management keeps detailing material profits that will start flowing in 2017, Netflix will remain a very expensive stock moving forward.
There are some that believe the US is headed for a recession, while many believe that the Federal Reserve will soon hike interest rates. If either of those happens, we could see a market pullback, and that likely will hit momentum stocks first, including Netflix. The company also has missed an opportunity for lower rate debt recently, with the US 10-Year Treasury bond recently jumping 40 basis points off its yearly low.
Final thoughts:
Netflix shares surged on Tuesday after the company announced Q3 results that beat its own lowered expectations. While subscriber growth was nice, it still is below year ago levels, and the US is getting closer to an area where the saturation rate becomes a key question. With no price raises on the horizon, Netflix must now work on gaining subscribers, and how much it costs to do that will determine how profitable this name can be. With cash burn accelerating, the company will be looking to the debt markets shortly. The stock is up over 40% from its July post-Q2 earnings low and trading for about 319 times trailing twelve month earnings, so I cannot recommend buying now. If you want to jump in, wait for a market pullback or the next bad quarter from this company, either of which should allow for a much better entry point.
(All chart data sourced from Netflix quarterly results page)
Disclosure: I/we have no positions in any stocks mentioned, and no plans to initiate any positions within the next 72 hours.
I wrote this article myself, and it expresses my own opinions. I am not receiving compensation for it (other than from Seeking Alpha). I have no business relationship with any company whose stock is mentioned in this article.
Additional disclosure: Investors are always reminded that before making any investment, you should do your own proper due diligence on any name directly or indirectly mentioned in this article. Investors should also consider seeking advice from a broker or financial adviser before making any investment decisions. Any material in this article should be considered general information, and not relied on as a formal investment recommendation.