Yesterday everyone was so busy staring at a handful of trees, like Netflix (NASDAQ:NFLX) soaring nearly 20% on an earnings beat, that they couldn't see the forest smoldering in the background.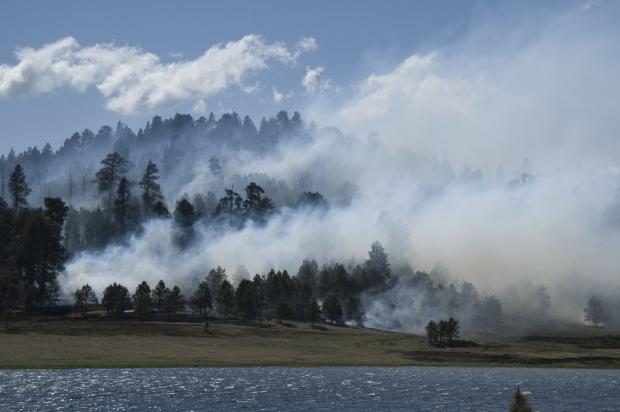 This is typical during the latter stages of a market cycle, as investors lose sight of broader economic developments while focusing on data or events that relate to the specific companies their own. At the same time, one would expect the pundits and financial news commentators not to lose sight of the big picture, but they always seem to do so.
Inflation
This morning the Bureau of Labor Statistics reported that the Consumer Price Index for September rose 0.3% from the previous month and 1.5% on a year-over-year basis. This was the fastest annual pace since October 2014.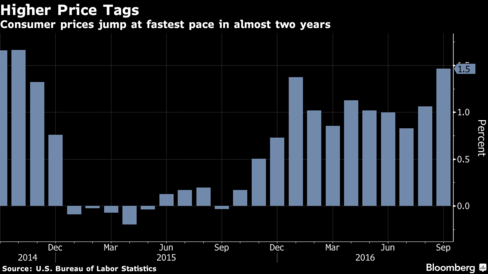 I have been warning for several months now that investors should prepare for a significant increase in the annual rate of inflation, due to the fact that the year-over-year percentage decline in energy prices would narrow. The BLS noted in this morning's report that "the energy index has declined 2.9% over the past year; this is the smallest 12-month decline since the period ending October 2014."
This is gradually drawing the overall rate of inflation, which is currently 1.5%, in line with the core rate, which is currently 2.2%. As you can see below, the narrowing of year-over-year declines for crude oil will soon become year-over-year increases, as we come to the end of the year, provided prices hover near the $50 level.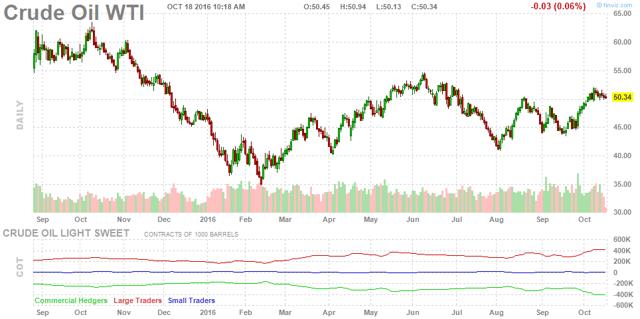 Real Income
Yet it is not the rate of inflation that I am referencing when mentioning the smoldering forest. Along with the monthly CPI report, the BLS provides an inflation-adjusted update to its estimate of average hourly earnings. Average hourly earnings is reported in concert with the employment report that we receive at the beginning of each month, and in September earnings rose 2.6% on a year-over-year basis. Following this morning's CPI report, we learned that real average hourly earnings, which are adjusted for inflation, increased at a rate of just 1%, which is down from 1.3% last month and 2.4% one year ago.
Real average hourly earnings is one of the most important economic data points reported each month, but it receives virtually no attention at all. The decline in the rate of growth in real earnings becomes even more concerning when we account for changes in the length of the average work week. This resulted in a year-over-year increase down to just 0.8%, which is also down from 2.4% a year ago.
The Tank Is Empty
The reason that year-over-year real income growth is so important is that it is the primary fuel for consumer spending growth. Most pundits attribute more importance to job growth, but increases in income, as well as hours worked, for all those already employed, is far more significant in terms of spending power than the additional income resulting from new jobs created each month. When real-income growth is a paltry 0.8%, the tank that holds the fuel to economic growth is on empty.
The reason we focus on real, or inflation-adjusted, income growth is that economic growth is reported in real terms. Consumer spending is what drives approximately 70% of our economic growth. That is the link between income growth and economic growth. Therefore, it is very difficult to see the rate of economic growth strengthen, as the Fed and consensus of economists have been forecasting, when the rate of real-income growth is slowing, as it has been. It was the expected decline in real-income growth at the beginning of this year that substantiated our forecast for just a 1% rate of economic growth in the US in 2016. We don't expect the rate of real-income growth to increase from current levels. Instead, it is more likely to continue to deteriorate. This is the smoldering forest.
The Fed's Interpretation
While the punditry interpreted this morning's inflation report as an indication that the Fed would be more inclined to raise short-term interest rate in December, I saw it as the exact opposite. Janet Yellen wants to see the rate of real-income growth rising rather than falling, as it has been for more than a year. The fact that the rate of inflation is increasing at a faster pace than average hourly earnings means that rate increases will be pushed further into the future. Yellen understands that this morning's report was detrimental to the rate of economic growth.
Unfortunately, the downside of allowing the rate of inflation to increase further is that the millions of Americans that rely on Social Security as a primary source of income will see their real earnings decline next year. If we subtract 1.5% from the 0.3% cost-of-living increase that recipients will receive, that leads to a decline in real income of approximately 1.2%. This will be another headwind for consumer spending growth in 2017.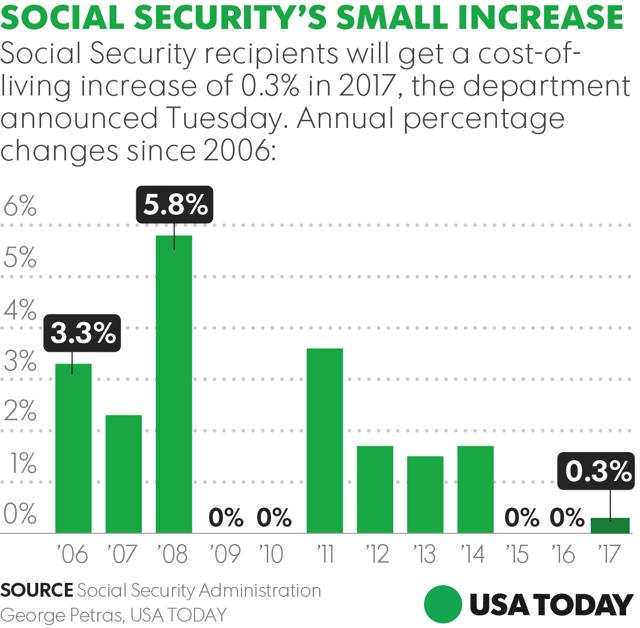 Disclosure: I/we have no positions in any stocks mentioned, and no plans to initiate any positions within the next 72 hours.
I wrote this article myself, and it expresses my own opinions. I am not receiving compensation for it (other than from Seeking Alpha). I have no business relationship with any company whose stock is mentioned in this article.
Additional disclosure: Lawrence Fuller is the Managing Director of Fuller Asset Management, a Registered Investment Adviser. This post is for informational purposes only. There are risks involved with investing including loss of principal. Lawrence Fuller makes no explicit or implicit guarantee with respect to performance or the outcome of any investment or projections made by him or Fuller Asset Management. There is no guarantee that the goals of the strategies discussed by will be met. Information or opinions expressed may change without notice, and should not be considered recommendations to buy or sell any particular security.