Investors and pundits continue to miss the mark when it comes to Yahoo (NASDAQ:YHOO). Ever since the company announced a massive data breach of hundreds of millions of users data, some have become very concerned about Yahoo's ability to complete the sale of its core business to Verizon (NYSE:VZ) at the agreed upon price of $4.8B. Verizon management has made various comments relating to the data breach, some of which suggest it will look for a sizable haircut in the deal price, possibly up to $1B as speculated here. It is clear that a data breach of this size will likely cause some problems for the core business, including lost revenues and profits. Journalists are having a field day with this story, taking the opportunity to incite alarm and panic for investors. So far the stock has not been materially affected. But some are still concerned. Just today Needham cut Yahoo to hold with a $40 price target on concerns about Verizon walking away from the deal or negotiating a lower price. I do not believe Verizon will attempt to walk away from the deal. Both parties have excellent legal teams that created a solid deal, and Verizon will not be able to walk away simply due to the data breach. We also know that Verizon still wants Yahoo and is committed to building a media business, it may just want Yahoo at a lower price. I believe the two sides will negotiate a new price, which will lower the price paid - but not by $1B. It will be materially less than that. Whatever it is, it will not matter much to the overall value of Yahoo Inc. The rest of this article will focus on why the Verizon drama is just a distraction that investors should not be very concerned with.
So how should investors value Yahoo? I view Yahoo as having four distinct assets: the core business, the net cash on the balance sheet, the Alibaba (NYSE:BABA) stake and the Yahoo Japan stake. It is clearly a sum-of-the-parts investment. The 15.37% stake in Alibaba is worth $40.0B at the current market value. The 35% stake in Yahoo Japan is worth $7.9B currently. Yahoo has $6.4B in net cash on its balance sheet and it has an agreement to sell its core business for $4.8B. If you add all this up, there is $59.1B in value, versus a current market capitalization of $40.3B for Yahoo. On the surface, it appears Yahoo is tremendously undervalued. However, there is great tax uncertainty on both the Alibaba and Yahoo Japan stakes should the company move to sell either of them. Both would generate a tremendous amount of capital gains. If you assumed the entire sale proceeds would be taxed at 42% (worst case scenario) that would generate a $20B tax bill. If you subtract $20B from $59.1B you get $39.1B, which is very close to the current market cap. The market is currently pricing in a very draconian tax outcome for the Asian assets.
So what effect would a $1B haircut to the Verizon deal have on the stock? That would be a 2.5% hit to the market cap. Is that really a big deal? I do not think so. Why the big fuss? The value in Yahoo continues to be in the Asian assets, principally Alibaba. All this talk about a haircut to the Verizon deal is just a distraction. Analysts continue to look at Yahoo in the wrong light. The stock will continue to largely be driven by the performance of Alibaba stock. As I wrote earlier this year, I continue to be bullish on Alibaba. Many of the sell-side analysts set their price target on Yahoo without considering the possibility that Alibaba actually appreciates in value. They failed to do this when Alibaba was at $80/share and they are failing to do it today. If Alibaba continues to execute, I think the stock can easily appreciate 20% in the next year (current revenue and profit growth is well above that, offsetting weakness in currency translation). That is another $8B in gross value to Yahoo Inc. I also believe there is a real possibility for Yahoo to dispose of its Alibaba stake in a more tax efficient manner. If/when that happens, Yahoo stock instantly jumps (by $10B or 25% if they can cut the tax bill in half).
While Yahoo Japan is currently trading near a 52-week low, I am also quite high on the prospects of it. Yahoo Japan is currently in the midst of a drastic change in its business model. The stock has fallen over 20% from the highs this past June, but the company continues to execute on its turnaround, which I believe will drive long-term shareholder value. The stock can rise materially once margins stabilize. The company has $3.9B in cash and zero debt. It should generate over $1B in free cash flow in FY2017. For a $19B enterprise value company growing high single digits annually, that is a compelling value proposition, particularly in Japan where interest rates are so low. It also pays a 2.2% dividend. Of course any appreciation in the value of Yahoo Japan stock will also drop to the bottom line for Yahoo Inc.
So I think I have shown that the value of Yahoo's stock price really depends on the value of the Asian assets, not the price tag for the core business sale to Verizon. Do not let this talk persuade you to sell or avoid the stock. Nor should you be concerned about Yahoo canceling its Q3 earnings call. This is common practice for a company in the process of being acquired. The drama makes for a good headline, but in the end it will matter very little to what shareholders get paid. If investors take a long-term view on Alibaba, it makes most sense to own Yahoo versus Alibaba outright. The two stocks practically mirror each other, and should a favorable outcome be achieved on the tax situation, there is added upside in Yahoo Inc.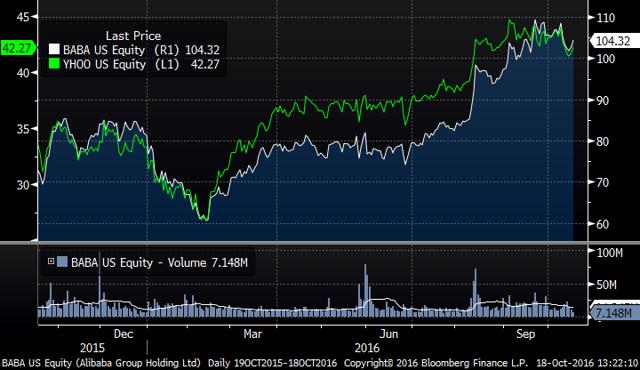 So in conclusion, investors should avoid being overly concerned about the drama surrounding the core sale and instead focus on the growth potential of Alibaba and Yahoo Japan. If you believe Alibaba will continue to grow and the stock will appreciate in value, the risk versus reward of owning Yahoo Inc. is skewed to the upside as further market price appreciation and potential favorable tax outcomes make it a superior buy. Focus on what matters, not the silly headlines. The stock has not really wavered on the deal haircut talk, which it should not. The market is smarter than the pundits. Listen to it.
Disclosure: I am/we are long YHOO.
I wrote this article myself, and it expresses my own opinions. I am not receiving compensation for it (other than from Seeking Alpha). I have no business relationship with any company whose stock is mentioned in this article.