Electronic Arts (NASDAQ:EA) is a company that continues to dominate the gaming industry. In spite of the stock price having run up significantly over the past couple of years, I maintain that the stock is by no means overvalued at this price. So much so, that I decided last month to go long the stock at a price of $81.27.
The company has continued to go from strength to strength in the industry, not only from its monopoly on key gaming titles but also through its success in adapting its titles to key platforms quickly, with the PS4 Neo and Xbox Scorpio releases expected to be highly significant sales opportunities for the company.
Analysis of this company has been quite a mixed bag to date. For instance, earnings expectations for EA is expected to be broadly positive come November, and has led to Stifel assigning a buy rating on the stock with an increased price target of $88. On the other hand, speculation has arisen that the stock is too expensive at current levels. For instance, it has been asserted by another author on Seeking Alpha that the company's price-sales ratio has become too high relative to historical norms and a pullback in price is advised.
While this point of view is understandable, it is my opinion that price-sales is not necessarily a good metric for judging value here. A price to sales ratio can only take into account previous sales relative to price, it does not tell us anything about prospects for future sales. For instance, if Fifa 17 and Battlefield lead to significant revenue increases as expected, then price itself will continue to climb higher from current levels, while the price/sales ratio will likely decrease as the growth in sales outweighs the growth in price. Some analysts are expecting that actual sales for Battlefield 1 will exceed projected sales, with Piper Jaffray expecting sales of 14 million units this year, up from a prior projection of 12 million units.
Moreover, we see that on the metrics of earnings and free cash flow, growth in these two metrics outpaces that of rival Activision Blizzard, while the company is trading at a more attractive valuation relative to its rival on these ratios:
Performance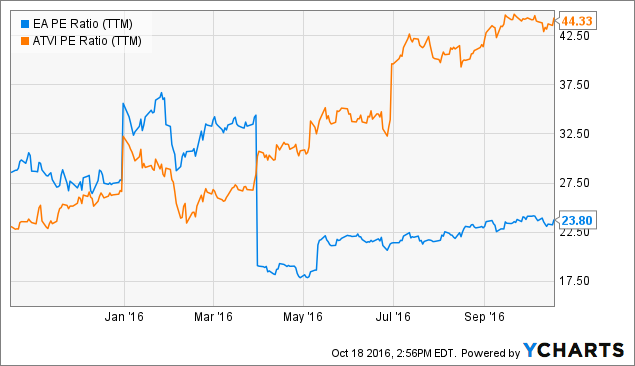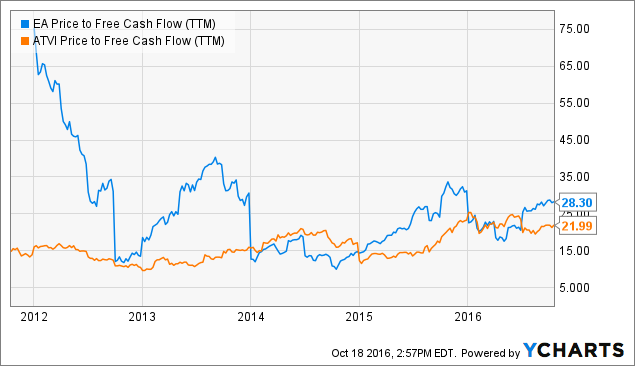 Valuations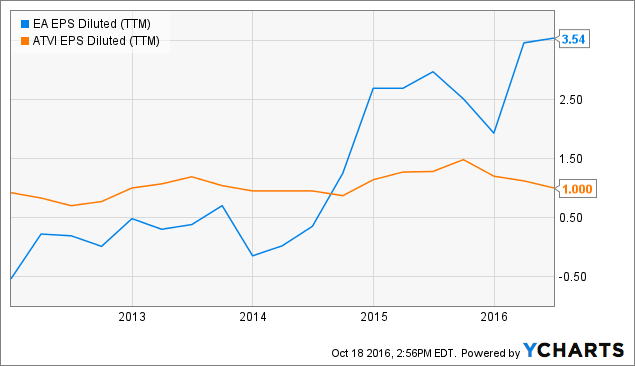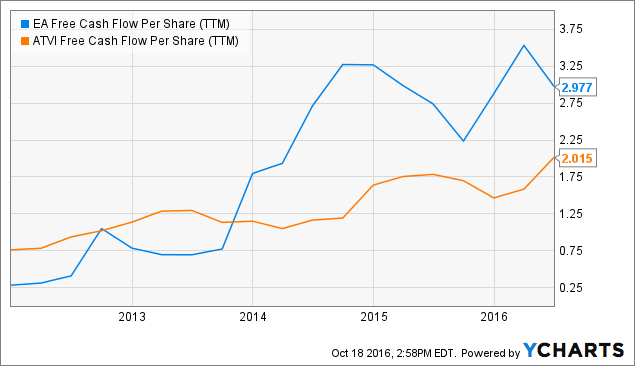 In this regard, I continue to expect positive things from Electronic Arts going forward. Of course, there is always the possibility that sales of Fifa 17 and Battlefield come in lower than expected and we could see a drop in price as a result. However, I see the company continuing to trade at an attractive valuation on the above two metrics and for this reason I am long Electronic Arts.
Disclosure: I am/we are long EA.
I wrote this article myself, and it expresses my own opinions. I am not receiving compensation for it (other than from Seeking Alpha). I have no business relationship with any company whose stock is mentioned in this article.