U.S. Bancorp (NYSE:USB) is such a good bank that I just like to look at it.
However, writing engaging commentary about its results is normally quite challenging, chiefly because each quarter is nearly always much like the last one, but slightly bigger. In that sense, U.S. Bancorp is a beautiful machine. The chart below shows loans and deposits over the last nine reporting quarters. Within these overall numbers, for 3Q 16, commercial loan growth at 9% YoY stood out and low cost deposit growth was in double digits.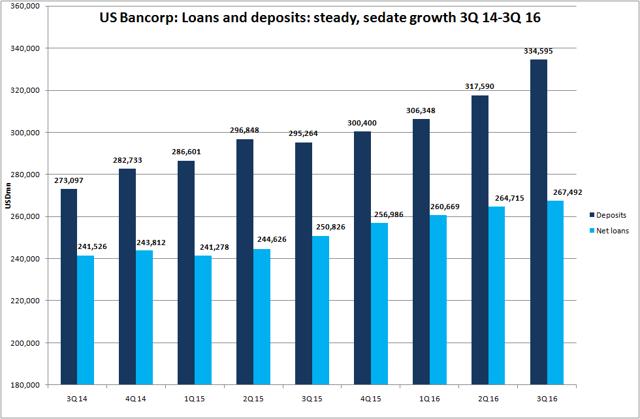 Source: Company data
A similar calm growth pervades the P&L. U.S. Bancorp has a very good income mix, with a high level of non interest income. The overall income split is 55/45 net interest/non interest and most non interest lines are steady repeat lines rather than more volatile in nature and in this respect USB has two important income advantages over peers. Since its net interest margin is not especially low, the high level of non interest income speaks of a more evolved, better constructed business. Thus, for 3Q 16, net interest income grew 4.5% YoY while non income growth grew 5,1% YoY. Costs were up a little more than income (by about 1%) leading to 3.8% YoY pre provision profit growth. Loan loss provisions (LLP) moved up broadly in line with loan growth of 6.6%. With the effective tax rate up about 100bos at 27%, we have another $1.5bn on the bottom line.
So far this quarter, I've written about two regional banks that are posting quite punchy growth; First Horizon National (NYSE:FHN) and Wintrust (NASDAQ:WTFC) and two which are not really growing assets but relying on cost saves for a little more bottom line: Comerica (NYSE:CMA) and Regions Financial (NYSE:RF). Regions and Comerica are 3-5x the size of the two growers. U.S. Bancorp is 4-6xl times the size of Comerica and Regions, but it actually posting better organic growth, even if 4-5% for assets and revenue feels quite sedate.
The buyback capacity of USB is high and for this reason 4-5% organic growth is quite potent. For instance, shareholder equity is up 5.8% YoY for 3Q. Book value per share however is up 8% YoY, and USB's EPS for the quarter was a record. Given the operating environment is described as "challenging", this is impressive BVS accretion. The run rate of total capital return in the quarter through dividends and buybacks was 79%.
The tone on the analyst call was confident. If we see rate hikes, then USB sees positive operating leverage occurring - if we don't then the bank feels that it is better to hold efficiency where it is now (54%) while achieving current levels of revenue growth as cutting costs further would risk franchise value.
Conclusion
As sub 13x 2016 EPS, USB is by no means ambitiously valued given the stock's quality. You have solid underlying growth and buyback enhancement and very good quality in terms of visibility. You will find stronger growth elsewhere, but if you had to hold just one bank, this should be it.
Disclosure: I/we have no positions in any stocks mentioned, and no plans to initiate any positions within the next 72 hours.
I wrote this article myself, and it expresses my own opinions. I am not receiving compensation for it (other than from Seeking Alpha). I have no business relationship with any company whose stock is mentioned in this article.