Does the future of eBay (NASDAQ:EBAY) lie in its efforts to transform itself from a classified-ads platform to an online marketplace or in its ticket reseller subsidiary StubHub?
Both divisions have been growing in the aftermath of EBAY's spinoff of powerhouse subsidiary PayPal (NASDAQ:PYPL), and analysts say they will be looking for more information on how the two are set up for the future when the company reports Q3 results after the bell Wednesday. EBAY reported double-digit revenue gains for StubHub in the previous quarter, as well as its best gain since 2014 in U.S. merchandise volume on the eBay platform. Did that happen again in Q3?
Among the strategic imperatives on the EBAY site that interests some analysts is its structured-data initiative-an effort to better categorize merchandise for a broader reach on search engines. Success in this initiative would speed up user buys and improve the shopping experience, as well as reduce the costs of stepping up traffic to the site. Might better structured data become a bigger revenue driver in 2017?
Those questions and more may be answered when EBAY releases its Q3 earnings after the bell Wednesday and executives speak to analysts on a post-release conference call.
Analysts reporting to Thomson Reuters are pegging year-over-year gains in per-share profit at $0.44, and top-line sales are expected to come in at $2.18 billion.
Though the stock has been in a narrow trading range since late July, except for a brief rally up to a fresh peak in September, volatility appears to be at a high level going into the earnings release. Short-term options traders have priced in a potential 7.5% share price move in either direction around the earnings release, according to the Market Maker Move indicator on the thinkorswim platform from TD Ameritrade.
There has been active buying of both calls and puts at the 32-strike, and also at the 32.5-strike calls and the 30-strike puts. The implied volatility sits at the relatively high 81st percentile. (Please remember past performance is no guarantee of future results.)
Note: Call options represent the right, but not the obligation, to buy the underlying security at a predetermined price over a set period of time. Put options represent the right, but not the obligation, to sell the underlying security at a predetermined price over a set period of time.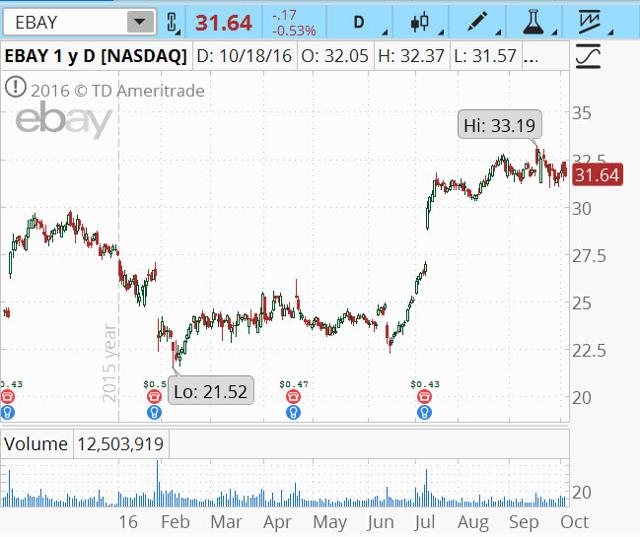 Figure 1: READY TO BUST? EBAY shares took off after guidance was raised in the Q2 earnings release and shares have been trading mostly within a tight $30- to $32-price range since, aside from a fresh high set in September. Will Q3's result deliver the same punch? Chart source: thinkorswim by TD Ameritrade. Data source: Standard & Poor's. Not a recommendation. For illustrative purposes only. Past performance does not guarantee future results.
TD Ameritrade commentary for educational purposes only. Member SIPC. Options involve risks and are not suitable for all investors. Please read Characteristics and Risks of Standardized Options.
Disclosure: I/we have no positions in any stocks mentioned, and no plans to initiate any positions within the next 72 hours.
I wrote this article myself, and it expresses my own opinions. I am not receiving compensation for it. I have no business relationship with any company whose stock is mentioned in this article.