3 Gold Exploration Stocks With Excellent Drilling Results
Gold exploration stocks are highly leveraged to the price of gold and typically outperform mining companies during gold price rallies. Just a small amount of exposure to these types of companies can supercharge your portfolio's total returns and lead to outperformance. This has been one reason why my real-life gold portfolio has outperformed the benchmark gold miners index (NYSEARCA:GDX) and other gold indexes year-to-date: holdings such as NuLegacy Gold (OTCQX:NULGF) and Integra Gold (OTCQX:ICGQF) have outperformed by a wide margin.
But it's not that simple. There are hundreds of gold exploration and junior miners in the market, and many are extremely speculative and not worth an investment due to various reasons. But I do think there are certainly some great opportunities out there.
These types of investments could return several times your money if you pick them right - just take a look at explorer Gold Standard Ventures (NYSEMKT:GSV), which is up 285.19% year-to-date, compared to a 75% gain in the GDX. Gold Standard's outperformance can be attributed mainly to the numerous high-grade gold discoveries made at its North Bullion deposit in Nevada; I previously listed the stock as my #3 overall junior takeover target for 2016.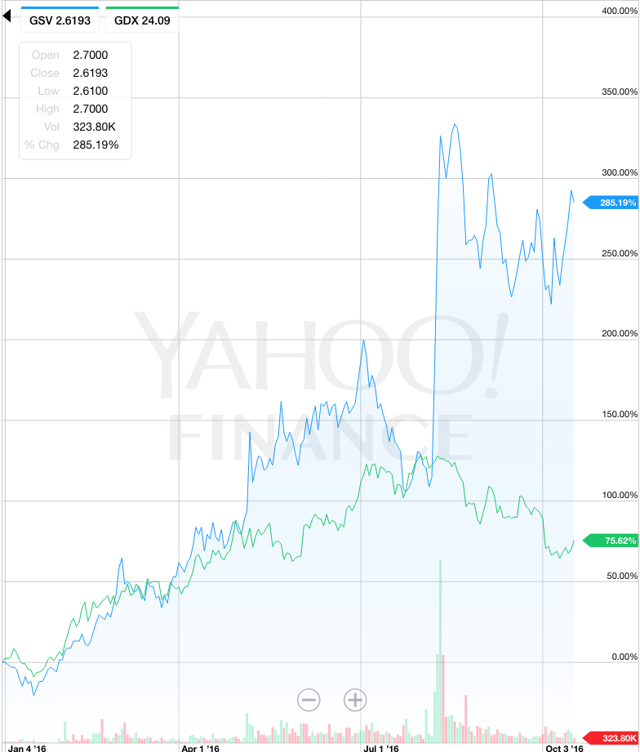 (Credit: Yahoo Finance)
As I mentioned in a previous article on gold explorers, I think investors should focus on projects with excellent exploration upside in politically favorable mining jurisdictions, such as Canada, Mexico and the U.S. Other major positives include a strong management team with heavy insider ownership and projects located near currently producing mines, which I feel increases the chances of a takeover bid.
Please also note that I don't recommend holding anymore than 10% to 20% of your gold holdings in these types of companies (I currently hold about 15% to 20% in gold exploration companies in my gold portfolio, but have a high tolerance for risk and have several decades to go until retirement). To be more clear, if you have 10% exposure to all gold holdings in your portfolio, gold explorers should only make up 1.5% to 2% of your total portfolio holdings. If one of them turns out to be a big success (like Gold Standard, for example), it can have a very positive effect on your portfolio.
Here, I've listed three gold exploration companies that recently released positive drilling results. I think these stocks are worth putting on your radar, as I'll explain below.
Nighthawk Gold (OTCQX:MIMZF)
Nighthawk owns a massive land position (covering 222,203 acres, to be exact) in the Indin Lake Greenstone Belt in the Northwest Territories, Canada. At its flagship Colomac Gold Project, it has already discovered a resource base of 2.101 million ounces of gold with limited drilling - from 2012-15, Nighthawk completed just 17,000 meters of drilling targeting new areas of mineralization and extending known zones along strike and to depth; however, with gold prices rallying in 2016 exploration work has ramped up big time.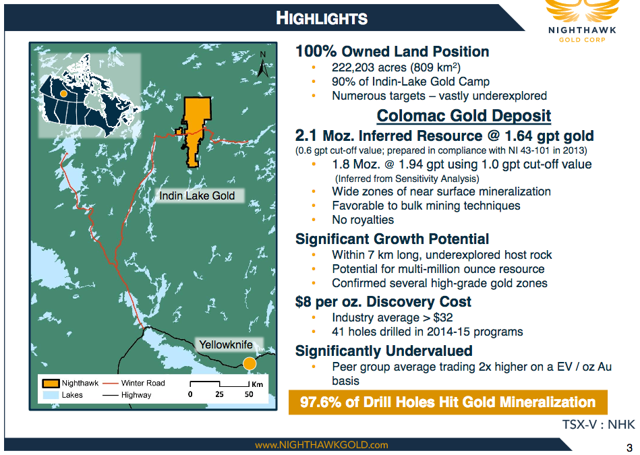 (Credit: Nighthawk Gold corporate presentation)
The exploration work appears to be paying off as Nighthawk has struck new high-grade mineralization at Colomac. After commencing a new drill program back in July, the company has already released several impressive drill results, such as 52.07 meters of 7.72 g/t gold, including 25.47 meters of 14.25 g/t gold and 12.35 meters of 9.58 g/t gold (see Sept. 13 news release for more information).
To follow that up, just a few days ago, Nighthawk announced drill results just as impressive, announcing it had intersected 72.65 meters of 5.58 g/t gold, including 17.80 meters of 17.72 g/t gold, and 11.05 meters of 27.83 g/t gold. These grades are all much higher than the grades seen in its current resource base and also indicate the potential for resource growth.
The successful exploration success has led to a strategic investment by major gold miner Kinross Gold (NYSE:KGC). Kinross has agreed to purchase 6.17 million shares of Nighthawk at $.50 per common share, and up to 10.769 million common "flow-through" shares at a price of $.65 per share, for proceeds of up to $10 million. I see this as a major third-party validation of Nighthawk's assets, as a major gold miner wouldn't invest in a gold exploration company if it didn't feel the project has big upside (it also opens up the possibility of a takeover at some point in the future).
Finally, besides the strong new ownership by Kinross Gold , royalty company Osisko Royalties (NYSE:OR) holds a 6% ownership position in the company.
Nighthawk's outstanding drill results, resource growth potential at Colomac, and the ownership in shares by two major gold companies gives me confidence in this company. This is definitely one gold explorer I think investors need to keep on their radar right now.
California Gold Mining (OTCQX:CFGMF)
This company is focused on developing its flagship Fremont gold project in California. It owns 100% of 3,351 acres of patented land. According to the company, the project lies within California's prolific Mother Lode Gold Belt, which produced over 50 million ounces of gold historically. The historic resource at Fremont says the deposit has 2 million ounces of gold at 3.3 g/t (part open-pit and part underground) from over 150 drill holes in the 1980's, however, it is no longer a compliant resource. A new, updated resource is expected very soon, with further exploration work planned later this year.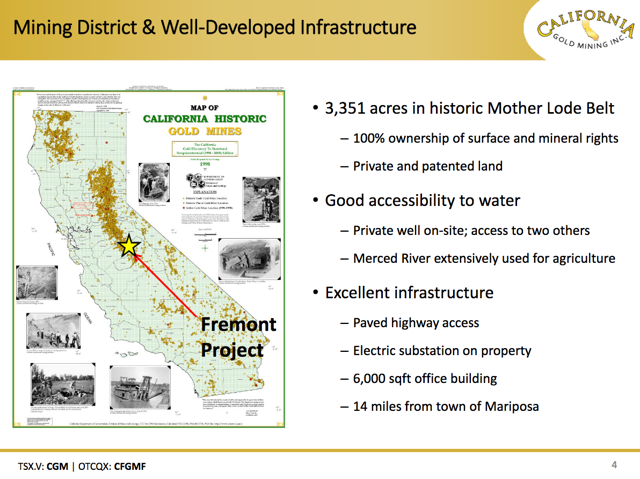 (Credit: California Gold Mining corporate presentation)
California Gold Mining completed two drilling programs in 2013-14 with success, and earlier this year reported strong gold assays from infill drilling of 18.3 meters of 2.01 g/t gold and 4.5 meters of 5.84 g/t gold. Then, it followed up those strong results with 8.2 meters of 4.43 g/t gold and 11.4 meters of 2.7 g/t gold (among other impressive results) with further infill drilling reported in May. The goal of these drilling campaigns is to provide greater confidence in the mineralized zone of the main Pine Tree-Josephine zone, with the goal of building an initial resource estimate.
However, its latest exploratory drill results were among the most impressive drill holes to date in my opinion, as they hint towards exploration upside at Fremont. Targeting a new zone at Fremont, the company says drill results included 15.8 meters of 2.20 g/t gold, 9.1 meters of 3.73 g/t gold, and 3 meters of 2.91 g/t gold.
These were encouraging results, but the truth is the property is still very early stage and will need a lot more drilling before mining can even be considered. Just a small portion of the total property has been explored to date. I like the upside potential here, but I would wait until further drilling and an initial resource base is released before considering shares.
Ascot Resources (OTC:ASOLF)
Ascot Resources is an exploration company whose main focus is the Premier and Dilworth properties, located directly south of Pretium Resources' (NYSE:PVG) Brucejack Project. It is in the process of acquiring a 100% interest in this property from Bolident Ltd., and must make a final payment of $6.85 million by June 30, 2017.
The company has already delineated a resource base of 2.83 million gold equivalent ounces in indicated resources and 1.8 million gold equivalent ounces in inferred resources, but the resource should continue to grow with excellent drilling results.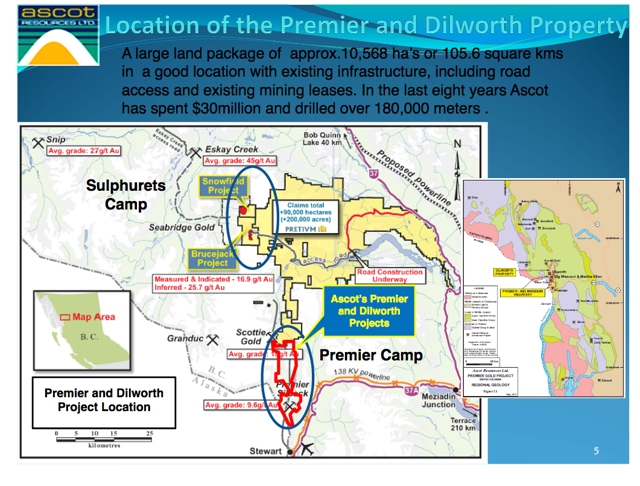 (Credit: Ascot Resources corporate presentation)
The company impressed recently when it announced it had intersected 83.50 g/t gold over 1 meter at Premier. Other strong results include 44.22 meters of 1.8 g/t gold and 21 meters of 3.44 g/t gold.
However, this actually wasn't even the best drill results reported to date. Earlier this year, Ascot says it intersected 88.40 g/t gold and 9,640 g/t silver over 1.55 meters at Premier (some of the highest silver grades I've ever seen), while it also intersected 104.74 g/t gold over 3.05 meters back in July and 572 g/t gold over 1 meter in December of last year (it also reported visible gold in one drill hole in the past, encountering 14,394.50 g/t gold over .75 meters).
Next, Ascot secured the necessary funds to continue its aggressive exploration work (five drill rigs are currently working on the property) when it completed a $20 million private placement back in August, issuing 17.39 million shares at a price of $1.15 per share. It's important to note that well respected precious metals investor Eric Sprott acquired all shares in this transaction and now owns 18.23% of the company on a partially diluted basis.
I like the upside potential of Ascot's Premier and Dilworth properties, but the stock has been on an absolute tear this year, advancing 163.94% year-to-date, outperforming the global X gold explorers ETF (GLDX), which has returned 136.28%. I'm also very new to this company and also started conducting research a few weeks ago. For these reasons, I'm a bit hesitant to recommend the stock here, but I think readers should definitely keep this company on their radar.
Disclosure: I am/we are long NULGF, ICGQF.
I wrote this article myself, and it expresses my own opinions. I am not receiving compensation for it (other than from Seeking Alpha). I have no business relationship with any company whose stock is mentioned in this article.
Editor's Note: This article covers one or more stocks trading at less than $1 per share and/or with less than a $100 million market cap. Please be aware of the risks associated with these stocks.