According to The Dutch financial paper Het Fiancieele Dagblad, Sara Lee shareholders are failing to claim $44.97 million that is rightfully theirs. Back in 2012 DE Master Blenders spun out of Sara Lee. Sara Lee shareholders first received a special dividend from CoffeeCo of $3 per share and subsequently 1 share of the company that would be called DE Master Blenders. Ultimately DE Master Blenders was taken private in 2013 by the German family Reimann. They paid EUR12.50 per share which translates to $13,70 at today's exchange rate. Part of Sara Lee continued as Hillshire Brands and subsequently acquired by Tyson Foods (NYSE:TSN), which is still a well-known company.
Curiously, 23,000 Sara Lee shareholders who are entitled to $76.7 million, or $1,974 per person, couldn't be located. The Reimann family, through its investment vehicle JAB, hired a private investigator firm and law firm Stibbe to seek them out. However, at this point in time there is still $44.97 million held in state escrow.
You might think that the company probably didn't try to hard to have the value of the shares accrue to its current shareholders. Actually, the money will go to the Dutch Government if it has not been claimed before April 2034.
These stock certificates could be hiding in stacks of old stock papers or stock certificates you inherited or forgot about. Perhaps you have them lying around in the attic or they are in a safe deposit box somewhere.
Before 1985, The Sara Lee Corporation was called Consolidated Foods, so if you find these they may be quite valuable as well. The physical shares should look something like this: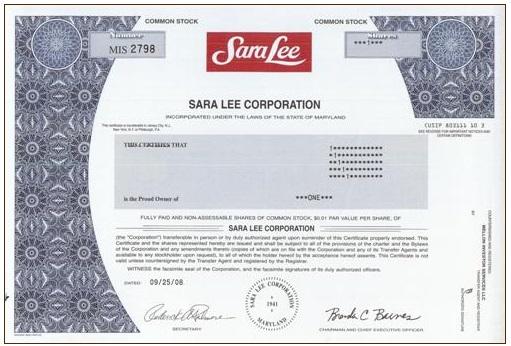 Source: Kabukencafe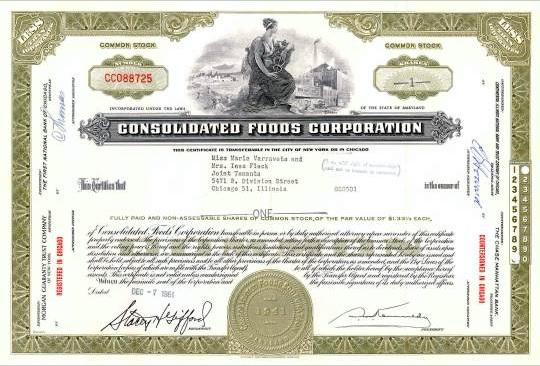 Source: Scripophily.com
If there's a chance you have them lying around somewhere, check it out. On average, you are leaving $1,973.97 on the table. Best reason to clear out the attic ever.
Disclosure: I/we have no positions in any stocks mentioned, and no plans to initiate any positions within the next 72 hours.
I wrote this article myself, and it expresses my own opinions. I am not receiving compensation for it (other than from Seeking Alpha). I have no business relationship with any company whose stock is mentioned in this article.