Background
Semiconductor equipment manufacturers are crucial for the continued growth in the semiconductor industry. The industry needs leading edge tools in order to bring new technological innovations to market in a cost effective manner. Aixtron (NASDAQ:AIXG), headquartered in Germany, is a leading provider of deposition equipment to the semiconductor industry. Deposition is a vital step in the manufacture of LEDs, compound semiconductors (used in power electronics and high frequency devices among others) and organic semiconductor materials (used in high end TVs and displays for mobile and wearable applications).
From the company's filings, the market for LE's is expected to grow from 1.2 billion shipped units in 2015 to 3.4 billion shipped units in 2020. According to the market research institute IHS (November 2014), the market for compound semiconductor based power management devices is expected to grow from 281 million shipped units in 2015 to 1.9 billion shipped units in 2020. According to the same source (July 2015), the market for OLED TV is expected to grow from 510,000 shipped units in 2015 to 6.9 million shipped units in 2019. These statistics serve to illustrate the potential of technological leadership in this segment of the semiconductor capital equipment market.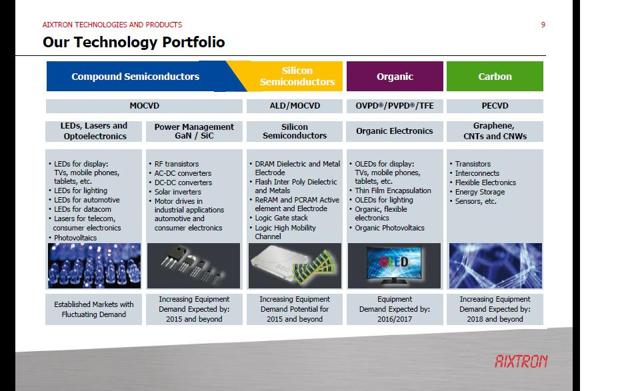 I first wrote about this company almost five years ago here. Since then, the company has continued to maintain technological leadership in its field. The company spends significantly on R&D. About 30% of the company's revenue and more than one third of its employees are engaged in R&D. R&D facilities and employees are located primarily in Germany, USA and the UK. The company has not turned a profit since 2011. However current assets have always exceeded total liabilities and the company has had little or no debt. The company's revenues in the recent past have varied from a high of $678.1m in 2011 to a low of $202.9m in 2013. 2015 revenues were $219.45m. Its stock price fluctuated between $11.00 and $18.00 between Jan 2012 and Dec. 2014.
Timeline of events
In September 2014 the company received an order from San'an Optoelectronics Co. Ltd. for 50 MOCVD tools. MOCVD (metal organic chemical vapor deposition) is a technology that is used to deposit very thin layers of atoms onto a semiconductor wafer and is a vital step in the manufacture of LEDs. MOCVD reactors are a significant expense for LED chip manufacturers. Veeco and Aixtron are the main players in this space. At the end of third quarter of 2015 Chinese LED chipmaker San'an was the second top merchant MOCVD customer here.
A timeline of relevant events that occurred between this order, its drastic reduction and the eventual takeover offer is presented below. The events have been pieced together from press releases, conference calls and documents filed with the SEC here. The timeline raises questions as to whether the order (one of the company's largest) was used as leverage in the takeover negotiations. In a small manufacturing company, an unusually large order inevitably sucks up resources that would otherwise have gone to other areas. This link to a NY Times article gives more details on the financing behind the takeover offer here.
September 2014 - San'an Optoelectronics Co., Ltd. orders 50 next generation Showerhead MOCVD tools from Aixtron. The equipment is to be delivered starting in Q4/2014 and to be installed in San'an's Chinese production facility by an Aixtron service team.
April 2015 - Aixtron announces that a large portion of the order would be booked in the course of FY 2015.
September 8-11, 2015 - Dr. Daniel Li, CEO of Buttonwood Finance Ltd., a Hong Kong-based independent investment advisory firm, meets Mr. Tim Wang, GM of Aixtron China Ltd. (a subsidiary of Aixtron). Dr. Li expresses an interest to further understand Aixtron's business.
Oct. 13th 2015 - Press release from the company announces a revision of its revenue guidance for the full year 2015 due to a postponement of shipments to a large Chinese customer. The company expects the deliveries, which were planned for 2015, to occur in 2016, depending on the progress of the ongoing milestone based qualification process.
Oct. 27th 2015 - During the Q3 2015 conference call, Aixtron informs us that the company has defined a milestone plan with San'an and that the first milestone has been accomplished. There would also be other milestones in early 2016. It is interesting to note that San'an had not as yet scheduled any actual shipments even if the tools were qualified. At the time of the conference call there are eight other customers qualifying this system.
It is fair to assume that at this point the order delivery to San'an is not proceeding smoothly and there are wider Chinese interests at play here.
Oct. 28th 2015 - Mr. Johannes Froehling, VP - Corporate Business Development and Strategy (Aixtron), Mr. Wang and Dr. Li meet in Shanghai. At this meeting, Dr. Li signs a non-disclosure agreement with Aixtron. At this meeting, the preliminary discussions focus primarily on a possible third party minority investment in Aixtron by an as yet unidentified Chinese investor.
Nov. 25th 2015 - Mr. Martin Goetzeler, CEO of Aixtron, meets with Dr. Li to follow up on the previous discussions regarding a potential minority investment in Aixtron by an unidentified Chinese investor. At this meeting Mr. Goetzeler agrees to further consider the possibility of a minority investment in Aixtron.
Dec. 9th 2015 - The company announces that it has reached an agreement with its Chinese customer San'an Optoelectronics regarding a substantial reduction in the volume of AIX R6 MOCVD systems ordered from 50 to the three which had already been delivered. The press release states that despite efforts made by both parties, the customer's specific qualification requirements were not achieved. Aixtron shares tumble in response to the news. It must be noted that the company has more than 30 years experience manufacturing and installing MOCVD systems.
Dec.21st 2015 - Dr. Li holds a meeting with Mr. Goetzeler, Mr. Bernd Schulte (COO, Aixtron), Mr. Froehling and Mr. Wang at Aixtron headquarters. At this meeting, Mr. Goetzeler indicates that a minority investment as previously discussed between the parties may not be possible for the time being and that a potential investor may need to consider an offer for all or a majority of the outstanding shares in Aixtron.
March 23rd 2016 - Aixtron announces that it had achieved all milestones in the internal qualification process set up by leading Taiwanese LED chipmaker Epistar for Aixtron's AIX R6 MOCVD production system. Epistar is the top merchant MOCVD customer, San'an is second.
May 23rd 2016 - Chinese investor Fujian Grand Chip Investment Fund LP (FGC) announces that it will launch a voluntary public takeover offer through its indirect German subsidiary Grand Chip Investment GmbH (NYSE:GCI) for all of Aixtron's outstanding shares - including shares represented by American depository shares ("ADS"). The offer for 6.00 Euros in cash per Aixtron share values Aixtron at approximately 670 million Euros.
Conclusion
China imports around $200 billion worth of semiconductors every year. Growth in the manufacturing of consumer electronics, automobiles and medical electronics will push up the country's semiconductor consumption to US$ 212 billion this year, up from US$190 billion in 2015, according to a forecast from the CSIA (China Semiconductor Industry Association (CSIA), a government-backed industry group. Data from the International Trade Administration, an agency under the U.S. Commerce Department, shows that China also is the largest consumer of semiconductors, accounting for over half of global consumption in 2015, and it relied on imports to meet 91% of its semiconductor needs in late 2014.
The events leading up to the takeover offer and the NY Times article give us a first hand glimpse into the inner workings of China's attempt to reduce its dependence on semiconductor imports. The article also provides insight into how the Chinese state orchestrates takeovers to further the country's broader strategic objectives.
This episode offers investors a template as to what to look for while trying to identify potential foreign takeover targets. Small under followed companies with a track record of established technological leadership that can be leveraged in multiple areas in the long term. Such companies can bought cheaply with little regulatory oversight.
Post script
The acceptance period for the initial takeover offer expired on Oct. 7th with only 47.57% of the shares tendered. The initial offer required at least 60% (minimum acceptance threshold) of the total number of Aixtron (including shares represented by ADSs) to be tendered. The offer has now been extended to Oct. 21st and the minimum acceptance threshold reduced to 50.1%.
1€=1.11 $US

Disclosure: I am/we are long AIXG.
I wrote this article myself, and it expresses my own opinions. I am not receiving compensation for it (other than from Seeking Alpha). I have no business relationship with any company whose stock is mentioned in this article.