Not content to wait for the usual standards organizations to arrive at a consensus for next generation 5G wireless, Qualcomm (NASDAQ:QCOM) has announced commercial availability of its first integrated 5G modem. The Snapdragon X50 5G modem will be capable of peak download speeds of 5 gigabits per second. In building the X50, Qualcomm is both anticipating the 5G standard and attempting to shape it.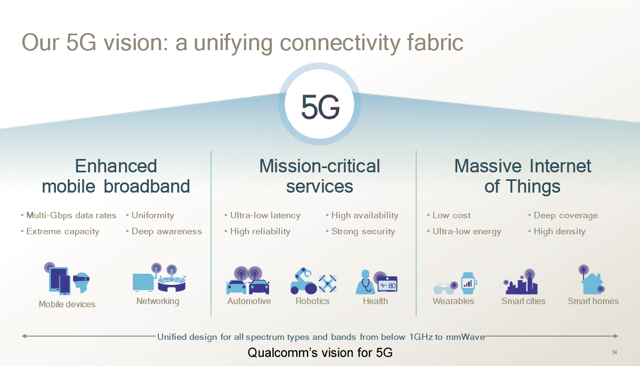 Source: Qualcomm Analyst Meeting Presentation
Star of the Show
Qualcomm is hosting an invitation-only 4G/5G Summit in Hong Kong this week. Virtually everyone in the telecom industry, including carriers and equipment makers, is sending a speaker. Qualcomm is using the occasion to announce a raft of new products and technologies related to 5G, and the X50 modem is the centerpiece.
In fact, the X50 is something of a pre-announcement since it isn't expected to be available until the first half of 2018. By announcing the device now, as well as pitching a variety of supporting technologies such as 5G New Radio (5G NR) at the Summit, Qualcomm is showing where it thinks (and wants) 5G to go.
Most agree that 5G will not arrive before 2020. Starting with the first generation wireless system in 1982, each succeeding generation has taken about 10 years to develop and deploy. The current 4G generation was standardized in 2012. So even after the X50 arrives, there could be as much as four additional years of work before 5G becomes available to consumers.
While there is as yet no standard for 5G, there is an emerging consensus about what 5G should do. It should be fast, allowing download speeds above 1 Gbit/sec. It should accommodate more users, especially connected devices as well as people. It should be more economical to deploy.
There is no single magic technology that satisfies all of the above requirements, so researchers are looking at combining a variety of technologies: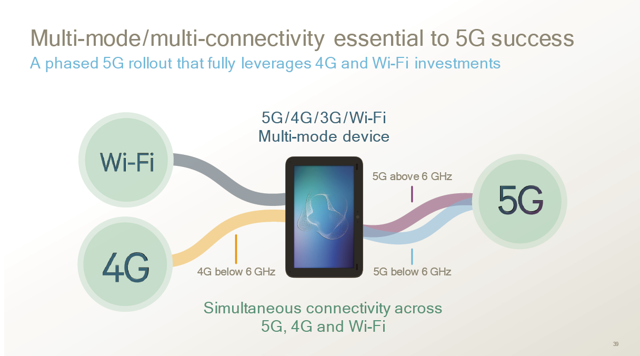 In urban environments, 5G networks will probably be made up of a large number of small cells. This will allow increased data rates over existing cellular radio frequencies, as well as enable coverage at radio frequencies not currently used for cellular or WiFi, which operate below 6 GHz.
The frequencies most often mentioned for 5G are the so-called millimeter wave bands. Qualcomm's X50 operates at 28 GHz. Going to such high frequencies enables very high data rates, but it comes with a downside. Millimeter wave radio doesn't penetrate buildings very well, thus the need for multiple small cells. Even then, there are expected to be coverage gaps. When 28 GHz isn't available, Qualcomm's system is designed to fall back on 4G. Qualcomm's latest production X16 modem offers peak download rates of 1 Gbit/sec over 4G LTE through a variety of techniques.
Qualcomm's X50 has a number of tricks up its sleeve to mitigate coverage gaps. It uses multiple very small antennas to direction find the strongest signal, even if that signal isn't in the direct line of sight to the cellular tower, as the graphic illustrates below.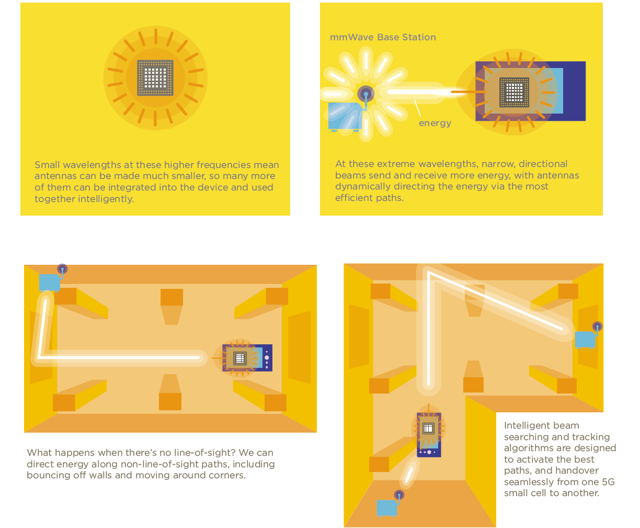 Source: Qualcomm
Partly it's in recognition that millimeter wave presents technical challenges that Qualcomm has decided to get the X50 into the hands of OEMs and researchers as quickly as possible in order to surface usage issues. With all its limitations, millimeter wave is probably the best way to achieve download rates in excess of 1 Gbit/sec. Getting to these rates is considered necessary to support future cloud services and wireless VR content delivery.
Although the success of the X50 is not assured, Qualcomm's announcement of it at this early stage is an indicator that it considers the approach of the X50 to be the best solution to meeting 5G requirements. If Qualcomm turns out to be right, the 5G standards will almost certainly converge to something that looks very much like the X50.
Supporting Roles
In addition to the X50 modem, Qualcomm announced a number of products that directly or indirectly support 5G development. Qualcomm and Netgear jointly announced Netgear's first mobile router that will use the X16 modem. Netgear's router will be able to connect to LTE networks and be capable of 1 Gbit/sec downloads, forming a very broadband mobile hotspot. This is the first "gigabit class" LTE mobile device, but many more will undoubtedly follow as the X16 is adopted in future smartphones and LTE connected tablets. Infrastructure support is the main impediment to adoption.
Also at the summit, Qualcomm announced a new line of modems specifically designed to support IoT connectivity to LTE networks. These modems support new LTE categories set up for low-cost, low bandwidth, and most importantly, low power consumption applications for battery powered IoT devices. Qualcomm claims that the modems support multi-year battery life. These IoT categories are expected to form the basis of 5G IoT support.
Qualcomm also announced the first ever successful test of Licensed Assisted Access (LAA). LAA will allow future smartphones to share radio spectrum that had been set aside for unlicensed uses such as home WiFi or any other spectrum that might otherwise be off limits. Radio spectrum is at such a premium these days that any little bit helps. Sharing unlicensed spectrum has its own set of technical problems, so it's an approach that is still under development. The idea here is to maximize the spectrum (and data bandwidth) available to 5G devices when millimeter wave isn't available.
In addition to 5G related announcements, there were product announcements for a new line of Snapdragon processors designed specifically for smart connected cameras (Ambarella (NASDAQ:AMBA) watch out) as well as a new line of mid-tier mobile systems on chip (SOCs).
Investor Takeaway
One of the reasons I'm bullish on Qualcomm is that I do consider it the leader in 5G, as I stated in my article on Qualcomm's Analyst Day presentation. I know that Intel (NASDAQ:INTC) claims to be a leader in 5G, but when you look at what it's espousing in terms of its own capabilities, it's mostly on the network infrastructure side of things. Intel has been a proponent of Network Function Virtualization (NFV) for some time, and it makes sense for Intel to pitch this to the telecom companies.
But I don't see Intel doing much to attack the core of the 5G problem, which is really about defining a wireless architecture that will achieve the 5G objectives. This involves defining radio frequencies, modulation approaches and modem designs, all of which Qualcomm has already done. Qualcomm's approach to leading in 5G is simply fait accompli.
Qualcomm's leadership in 5G, ARM processor design and integrated SOCs with ARM processors and modems combined assures Qualcomm of a continuing profitable SOC business. As Qualcomm finds new markets for those SOCs (connected cameras, servers, connected cars, IoT devices), it can continue to grow profits even as the smartphone market matures. I remain long Qualcomm and recommend it as a buy.
Disclosure: I am/we are long QCOM.
I wrote this article myself, and it expresses my own opinions. I am not receiving compensation for it (other than from Seeking Alpha). I have no business relationship with any company whose stock is mentioned in this article.