ETFs. Love them or hate them, they aren't going away. In fact, they are growing by number. Any takers for the new Spirited Funds/ETFMG Whiskey & Spirits ETF (WSKY)?
Much has been said on the subject of management fees and on the decay on futures or leveraged ETFs. But what isn't so often covered is the way the ETFs re-balance and buy new additions. Maybe this is because over-paying by a few dollars on a 1% holding doesn't affect the fund too much. But to me a bad trade is a bad trade, especially if it can be avoided.
The iShares U.S. Preferred Stock ETF (PFF) is no stranger to bad trades with no financial logic. It quite often buys preferred stocks with negative yield to calls. I'm paying very close attention to whether it buys another one, partly because I am short the stock, but also because I am curious to know just how illogical the buying can be.
But first, some background.
The PFF
Preferred stocks are rising in popularity. According to Seeking Alpha author Markit,
Preferred stocks are the most popular domestic US bond strategy in terms of relative inflows in 2016.'
Having traded preferred stocks for nearly ten years I am glad investors are waking up to the qualities of preferreds. The popularity extends to Preferred Stock ETFs: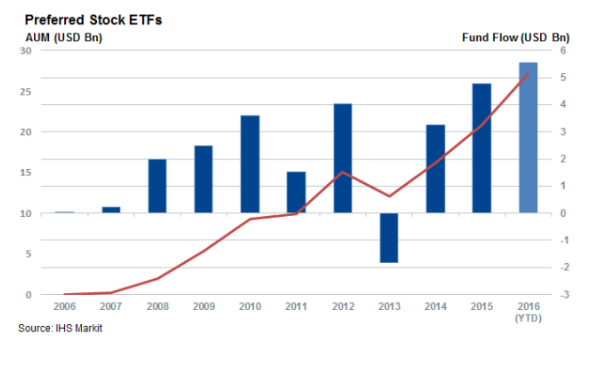 But why buy a Preferred Stock ETF? Let's ask the good folks promoting the PFF.
Why PFF?

1. Exposure to U.S. preferred stocks, which have characteristics of bonds (pay a fixed dividend) and stocks (represent ownership in a company)

2. Access to the domestic preferred stock market in a single fund

3. Use to pursue income that can be competitive with high yield bonds
The performance of the fund is average and was covered in some detail by Norman Roberts in an earlier article.
The main reason to buy the PFF is safety due to its diversification. Its top 10 holdings make up only 19.39% of the fund, with around 263 smaller holdings making up the remainder. This means you will have few sleepless nights about one of the holdings crashing. This is demonstrated by PFF's 15% exposure to European Financial Preferred Stocks. The precipitous fall in European Banks in 2016 is hardly visible in PFF's performance (4.9% YTD).
The Methodology of the index vs. the fund
Why does the ETF buy some funds and dump others? With so many well paid and experienced managers, how could they possibly end up buying something with a negative yield to call? The answers may be found in the fund's methodology, as described in its 'Statement of Additional Information' as copied below,
S&P U.S. Preferred Stock IndexTM

Number of Components: approximately 273

Index Description-Changes in Methodology. The S&P U.S. Preferred Stock IndexTM measures the yield and price performance of a select group of preferred stocks listed on the NYSE, NYSE Arca, NYSE Amex, NASDAQ Global Select Market, NASDAQ Select Market or NASDAQ Capital Market. The index is rebalanced quarterly, with Underlying Index changes implemented after the close of trading on the third Fridays of January, April, July, and October.

Index Methodology. In general terms, the Underlying Index contains preferred stocks that meet minimum size, liquidity, exchange listing, maturity and other requirements determined by S&P. The Underlying Index may include preferred stocks that are issued in the U.S. by U.S-domiciled entities whose parent companies or guarantors may be non-U.S. entities. The Underlying Index is calculated with a modified capitalization weighted scheme, with modifications being made to Underlying Index shares to limit single issuer concentration. There is no limit to the number of lines of a single company's preferred stock allowed in the Underlying Index; however a maximum weight of 10% of index market capitalization is set per issuer with all eligible lines capped on a pro rata basis. For purposes of this limitation, S&P defines a single issuer to include companies that are under common control or are guaranteed by the event that fewer than 15 preferred issuers qualify based on the other Underlying Index criteria, the liquidity constraints below will be relaxed and the largest stocks included until the issuer count reaches 15. The Underlying Index is rebalanced quarterly, effective after the close of trading on the third Friday of January, April, July, and October. Share changes occur semi-annually at the January and July rebalances.

Component Selection Criteria. The Underlying Index excludes: (NYSE:I) preferred stocks with a market capitalization of less than $100 million as of the rebalancing reference date; (ii) preferred stocks for which S&P cannot determine an indicated dividend yield; (NASDAQ:III) over-the-counter, bulletin board, and unregistered (144A) securities; (iv) preferred stocks that are structured products and brand-name products issued by financial institutions and that are packaged securities linked to indices, baskets of stocks or another company's stock; and (NYSE:V) preferred stocks that are issued by special ventures such as highway, airport, or dam operators. In addition, S&P applies the following inclusion and exclusion criteria. For preferred stocks that are not already in the Underlying Index, S&P may include: issues that do not have a mandatory conversion or scheduled maturity within 12 months of the rebalancing date; and (ii) that have also traded an average of 250,000 shares per month over the previous six months. Issues with between one and six months of trading history will be evaluated over the available period and may be included should size and available trading history infer the issue will satisfy the volume requirement. For preferred stocks that have been in the Underlying Index for more than 12 months, S&P excludes issues that have not traded 51 an average of 125,000 shares per month over the previous six months as of the rebalancing reference date. The reference date for additions and deletions is the last trading date of the month immediately preceding the rebalancing month. Additions occur only at the quarterly rebalancing. Deletions occur at the quarterly rebalancing based on the above eligibility criteria, but may also occur intra-quarter due to mandatory conversions, redemptions, or delistings.
In summary, the most important factors for selection are liquidity and the issuer. This really limits the amount of eligible stocks and must be the reason for buying stocks with a negative yield to call. The managers must surely know they are buying way too high and they will lose money on the purchase, but if that stock is the only one eligible, their hands are tied and they must buy regardless.
It's worth highlighting, 'The index is rebalanced quarterly, with Underlying Index changes implemented after the close of trading on the third Fridays of January, April, July, and October.'
If one of your preferred stocks makes an illogical move higher around this date, take the money and ask questions later. PFF is involved directly or people expect it to be involved, and it's probably nothing to do with how good your stock is. A very important note that has to be made is that the fund and the index are two different things. The fund is not 100% obligated to have exactly the same holdings as the index. More on this later.
Buying The Untouchable
I covered some illogical moves in the Bank of America (NYSE:BAC) preferred stocks in my October 11th article.
BAC-E and BML-H were added to the index and the prices rocketed. BAC-E is up around 8.5% from the start of October, giving it a price of $26.5 and a negative yield to call. The interesting thing is that PFF hasn't even bought it, yet. I did a CUSIP search and there is no record of BAC-E in PFF's holdings. I'm sure whoever recently bid the stock up in October will happily sell to it here.
I'm keeping a close eye on whether it really will buy the stock. As I said earlier, I'm short, but I find the whole scenario so crazy I would have an interest anyway.
Why Is BAC-E The Worst Preferred Stock?
It is paying the higher of 4% or 3-month LIBOR + 0.35%. As many contributors suggest it should be valued as a fixed income instrument giving you 4% + a call option on the 3-month LIBOR. The yield to best of BAC-E at current price is its current yield of 3.80%. Let's look at 2 scenarios.
LIBOR raises in the future in a way that it makes sense for BAC to call BAC-E. Depending on when it will get redeemed this is how its yield curve looks: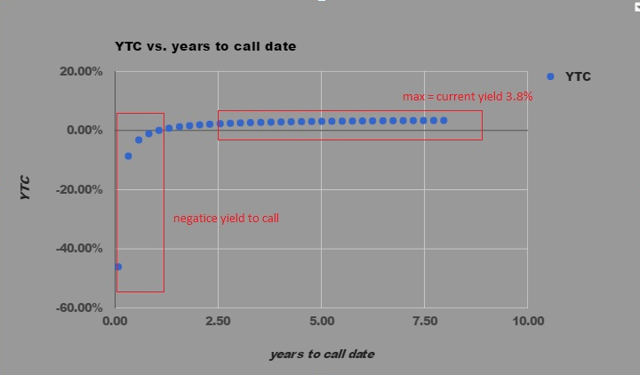 This yield is capped at a maximum of the current yield, but is lower for all periods.
Alternatively, yields stay low and the expectation is for low yields. In this scenario, BAC-E will be treated as a perpetuity. With its 4% coupon it will get crushed in comparison to its fixed income brothers and will be the worst performer for its credit rating.
So for BAC-E to receive more than 3% it has to be redeemed after at least 5 years. If LIBOR does not move 6-7% in the next years there is a significant risk that this stock will get crushed in comparison to its fixed income brothers. I am sure further explanation is not needed. This is just a disaster valuation for this stock and there is not a word said about credit risk. These are just simple yield metrics.
Management Risk (taken from PFF prospectus)
As the Fund may not fully replicate the Underlying Index, it is subject to the risk that BFA's investment strategy may not produce the intended results"
So the fund does not have the obligation to actually buy BAC-E. The question is, will they?
I am 100% sure that PFF investors won't be sore if the fund doesn't buy this turkey. This is a way for management to show that they are actually managing their portfolio rather than blindly buying. We are talking about people who definitely know how to value a preferred stock and compare it to another preferred stock. This particular situation can be used by management to show the public that they are making this extra step to serve your water from the right side.
The Bigger Picture And Your Comments
When I wrote my first article about PFF explaining how many negative yielders it has in its portfolio, I got many comments on how people didn't care. Since then there have been a lot of redemptions and PFF is doing well. No one cares when times are good.
What I find really concerning is the behavior of investors. When you do nothing special and earn the dreamed returns it creates a false sense of security. You start buying negative yielders and still make money. When buy the dip (warning link contains strong language) is the "Holy Grail" of trading and investing you have to remember the phrase, "easy come, easy go."
This chart is real and buyers of this particular dip will take a little more care with what they buy in future.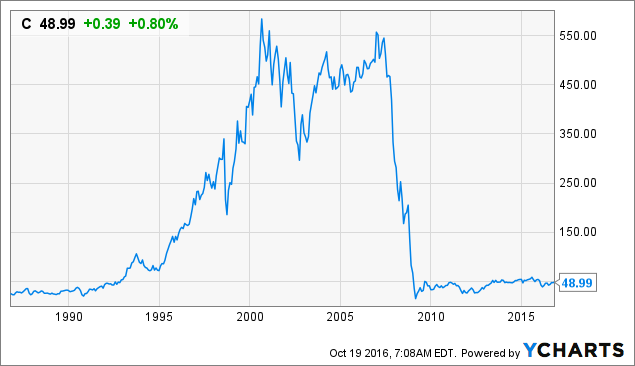 Conclusions
Financial logic is being superseded by rigid rules. We may be able to benefit, either by shorting inflated assets or buying those about to be inflated.
Looking at the bigger picture, it is a warning about what can really be driving valuations. This is a dangerous market.
Disclosure: I am/we are short BAC-E.
I wrote this article myself, and it expresses my own opinions. I am not receiving compensation for it (other than from Seeking Alpha). I have no business relationship with any company whose stock is mentioned in this article.