So, IBM (NYSE:IBM) came out with its earnings and the market is apparently not so impressed. As I type this, shares of IBM are down over 2.5%. I think, on the whole, IBM's quarter was a mixed bag, but analysts and investors decided to focus on the negative.
That's understandable. I actually think IBM is finally turning itself around. Furthermore, looking from both a technical and fundamentals valuation perspective, IBM is far from priced to perfection as it is. Expectations for IBM should have been fairly low coming into this earnings call, and frankly, results did exceed my own personal expectations. This article takes a look at IBM's latest quarterly results as well as its current valuation and also prospects for future dividend growth.
A mixed bag
In a nutshell, IBM's earnings looked like this: Earnings per share declined 1%, revenue declined 1%, and margins declined by 2.1 percentage points to 48%. That might not seem like very good results, but when you have a look at IBM's revenue over the last few years, you can see that this is indeed a pretty good result relative to those of the past.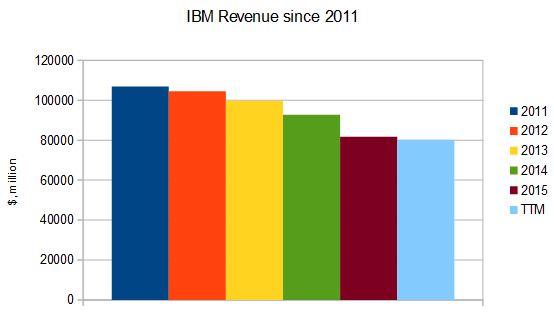 As you can see, revenue has been steadily declining, from about $107 billion in 2011 all the way down to about $80 billion over the trailing 12 months. That drop has been pretty consistent, but in the last quarter it looks as if IBM has stemmed that tide. One quarter is not exactly a trend, but these are encouraging results in my opinion.
To take a more granular look at earnings, Cognitive Systems revenue was up 5% and it was the best of IBM's business unit. Watson, which is IBM's cognitive intelligence system, is being adopted in many new places, including South Korea, China and with Siemens in healthcare. Also, the Finnish government contracted IBM's cognitive services for its national healthcare service. All this happened within the same quarter. Within Cognitive Systems, cloud-based revenue grew 74%.
Global Business Services revenue decreased 2%, with margin coming down 2.6%. Cloud services within this segment grew 69%, and "strategic imperatives" revenue increased 12%, so the growth projects here are doing alright. This was all more than offset by declines in traditional consulting, which as a business is indeed winding down. The older businesses tend to be of higher margins than the growth-oriented segments.
Technology Services Revenue increased 1%. Margins were down but only 0.7%, so this portion is pretty stable. Cloud services raised $1.5 billion within this segment and grew 55%. This more than offset IBM's traditional technology services segment. The Systems segment continues to have a tough time. This includes IBM's iconic "mainframe" systems, or"z Systems." Revenue decreased 21%, with gross margins declining 4.8%.
If I were to come away with something from this last quarter it's that IBM does have something to build its franchise around: Watson and cloud. For example, Watson cognitive services are available on IBM's cloud but is not available on any other of he company's cloud system. If customers want Watson in the cloud, they must go with IBM's cloud services. This gives IBM a pretty nice competitive advantage and one I think the company can build on as its older businesses continue to decline. If IBM were valued normally, I still wouldn't see this as enough to buy. However, shares are still considerably undervalued and, from a technicals perspective, it appears the bottom is in. Have a look.
Valuation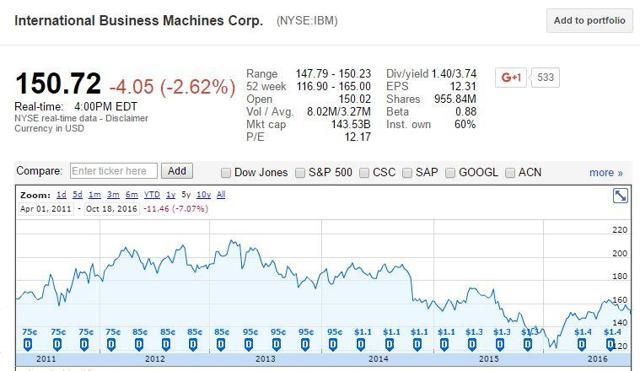 Courtesy of Google Finance.
Looking at technicals, we can see that IBM put in a fairly strong "bottom" in the beginning of 2016. From a fundamentals and valuation standpoint, I actually believe there is a good amount of upside in this stock, especially if it can stop the decline in revenue and at least tread water.
According to data from FAST Graphs, IBM has averaged 12.5 times operating earnings over the last ten years. Currently, it trades at 11.2 times trailing, operating earnings. Therefore, shares trade at about a 10% discount to average valuation. That's not a huge discount, but it is something.
Then, of course, is the dividend, which provides a 3.75% yield - very good for a large blue-chip company. But is there room for dividend growth? Actually, I believe that there is, or rather, either dividend growth or substantial buybacks. Here is why I believe so: Trailing twelve month free cash flow (which is operating cash flow minus capex) is $14.3 billion, with dividends of $5.1 billion. The dividend is only 36% of free cash flow. I still think there is plenty of room for dividend growth. For each year since 2006, IBM has raised dividends by double digits, and I actually believe that trend will continue.
Conclusion
Let me recommend buying IBM with just one caveat. One quarter of stabilizing revenue does not equal a trend, and I will certainly be watching to see what IBM does next quarter. So, if you do want to buy IBM, make it a small position until that trend of revenue stability settles in.
If you're interested in IBM, feel free to follow me here on Seeking Alpha. I haven written about IBM a couple times, I follow the stock regularly, and I will write follow up articles when doing so is both material and relevant.
Disclosure: I/we have no positions in any stocks mentioned, and no plans to initiate any positions within the next 72 hours.
I wrote this article myself, and it expresses my own opinions. I am not receiving compensation for it (other than from Seeking Alpha). I have no business relationship with any company whose stock is mentioned in this article.