Introduction
I've stated in almost all of my articles that I am an investor for the long haul. And contrary to what analysts see as the long haul (some years) I talk about decades. That doesn't mean I don't look for value. Overpaying for a stock can have an impact on your long-term results as well.
I am a frequent visitor of garage sales. In the first three to four years, I impulsively bought almost everything I liked at first sight. After a few years of experience, I started to run through a checklist before I bought: 'Do I need this? Is this something I really want to look at every day? Is this a fair or undervalued price? If I don't like it anymore, could I sell it for more than I have bought it?'
There is a big resemblance to the stock market: in my first years of investing I bought (and sold) too much, reacting on too much influences (analyst upgrades, positive articles, one time events, news etc.) I went as far as leveraging 200% of my investments, just because I wanted to buy, buy, buy. Only after a few years of experience through highs and lows, I started to get some common sense and I started to ask the same questions as with the garage sales: 'Do I need this? Is this something I really want to look at every day? Is this a fair or undervalued price? If I don't like it anymore, could I sell it for more than I have bought it?'
Just as with garage sales, you have to be patient before you find a gem in the stock market, especially in a bull market. A bull market is like a garage sale where there have been hundreds of visitors before you because you had to go and drink coffee with your aunt on Sunday morning: most of the real bargains are gone, but if you look carefully, you might find something.
In this article I will tell you nothing about my latest garage sale bargain, but about what I consider as a stock market bargain: CVS Health Corporation (NYSE:CVS).
The price drop reasons
CVS has been under a lot of price pressure of lately. The charts speak for themselves: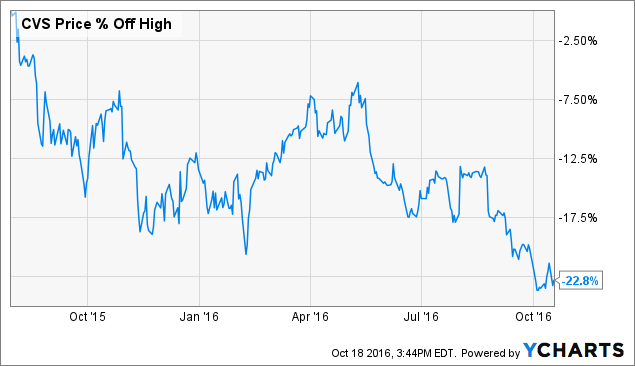 CVS data by YCharts
You see that CVS went down more than 20%. Why is that? Well, mainly because of political reasons. The presidential election is the four-yearly High Mass of politics and the market reacts to that. In hindsight (in a year or two), mostly exaggerated. I believe this is the case as well for CVS. As there is a fair chance that Hillary Rodham-Clinton wins the elections, investors are afraid that she will bring down the profits of all healthcare companies.
For CVS the specific threat is that profit margins could become smaller because of reduced reimbursement fees for generic drugs instead of branded drugs. Is this threat unreasonable? For me the answer is: 'Mostly, yes.' By that answer I mean that I think that the next president, especially if it would be HRC, could not push enough legislation through the House and the Senate to clip the wings of the health care industry completely.
There is also a fear of competition for CVS, especially from the big bad wolf of retail, Amazon (NASDAQ:AMZN). Amazon sells over-the-counter drugs, but investors are mainly afraid of Amazon's drone delivery program, which could bring the needed drugs to your house. Although it is probably possible technically, I think it will take years before all regulatory problems will be solved.
Besides that, CVS has a long record of online drug sales, longer than Amazon. In 1999 already CVS bought soma.com, the first online pharmacy and renamed it cvs.com. And CVS keeps innovating. On last December's investors day, CVS president Helena Foulkes said that digitally engaged consumers visit stores six times more per year and spend 4.5 times more. They also fill prescriptions at a rate of 2.4 times higher than non-digital customers. And CVS has a successful strategy of driving growth in their stores. If you want this strategy concisely, follow the link to the article.
Do I have a crystal ball? No, I haven't found one yet on any garage sale. We don't know what the future will bring. Is there a possibility that the regulatory landscape will change? Yes. But even then, with an aging population that needs more and more drugs and with soup never being eaten as hot as served, I see a thriving future for CVS.
Basic investors information on CVS
According to finviz.com, CVS has a forward P/E ratio of only 13.34 (with the closing price of October 18th: $87.19). As I am interested in stocks for the long haul, this looks great.
Let's have a look at the FAST graph, as these graphs always provide plenty of useful information: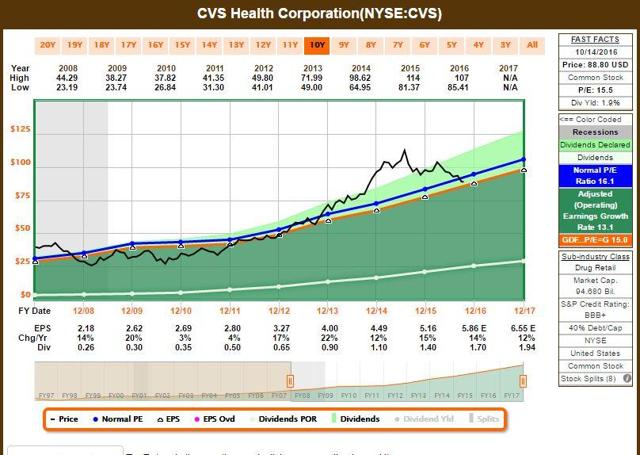 First you can see that it has been three years since the last time CVS has been valued under its 'normal ratio'. What I also see is that CVS has an investment grade rating: BBB+ and a 40% debtCap.
You can also see the white line, which indicates the dividend. It has been growing steadily. CVS is a dividend contender (according to David Fish's list), with 13 years of rising dividends. And the BOD of CVS has raised the dividend considerably in the last decade.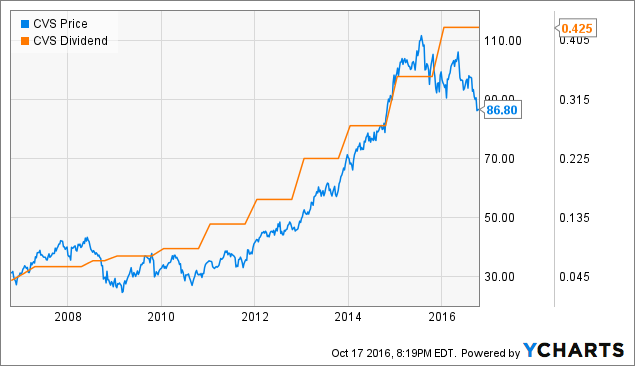 CVS data by YCharts
As you see, the dividend and the price appreciation went hand in hand until recently. I expect the long term evolution to resume sooner or later. I expect the next dividend raise to be announced in December and maybe that could be a turning point for the price appreciation of CVS.
On the FAST graph we can also see that the current dividend yield of CVS is 1.9%. This may seem very low to income investors, but for investors with a long horizon, this 'low' dividend is a treasure. CVS's payout ratio is only 35%. And this is despite the fact that CVS has a dividend growth rate of 29% over 3 years and a 5 years dividend growth rate of 31%.
If we look at the 5 year yield charts, we see that CVS's dividend has an abnormal high yield at this moment: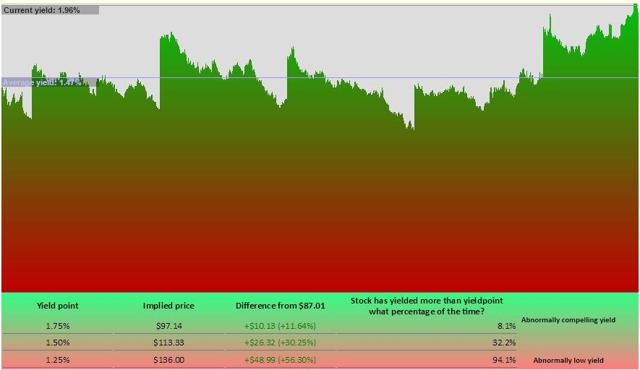 The 5 year average is 1.47%, now the yield is 1.9%. A yield of more than 1.75% was something you could only dream of with CVS shares for 81.9% of the time, let alone 1.9%. How historically high that is for CVS can be seen on this 10 year dividend yield Y-chart: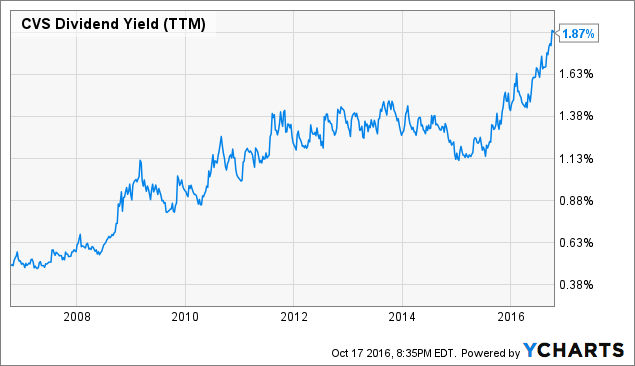 CVS Dividend Yield (TTM) data by YCharts
This is a double-edged sword, of course. Because the price of CVS has come down, the yield has gone up. I can never get used to how the market always keeps overreacting. If a stock grows, the investors/traders become so excited that prices can reach extremely high P/E ratios. I consider every triple digit P/E as exuberant. Everybody knows the examples. On the other hand you have the unduly selling of certain stocks that keep losing market cap. Often this category of companies is punished because their business has some headwinds that cause panic amongst investors.
But CVS is a curious case: it is expected to grow at a rate of 14.5% in the next five year (according to finviz.com), but still it has lost about 25% of its market cap. It is also a very safe investment according to the Nasdaq risk assessment tool: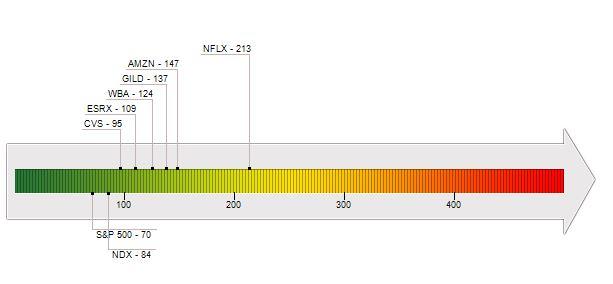 I have added some competitors of CVS: Walgreens Boots Alliance (NASDAQ:WBA), Express Scripts (NASDAQ:ESRX) and big bad wolf Amazon. You can see that all are assessed as riskier than CVS. I have also added Gilead (NASDAQ:GILD) as an example of a company with a low P/E ratio and Netflix (NASDAQ:NFLX) as a stock with a triple digit P/E.
Valuation
When I buy stocks, I want to buy undervalued or fairly valued stocks. Let's have a look at different methods to see how CVS is valued right now.
The first two valuations were already briefly mentioned before in this article: average P/E ratio (FAST Graph) and yield.
The average P/E of CVS of the last decade is 16.1. If we look at the price of CVS of $87.19 and it has a forward P/E of 13.34, then we get a fair value of $105.3.
If we look the average dividend yield of 1.47% and the current annual dividend rate of $1.70, we can calculate the fair price based on the dividend: $115.6.
You could also make your calculation of the fair price based on future cash flows. This is the result of the intrinsic value calculation of Simply Wall St.

For a discounted cash flow calculation on CVS, I use a 10% growth rate over 10 years, with a terminal growth of 5% and a 12% discount rate (which is rather high, but hey, I'm ambitious) and an estimated EPS of $6.50 for next year. The fair value I get is $97.7.
According to Morningstar, CVS has a trailing price/cash flow ratio of 10.1, while the 5 year average is 14.4. This would mean that if CVS would return to its mean, its price would be at $124. By the way, Morningstar also gives four stars to CVS, which means that it considers CVS to be undervalued.
Let's put this all together in a neat little chart.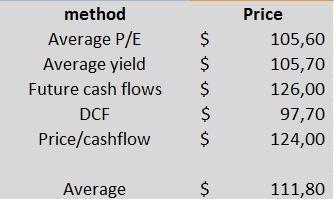 With an average price of $111.8 and a current price of $87.19, CVS has a margin of safety of 28%. Not bad in this overvalued market.
The future: CVS stands for Creating Value for Shareholders
The most important thing for shareholders is of course return. Some will favor high dividends, some will only focus on growth stocks, but for me, it is the total return that counts. It is not because I am a buy-and-hold investor that I don't want to see a bright future in the starting years. The first five years are the only years that I have some information about, in the form of estimates. Therefore I use the estimates for the five year return simulator of FAST Graphs: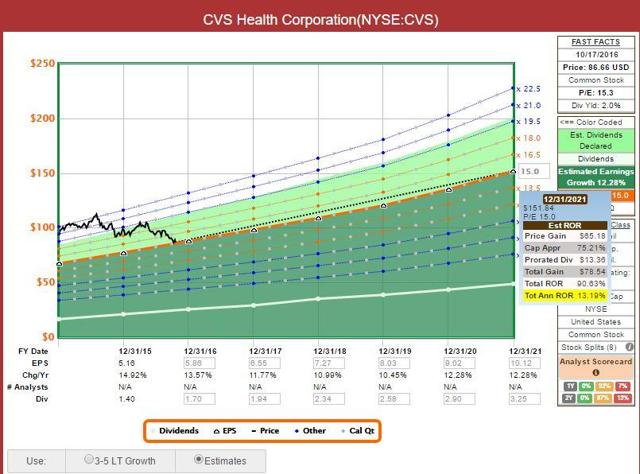 As you can see, CVS is expected to create a CAGR of 13.19% in the next five years, even with an end P/E ratio of 15, which is a bit under the historical average of 16.1. This means that $10.000 would become $19.000 in just five years. Of course, the market is fickle and it also depends on the performance of the management of CVS. Are they able to meet the estimates? Yes, they are. Look at their score in meeting the estimates: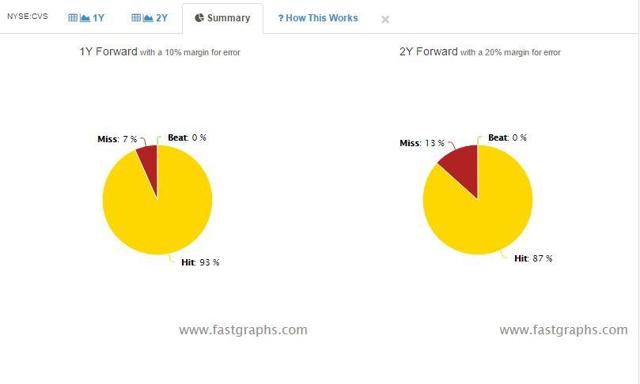 This gives me confidence that CVS will continue to create value for its shareholders.
If you are a DGI, maybe you are put off by the low dividend of 1.9%. But I believe that CVS will keep raising the dividend with double digits for the next decade at least. If I take a (conservative) 12% dividend growth rate the $1.70 dividend rate has grown to $5.28 over 10 years time, which would mean a yield on cost of more than 6%. Not too shabby... Just let time do its great work.
Last year CVS acquired 1,672 Target (NYSE:TGT) pharmacies in 47 states for $1.9B. In my opinion this buy will help CVS to leverage its size to further reductions. In the same article about last year's investors day, I read some interesting points made by Helena Foulkes:
CVS/pharmacy has a significant opportunity to grow its pharmacy business in Target stores, Foulkes explained. CVS/pharmacy on average fills twice as many prescriptions per pharmacy versus the average legacy Target pharmacy. And currently, only 5% to 7% of Target customers use Target pharmacies - a number CVS Health executives expect to drive much higher.
For me this clearly shows that the CVS management knows how to leverage this investment.
Conclusion
CVS is that one buy on an overpriced garage sale. It is a great company, with a great history and a great future. Although there are reasons for the big price drop (political pressure and fierce competition) I think these will only prove to be noise in the long run. Therefore I have bought a position at $87 and I plan to buy more if the price would drop further.
If you liked my article, feel free to push the follow button next to my name.
Keep growing!
Disclosure: I am/we are long CVS, GILD.
I wrote this article myself, and it expresses my own opinions. I am not receiving compensation for it (other than from Seeking Alpha). I have no business relationship with any company whose stock is mentioned in this article.