Note: A highly similar article was originally published, October 14th, on The Black Swan Portfolio, a Seeking Alpha subscription service. Just to be clear:
I'm not short MGT Capital
Mgt Capital (NYSEMKT:MGT) released a press release last week saying:
MGT Capital Investments, Inc (MGT). (NYSE MKT: MGT) is proud to announce the commercial release of its first network security product designed by whitehat hackers and JohnMcAfee. Sentinel represents a new paradigm in the defense against malicious hackers. The system, comprised of a passive hardware device connected to each subnet, monitors network traffic for suspicious activity using sophisticated algorithms and heuristics, generating an alert and deploying appropriate counter measures. Simply put, Sentinel is the first user-friendly security device to provide actionable intelligence before companies are hacked.

Further, Sentinel is the first in a suite of products designed to proactively protect networks, computers, users and their data. Without degrading network quality, the system gives the edge back to companies by alerting them to intrusions on their network, andby distracting hackers with honeypots before real damage occurs. Sentinel mitigates risk by greatly reducing the time a hacker has to operate inside protected networks, upload malware or steal data. This also allows for an investigation to begin while an attack is in progress, rather than after the perpetrator has completed the hack.

"The best ideas in technology are simple to use and serve an unmet need. Computer hacking is the number one threat to the safety and privacy of the world's population. Sentinel provides an enterprise IT department with early detection of potential intrusions. This headstart gives a distinct advantage in what indisputably is a war presently being won by the bad guys," stated John McAfee,Executive Chairman of MGT. "At MGT we are extraordinarily lucky to have assembled a group of talented programmers that share our vision of the future of cybersecurity."

Initial orders are expected to be shipped within six to eight weeks. Enterprise pricing begins at $4,995 per unit under an annual renewable contract. Each unit can protect an entire intranet class-B subnet, with volume-based pricing for orders in excess of 25units. Interested parties are advised to contact sales@mgtci.com.
The stock jumped 25% after the release although it was not a surprise. The company launched Sentinel MGT back in June with a press release:
MGT Capital Investments, Inc. (NYSE: MGT) announced Sentinel MGT, an intrusion monitoring system, a cybersecurity product designed to protect corporate and enterprise intranets from sophisticated hacking threats. MGT also announced plans for a consumer product based on the technology, due to be released in November. The underlying technology was purchased from Cyberdonix, Inc. for 150,000restricted shares of MGT stock.
The new product that was released today looks like this: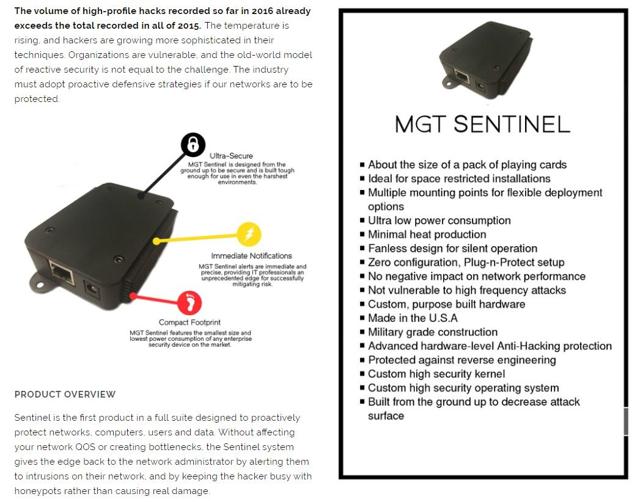 Which is a virtual mirror image of the product displayed on cyberdonix.com: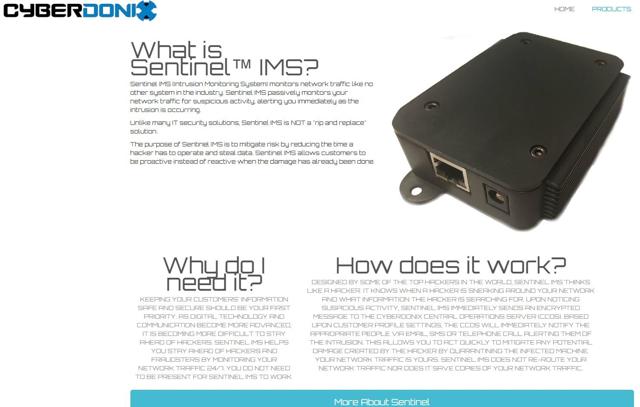 Checking with the Waybackmachine the product appears to have been live(similar description) since February 18, 2016 but the perfect matching picture is only saved by the Waybackmachine since July 30, 2016. Which is after MTGCapital announced:
The underlying technology was purchased from Cyberdonix
So it didn't take over Cyberdonix, merely the underlying technology, for 150k shares. In addition it seems to be a non-exclusive deal as Cyberdonix continues to advertise the same product to this day. I've e-mailed them if they still sell it. Did not hear back.
It looks like Cyberdonix had this thing out for about 6 months prior to the deal with MGT Capital. Given they sold the underlying technology in exchange for MGT shares (that in my opinion are worth less than the current share price indicates) or roughly in the neighbourhood of $600k, if you go by the market value of MGT at the time, it probably wasn't a huge seller.
According to the press release the product was developed by white hackers,which must be the guys at Cyberdonix. If you look up their address it is listed on their website: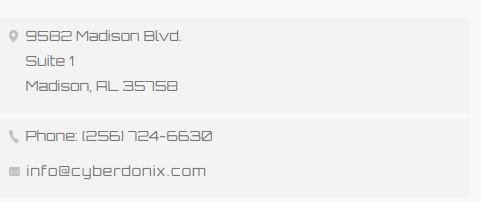 Source: Cyberdonix website screenshot
Which is this strip mall: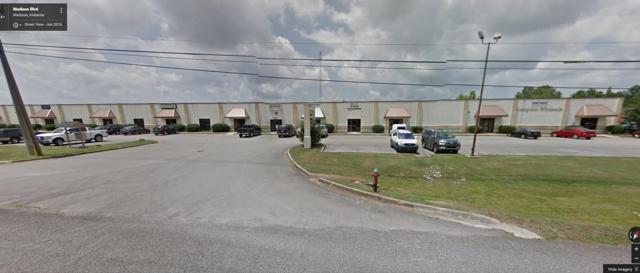 Source: Google Streetview
The address matches the Yelp address given for Tech Stars (suite 1-3) vs suite 1 listed on the Cyberdonix website.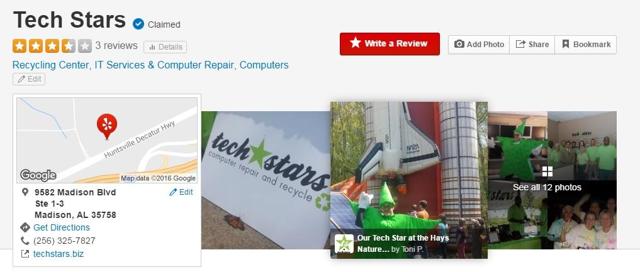 They sell second hand furniture and $100 laptops(through their website and eBay store as well as on location I guess):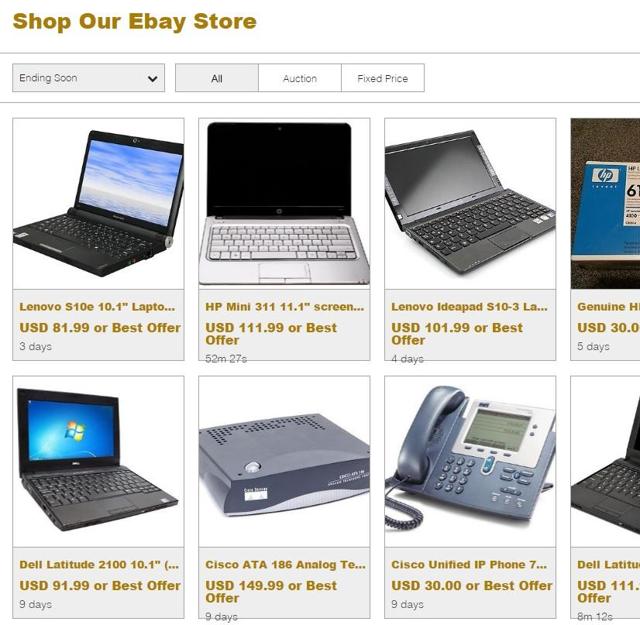 Likely the whitehackers real business while they were burning the midnight oil developing their novel security solution or doing white hacks of course.
It's possible these guys came up with a solid product, lack the marketing skills and that's what MGT brings to the table. They certainly know how to draw attention.
It's not so clear to me 1) that MGT has the right to the hardware (they state underlying technology in the press release).
It would be wrong to classify the press release in a negative sense. A new product can always bring sales. If they sell at $5k a pop that would be quite impressive. I need to see it reflected in the income statement before I believe it.
If you are interested in the stock keep an eye on Orange Peel Investments work who are evaluating the technology.
Disclosure: I/we have no positions in any stocks mentioned, and no plans to initiate any positions within the next 72 hours.
I wrote this article myself, and it expresses my own opinions. I am not receiving compensation for it (other than from Seeking Alpha). I have no business relationship with any company whose stock is mentioned in this article.
Editor's Note: This article covers one or more stocks trading at less than $1 per share and/or with less than a $100 million market cap. Please be aware of the risks associated with these stocks.