With El Niño which was supposed to be a monster this time seemingly behind us, the cycle in the Pacific that has been getting drastic in recent years looks to be swinging back into La Niña. Hardcore Skiers and Snowboarders likely know about El Niño. El Niño usually means massive snowfalls in California, Nevada, Utah, Wyoming, Idaho and Colorado. As an obsessed snowboarder myself, I would look at coming El Niño snow seasons with nail-biting anticipation. I was in Utah during the 2009-2010 season and remember one 72-hour period in which over 7 feet of snow fell in 3 days. I could barely walk after those three days on the slopes; we'd be talking about that storm 6 years later every year we found ourselves in the mountains.
A yearly ski trip is a rite of passage for many Americans, many book the same week every year. Ski resorts rely on the clockwork-like nature of people starting to plan their trips for the coming winter earlier in the season. It's not uncommon for rooms, houses and condos to be booked up for the bigger weeks as soon as early fall in some cases. Just because someone has reserved a room, however, does not mean they will show up. Rather lax cancellation policies and the costs associated with a trek from the east coast to western mountains mean many will simply book the room and not go if there is no snow. Ski resorts already have revenue concentration to deal with as they make the lion's share of their money in the winter of course. Now ski resorts are faced with the prospect of guaranteed snow every year becoming a distant memory. Ten years ago if you planned a trip to Utah in late January through February for a week, you'd almost always get at least one powder day. With El Niño and La Niña rotating between each other more rapidly than ever booking a trip, the same week might result with dealing with grassy slopes or more snow than you would know what to do. So what are El Niño and La Niña and why would it even matter for a diversified resort operator like Vail Resorts (NYSE:MTN)?
El Niño/La Niña:
The El Niño - Southern Oscillation or (ENSO) cycle is caused by variations in winds and sea surface temperatures in the tropical eastern Pacific Ocean. During El Niño cycles more warm water than usual pools in the east by North, South and Central America, this is due to a weaker current running east to west that usually pushes more warm water towards the west. The La Niña cycle is just the opposite, the east to west current runs stronger than normal making the water in the east by the America's colder and the water in the west by Asia warmer. There's a host of different methods to determine the severity of the El Niño or La Nina cycle but basically, the warmer the water is in the East Pacific the bigger the El Niño and the colder the water in the East Pacific the bigger the La Niña. It seems recently we've always been in either El Niño or La Niña and that's just what the NOAA data suggests. It wasn't always that way. The cycles between the two were much farther apart in the past with the Pacific Ocean experiencing "normal" conditions much of the time. Large El Niños have caused massive flooding in the western US and massive droughts in Asia. Likewise, La Niña's were responsible for large droughts in the western US and flooding in Asia. Much of the recent drought conditions seen in the western US can be attributed to a long La Niña cycle from 2010-13. A picture tells a thousand words and the below images show the general global effects of both cycles.
El Niño: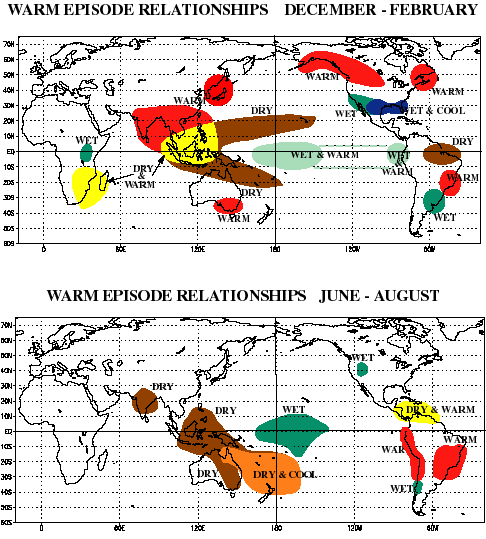 La Niña: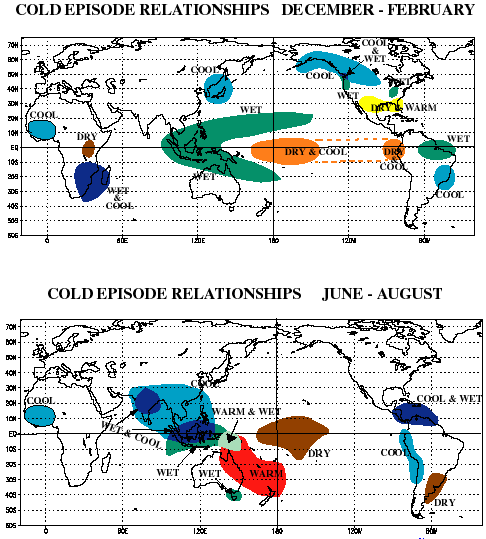 (Source: NOAA.gov)
The above images sum up the general trends seen during these cycles but by no means are they absolute. During La Niña, the western mountains will still get snow, they will just likely get less snow. The severity of the cycle also comes into play with the above weather tendencies. During a bigger El Niño, the western US might expect a wetter winter than a less severe one might produce. A very mild La Niña could result in a very modestly drier winter in the western states or not at all drier conditions. A very mild La Niña or El Niña might produce weather patterns, not unlike a normal ENSO cycle produces. When you're dealing with weather it's very hard to predict absolutes, the best you can help for it to identify higher or lower trends. As an avid skier and boarder, I've seen firsthand the different cycles; it's safe to say you can expect better conditions during El Niño years.
Vail Resorts Mountains:
Vail Resorts is the largest ski resort owner and operator in the world by a huge margin. With the inclusion of Whistler Blackcomb's portfolio, which Vail Resorts recently bought in a $1.1Bn deal (Source: vailresorts.com), nobody owns anywhere near as many ski resorts. Vail has a diverse portfolio of ski resorts spanning the entire globe; this diversification has many benefits as ski resorts can be a fickle business. If a company that has only one ski resort has a bad snowfall year, the results can be dire. Mom and Pop ski hills have been bankrupted after just one bad winter in the past. If a single mountain ski company has a string of bad winters in a row, bankruptcy can be all but guaranteed.
Although some still like to debate it for some reason, global warming is a real thing. In addition to the entire temperature of the globe increasing, it's clear to most that weather is also getting more volatile. For a diverse company like Vail Resorts, heavy snowfall in the western US could offset poor snowfall in British Columbia or vice versa. Even though Vail Resorts is diverse, it still has some concentration risk, some of its biggest revenue generators are in Utah, California/Nevada and Colorado of course. These three areas tend to suffer the same snowfall patterns during La Niña years and enjoy similar big snow years during El Niño years. I took the map of Vail Resorts' various locations (pre-Whistler acquisition) and overlaid the general tendency for precipitation during La Niña winters: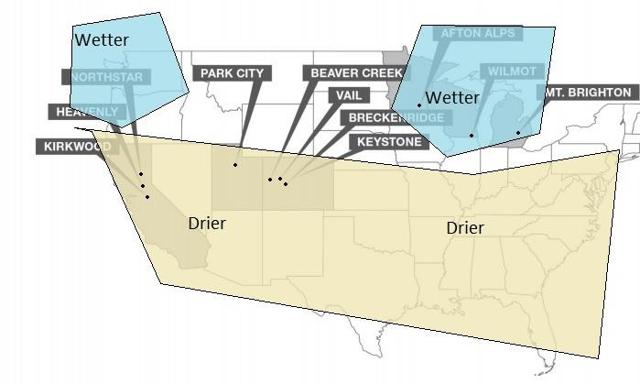 (Map Source: vailresorts.com)
This map would suggest that if La Niña shows up in force again the snowfall situation for many of Vail Resorts' mountains could be significantly under-average. This map is a good tool, but I wanted to show just how much La Niñas can affect some of Vail's mountains. The below chart shows degrees Celsius above or below average what is considered "normal" temperatures: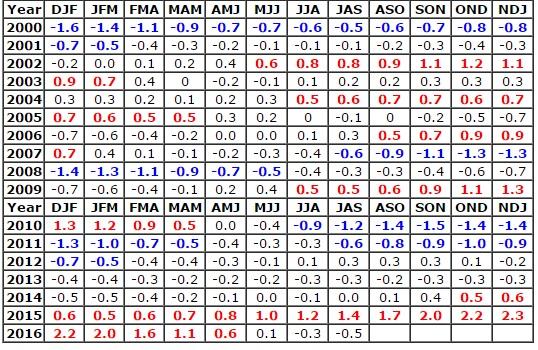 (Source: NOAA.gov)
The blue numbers are negatives under .4 degrees Celsius indicating La Niña conditions are present, and the red numbers are positives above .4 degrees showing El Niño conditions. As we discussed earlier, El Niños happen when the water in the eastern Pacific are higher than average; La Niñas occur when those same waters are colder. The last major La Niña occurred in 2010-2012 as seen on this chart peaking at 1.5 degrees under average. The most recent La Niña affected the mountains during the 2011-2012 snow season which saw significantly less precipitation than average. We can see this from the base depth charts of a few mountains that Vail Resorts owns (Including Park City, though at that time wasn't owned by Vail):
Vail:

Heavenly: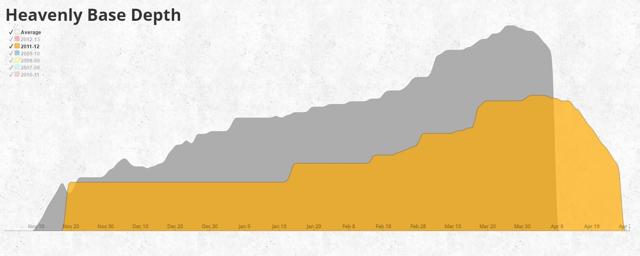 Park City: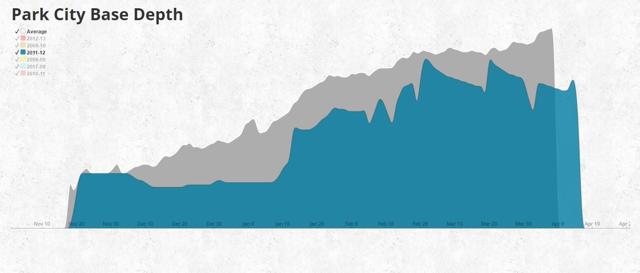 Keystone:

(Source: snowbase.kennychan.co)
These mountains fall in California, Nevada, Utah and Colorado and all of them had poor vs. average (gray line on the charts) base depths throughout the entire ski season. As I said before, there are no absolutes when it comes to weather; regarding the 2011-2012 season, however, it played out exactly how NOAA suggested it might, it was drier in the western US. How did management respond to this winter? It was definitely at the top of Robert Katz's discussion list on the Q2 2012 Earnings call during which he said the following:
So with that said, let's turn to our second quarter fiscal 2010 results, capital plan and outlook. This has been one of the most if not the most challenging winters for U.S. ski industry. In Colorado, snowfall levels were the lowest in over 30 years and for the first time in as many years, we were not able to get Vail's Back Bowl open until Mid January.

In Tahoe, we experience weather patterns that have not been seen since the late 1,800s including having zero inches snowfall in December. Given that backdrop, we are very pleased with the strength and stability shown by our operating model, as we reported only modest declines across our major revenue lines in what many would consider a worst case weather scenario which followed last season's record setting snowfall."
(Source: Q2 2012 Earnings Call Transcript)
To summarize, snowfall was awful. However, Vail Resorts saw only modest declines in revenue. During the 2011-2012 ski season, attendance at resorts was still recovering from massive declines during the credit crisis. That ski week or weekend people took every year was easy to cut when the economy got hit hard. I'm not saying that's all that was happening here, Vail's results during such a bad snowfall year were commendable. Its diversification and investments in snowmaking certainly paid off during that light snowfall season. By no means, however, was the business firing on all cylinders that season. A lesser operation or single resort company would have seen their business significantly deteriorate. For Vail Resorts the poor snowfall year was akin to a speed bump. Further discussing the quarter Katz stated:
"To add some perspective to the resiliency of our business model, snowfall level at our six resorts were down 60% through January as compared with the prior year. However, mountain reported EBITDA declined only 5.2%. The strength of our operating model in this unprecedented environment incorporated four key drivers. First, the strength of our season pass program continues to pay significant dividend. Our pass sales which last year accounted for approximately 35% of our total lift ticket revenue for the ski season are up approximately 12% this season, suffering the impact of the decline in visitation on lift revenue.

Second, the continuous investments that we have made to ensure that our assets are the highest quality, clearly rewarded our guests this year, as our resort further differentiated themselves. Our significant snowmaking capabilities enabled us to have significantly more terrain open than other resorts in the region, driving further guest loyalty as well as attracting new guests to our mountain. Additionally, our guests were engaged during their vacations due to all of the amenities that exist at our resorts, both on mountain and at our resort based villages."
(Source: Q2 2012 Earnings Call Transcript)
To see an EBITA decline of only 5.2% during what was considered the poorest season in decades shows the diversified portfolio model utilized by Vail Resorts strength. MTN stock was more or less flat over the 2011-2012 season as shown below: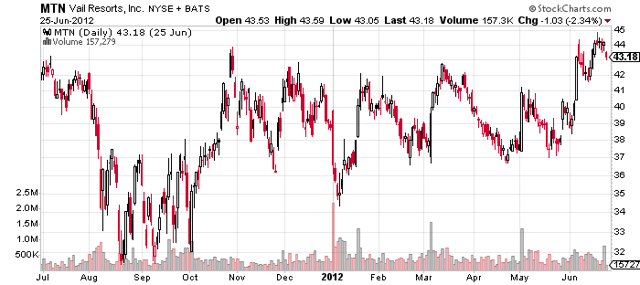 (Source: stockcharts.com)
It's apparent from this chart that the market sold off MTN stock before the Q2 ER release, likely in anticipation of a shocker of a quarter. It quickly ripped over 15% in the days after the ER release as Vail proved they could operate successfully during an exceedingly tough winter. With this in mind, why do I think a rough snow year could be a negative for MTN stock? Vail Resorts is a much different company it was just 4-5 seasons ago. Vail had bought and invested heavily in the Park City area and has recently bought Whistler Resorts. The stock has been on an absolute tear, rising over 270% since the Q22012 ER just mentioned: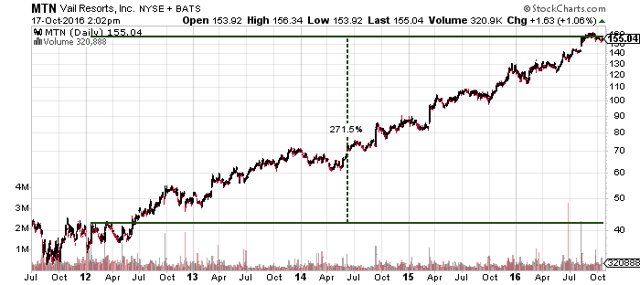 (Source: stockcharts.com)
Attendance at resorts has recovered, people who wanted to go skiing for the past couple of seasons have done so. A poor snow year in the 2016-2017 season especially if California, Nevada, Utah and Colorado, if experienced it again, could stop MTN's meteoric rise in its tracks.
Vail Resorts has just one publicly listed comparable company, Intrawest Resort Holdings, Inc. (NYSE:SNOW). Intrawest also has a diversified portfolio but lacks the sheer number of ski resorts that Vail owns. Intrawest is more leveraged than Vail vs. its market cap with $570mm of debt and $600mm Mkt cap to Vails $700mm of outstanding debt and over $5Bn Mkt cap. Intrawest generates approximately one-third of the revenue that Vail does; currently on a $600mm per year run rate compared with Vails $1.75Bn yearly run rate. Vail has a 3.86 EV/Revenue vs. Intrawest's 1.97 EV/Revenue ratio. MTN trades a large premium vs. SNOW and it likely deserves to trade at this premium. With questions regarding the 2016/17 season's weather patterns and execution risks around the Whistler resorts acquisition, I believe this premium is likely too rich. The below chart compares MTN and SNOW since SNOW was listed, MTN has outperformed SNOW by over 80% during this period.

(Source: yahoo.com)
To dig deeper into the valuation differences between SNOW and MTN I have put together this matrix:

Vail has better margins than Intrawest, but on every other metric, we can see just how much of a premium MTN trades vs. SNOW. This table contains important information but my thesis regarding Vail having a hard time going forward stems more from the weather. So with this in mind how might this not play out as expected.
Counter Points:
La Niña might not show up, at least this year. This is a possibility as the weather in general, and for that matter, ENSO cycles can't be forecasted with 100% certainty. Alas La Niña does, in fact, look as though it's coming, NOAA just upgraded their probability to well over 50% by winter 2016 (Source: komonews.com). The reality is that NOAA would never forecast a 100% probability of an El Niño, La Niña or Normal conditions, if they can't make that forecast certainly I can't either.

Snowmaking, Vail has invested heavily in snowmaking at all their owned and operated mountains. Snowmaking can be a marketing point and can make skiing and snowboarding more enjoyable or even possible. The changing of weather patterns has not been lost on Vail and other ski resorts managements. If the snow doesn't show up the easiest way to combat that is of course, just make it yourself. Resorts globally have been investing in snowmaking equipment and new technologies. Man-made snow is fine for beginners and intermediate skiers and boarders, for the more advanced riders nothing can compare to a powder snow day. Snowmaking is great and allows mountains to operate when they typically couldn't do so, but it's never going to replace mother nature's real snow completely. At least not for the millions of advanced powder hounds out there.

Diversification could mean La Niña doesn't significantly affect Vail's business yet again. Terrible snow throughout the western states during La Niñas typically means Whistler Blackcomb, Washington, Oregon and British Columbia are getting pounded with snow. Whistler has seen some of its biggest snow years during La Niñas. As Whistler is now included on the Epic Pass (Vail Resorts season pass) (Source: Whistlerblackcomb.com), an Epic Pass holder could just move his trip from Vail to Whistler. Vail would still see the revenue from that trip. The issue with this is BC Canada is quite a bit harder to get to compared to Vail or Park City (the latter being one of the easiest mountains to travel to). People still might just cancel their trips if the snow is bad in the west and forgo a trip to Whistler.

La Niña shows up in force, but it snows just the same. Big snow during La Niña cycles is always a possibility, there have been big snow years during La Niña cycles in the past, and there probably will also be in the future. Weather will do what the weather wants to do; it reports to no master or weatherman/woman.

People don't care. There's more than just skiing powder snow for the average vacationer. These resorts have gourmet restaurants, bars, tubing, snowshoeing, concerts, après skiing, etc. There is something for everybody. An average family of four might take their ski week regardless of snow conditions. If the husband or wife was a good skier, they might grumble a bit about not getting a powder day, but it might not be a deal breaker.
Conclusion:
As a hardcore skier and snowboarder myself I would love to say I think the 2016/17 season is going to be full of the white stuff. Unfortunately, it looks like La Niña is at the doorstep yet again and powder days in the western US are going to be few and far between this season. Is MTN a screaming short here? Not yet it isn't; I'm going to have to see how the season progresses to ascertain how bad it might be. But with MTN up over 250% in 4.5 years I'm ready to strap on an option trade so I can get something on the tape before the winter plays out. I'd sell the April 2017 160/170 call spread right here taking in $3.75 of premium a contract. I'm risking losing $6.25 and my original premium if MTN continues to rise over 170. For me to hit my max loss MTN stock will have to rise an additional 8% by April 2017. If when winter starts and the snow, in fact, doesn't show up, I'd be looking to outright short MTN stock. For right now, however, this option trade gets me involved but limits my risk if I'm wrong, and like thousands of weather reporters across the country, I very well could be.
Disclosure: I/we have no positions in any stocks mentioned, but may initiate a short position in MTN over the next 72 hours.
I wrote this article myself, and it expresses my own opinions. I am not receiving compensation for it (other than from Seeking Alpha). I have no business relationship with any company whose stock is mentioned in this article.