Despite facing a lot of bureaucratic problems in the vast country, Amazon (NASDAQ:AMZN) has been able to control a large market share in the Indian e-commerce space by virtue of its financial depth, aggressive marketing and brand value for brand conscious Indian consumers.
Smartphones account for 85% of the Indian e-commerce market. In 2015, Flipkart (Private:FPKT), Amazon's nearest rival and India's largest e-commerce platform, controlled 47.5% of the market, while Amazon held 21.5%. By March 2016, Flipkart was down to 42% while Amazon was at 27%. But by the July quarter, Flipkart was down to 40% and Amazon was at 32%. These outstanding results are as much Flipkart's own creation as Amazon's excellent and aggressive foray into the Indian market.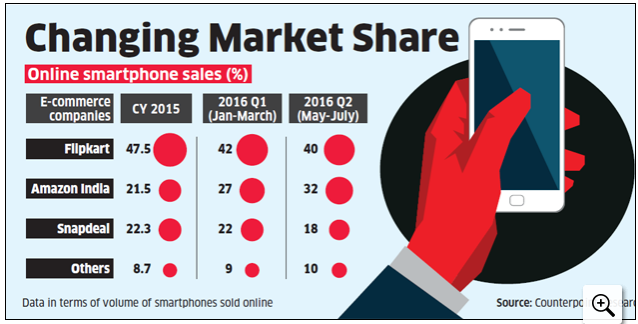 Bureaucratic pressure is nothing new in the partly-controlled Indian market (to be frank, all global markets are partly state controlled). Just recently, Amazon was facing flak because it introduced Amazon Export Sales on to its platform, whereby Indian consumers could directly order items from outside the country. This goes against India's stringent FDI norms. Amazon also is not allowed to act as anything besides a marketplace for vendors and sellers, a rule it routinely flouts by involving its own seller into its marketplace. Small retailers in India routinely cry horse about these rule-breaking, but it seems that, at least for now, the big e-commerce retailers, under the BJP government, are getting some government support in running their businesses the way they please. This is comparable to the US market where the mom and pop joints at street corners have largely been replaced by big retailers, big restaurants, big industry, with the silent acquiescence of successive American governments.
Be that as it may, it is doubtless that Amazon is doing what it does best, infusing capital, hiring talent, and aggressively cornering market share in a country where it had little presence two years ago. The reason behind this interest in the Indian online market is that, in the next four years, this space is slated to grow four-fold, from a mere $38 billion to $120 billion in gross merchandise value or GMV.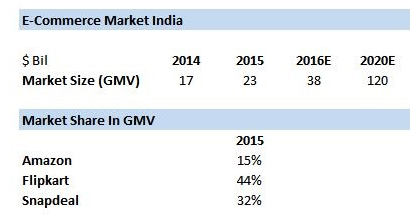 There are a number of ways Amazon is steadily winning against the homegrown retailers like Flipkart, Snapdeal (Private:DEALS), etc. First, both the $15 billion Flipkart and the $6.5 billion Snapdeal are facing a cash crunch, especially after Morgan Stanley lowered the value of Flipkart by 27% this February to $11 billion. This has come as a tremendous blow to homegrown Indian retailers that are now unable to raise cash from the market. Against that, Amazon has a huge cash base and recently committed to investing $5 billion in the Indian market.
Secondly, Amazon simply has the highest number of products in the market, 65 million compared to 40 million of Flipkart's. As a result, it is reporting higher gross sales, creeping past 2000 crore INR (about $340 million) in July 2016, the latest month for which data seems to be available. If you compare these figures to its US sales over the years, you will see what interests Amazon so much in India - these early India years are comparable in scale to its early US years.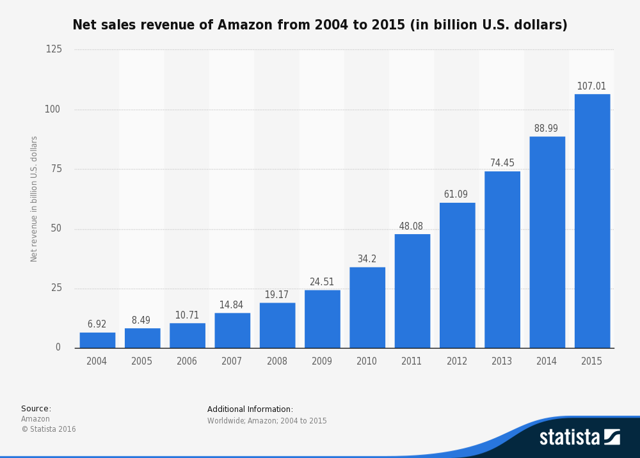 Thirdly, all e-retail in India is loss-making at present, and even those with the longest time in the market do not see profit. Indian companies with less cash at hand simply do not have the staying power of Amazon, and a devaluation of the company, like Morgan Stanley did to Flipkart, severely impacts its ability to compete in terms of quality.
The story here in India is different from Amazon's Chinese story, where stiff competition from local players like Alibaba (NYSE:BABA), to say nothing of some underhanded government nepotism toward its own, has left Amazon high and dry in that market. In India, however, the right-wing, pro-business, pro-FDI BJP government tacitly supports Amazon, forgiving it some of its rule flouting, creating a more than level field for the giant retailer to win space.
As Amazon's Jeff Bezos recently said in a statement at the U.S.-India Business Council's Leadership Summit in Washington, where Indian Prime Minister Narendra Modi was also present: "We have already created some 45,000 jobs in India and continue to see huge potential in the Indian economy. Our Amazon.in team is surpassing even our most ambitious planned milestones."
Disclosure: I am/we are long AMZN.
I wrote this article myself, and it expresses my own opinions. I am not receiving compensation for it (other than from Seeking Alpha). I have no business relationship with any company whose stock is mentioned in this article.