MTBC (NASDAQ:MTBC) closed the largest acquisition in its history this month, acquiring revenue cycle management customer accounts and other assets from MediGain, LLC, a Texas-based medical billing company, and its subsidiary, Millennium Practice Management, LLC, a New Jersey-based medical billing company (together, "MediGain"). This article provides some details that answer questions we have heard from shareholders.
The acquisition marks a major corporate milestone as MTBC's largest acquisition to-date, and demonstrates the power of MTBC's acquisition-based growth strategy. At the time of the closing, MediGain had annual revenue of more than $10 million from clients in good standing, which MTBC expects will contribute to its overall revenue growth in 2017.
The economics of the transaction were compelling. The Company made an initial $2 million payment for the assets of MediGain, and will pay an additional $5 million in the beginning of 2017. This represents a significant discount as compared to the industry norm of at least one times annualized revenues for a company of MediGain's size. By comparison, athenahealth (NASDAQ:ATHN), one of the largest healthcare IT companies, spent $230 million on sales and marketing in 2015, and grew revenue by $172 million from 2014 to 2015. So MTBC's investment should produce almost double that rate of return.
By growing its overall revenue significantly through this acquisition, MTBC expects to generate significant operating leverage. MTBC has many fixed costs associated with being a public company, and these will be spread over a larger revenue base. The incremental profits from this acquisition are expected to greatly exceed the Company's cost of capital, so this acquisition should be accretive to MTBC shareholders in 2017. MTBC will deploy some of its own cash and will also seek to raise additional capital by selling additional shares of its Series A Preferred Stock (Nasdaq: MTBCP), which pays a monthly dividend at an 11% annual rate and is not convertible, to finalize the transaction.
As part of the acquisition, MTBC added talented team members in North America, and expanded its Asia-based team to additional countries with talented, cost-effective workforces, including Sri Lanka, where MTBC now has the largest team of medical professionals in the country, as well as in India. Gary Smith, who previously served as the MediGain's Chief Operating Officer, now provides leadership to MediGain Practice Management. He will be able to leverage the significant synergies between the two companies. MTBC's global team of professionals and proprietary technology will allow the company to continue improving operating margins while delivering world-class service to our clients.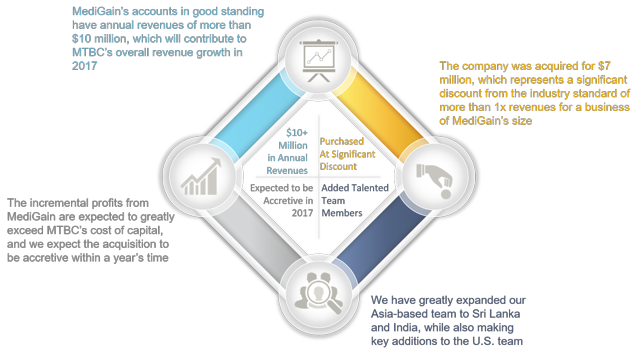 There are some details of the acquisition that investors should be aware of. For example, an audit of MediGain's 2014 and 2015 financial statements has commenced, and will show significantly more than $10 million of revenues in past years, but that includes revenue from clients who had given notice of termination before the acquisition. MTBC was able to negotiate the favorable purchase price of this acquisition based in part on its estimate of revenues from clients who will remain.
The mechanics of the acquisition were a little complicated, since MediGain was in default of its obligations to Prudential Insurance Company (NYSE:PRU). First, MTBC created a wholly owned subsidiary, MTBC Acquisition, Corp. ("MAC"), which purchased 100% of MediGain's senior secured debt from Prudential. The debt was collateralized by substantially all of MediGain's assets.
MAC entered into a strict foreclosure agreement with MediGain and Millennium transferring substantially all the assets (including accounts receivable, fixed assets and client relationships) to MAC in satisfaction of the outstanding obligations under the senior secured notes. As part of the agreement, MAC acquired the assets free and clear of liabilities, except for certain selected liabilities expressly assumed by MAC, including up to $650,000 of trade payables to a limited set of key vendors, up to $500,000 of payroll and benefits obligations, and pre-closing obligations accrued on the contracts assumed by MAC. Cash was excluded from the acquired assets and retained by MediGain and Millennium.
As MTBC integrates MediGain and demonstrates revenue growth and profitability, the benefits to shareholders will become more apparent.
I invite you to follow us and learn more about MTBC's business.
Bill Korn is the Chief Financial Officer of MTBC
Disclosure: I am/we are long MTBC.
Business relationship disclosure: I am CFO of MTBC
Editor's Note: This article covers one or more stocks trading at less than $1 per share and/or with less than a $100 million market cap. Please be aware of the risks associated with these stocks.