As many predicted, the oil market has been on a slow track of recovery. With Saudi Arabia's revision to its oil policy, including the $17.5 billion bond sale to global investors, the signal appears to be that prices will potentially move from the $40 space to the $50s. That's if the Saudis and OPEC do follow through with a 1-2% output cut to their combined 33.2 million barrels a day of production and their OPEC counterparts do not step on the gas otherwise. Countering that, analysts at Credit Suisse indicate a change in their long-term oil price forecast from $67.50 to 62.50, largely because of U.S. shale's productivity. Today, crude oil traded at $51.85, an approximate 3% increase in late morning trading, pinging once again off any news that appears promising.
In the U.S.
Indeed, U.S. shale has proven itself a player. Production companies such as Pioneer Natural Resources (NYSE:PXD) and RSP Permian (NYSE:RSPP) in the Permian Basin have reduced costs and upped production. These firms, including Concho (NYSE:CXO), Parsley Energy (NYSE:PE), Occidental Petroleum (NYSE:OXY) and others will continue to gain traction. There have finally been some meaningful acquisitions in the Permian, though not coming as cheaply as some analysts projected. Why? Because the value and resource potential in the Permian's Midland and Delaware basins are undeniable.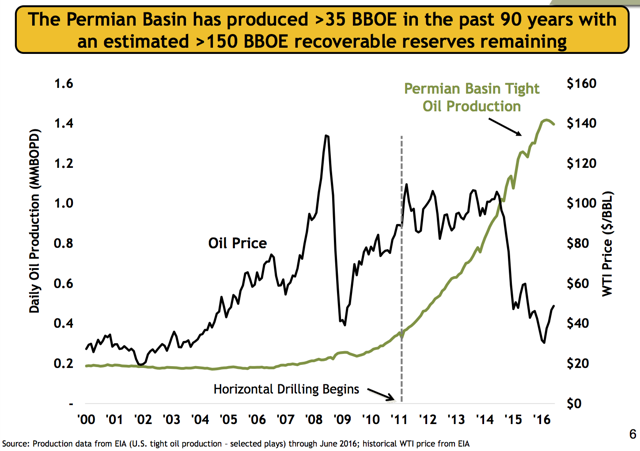 Source: Pioneer, Unconventional Resources Technology Conferences, 8/01/16
Other areas, such as the Bakken, Eagle Ford and Niobrara have stories of increased new well production alongside various levels of declining legacy production.
Overall, the picture, year-over-year looks like this: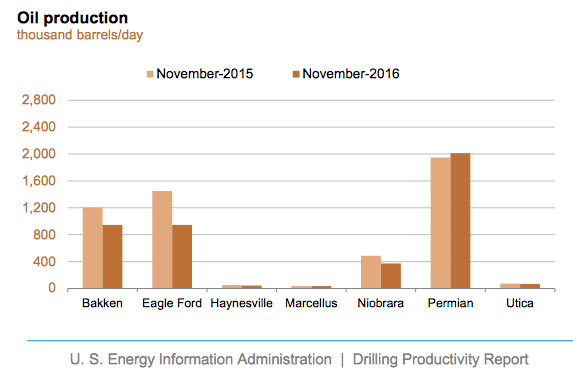 While U.S. tight oil (shale) is expected to still decline 200,000 b/d in 2017, according to the Paris-based International Energy Agency (NASDAQ:IEA) in its medium-term outlook, it projects a 1.3 million b/d increase in liquids to 2021 over 2015 production figures. It says:
Anybody who believes that we have seen the last of rising LTO production in the United States should think again; by the end of our forecast in 2021, total US liquids production will have increased by a net 1.3 mb/d compared to 2015. Such has been the element of surprise provided by the resilience of US oil production...
The IEA indicates potential tightness in the oil market beginning in 2018 through 2021. This will be the result of reduced investment and production from the downturn.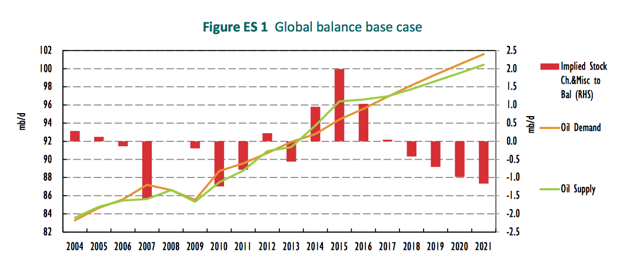 Globally
At an important industry gathering in London, the Saudi Arabian "energy" minister Khalid A. Al-Falih suggested that the world needs $24 trillion in investment to provide the oil supply necessary to continue to move and power the world for the next 25 years. That is a very large amount of investment, and possibly optimistic. As we have seen with the continued success of U.S. shale oil and gas production, technological advances in energy and energy production may have more to say about where investment gets deployed - to which energy sources and to the best stewards of capital by firm and by country.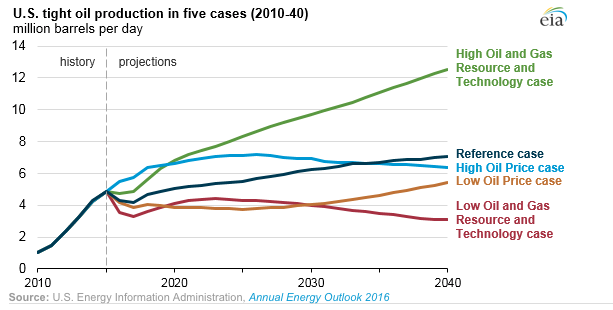 After a wild ride over the last two years, the Saudis and OPEC are attempting to put the reins back on the oil market. However, competitive market forces via U.S. firms are increasingly edging into a once-oligopolistic market. The increasing uncertainty in oil demand, given alternative sources and changing transportation practices, may offer an uneven ride compared to the last decade or so. The Saudis are hedging both ways. U.S. oil and gas firms are survivors, as this oil rout showed, and innovators.
What's difficult to predict is to what degree the massive incumbent oil is firmly planted into the energy supply system - and how willing countries' economies and consumers are to change given the potential generational sea change at hand. The stock market, policy directions and the real economy appear to be in a state of flux. Still, many U.S. shale firms, after the shakedown, have emerged with better operations than in their early days of shale.
Disclosure: I/we have no positions in any stocks mentioned, but may initiate a long position in OXY over the next 72 hours.
I wrote this article myself, and it expresses my own opinions. I am not receiving compensation for it (other than from Seeking Alpha). I have no business relationship with any company whose stock is mentioned in this article.