Today, we got two important indicators that tell us where the housing and homebuilding industry is headed.
The first one is building permits. This indicator is leading because a permit is the first thing a potential homebuilder does when planning and building a home.
The second one is housing starts. Housing starts tell us how many housing unites started with construction works. This indicator is not leading. This is a so-called coincident indicator. Another thing that makes this indicator less valid is the fact that every single apartment is called a 'house' in the statistics. This makes this indicators way more volatile as you will see in my graphs below. Keep in mind that the trend is what matters when looking at housing starts.
If you want to know more about indicators and the importance to distinguish between leading and coincident indicators, feel free to read my blog about this topic.
Blog: United States Economic Indicator Overview
Let's look at building permits and homebuilder stocks (SPDR Homebuilders ETF (XHB)). Building permits are growing 8.5% on a year-on-year basis which is the strongest months after six months with either contraction or very slow growth. If this trend continues, we could be looking at good risk/reward for homebuilder stocks.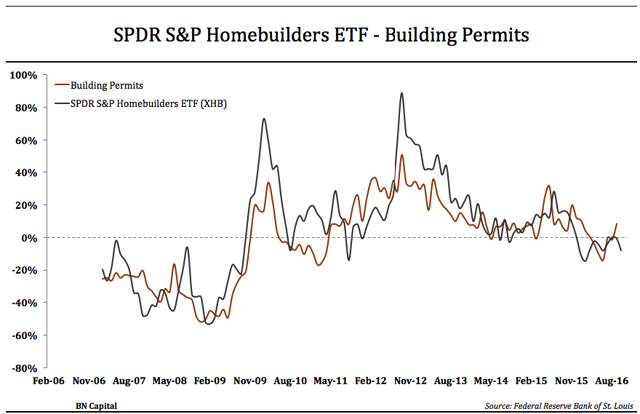 One thing that 'bothers' me a bit is the fact that the economy is growing very slow. The chances that homebuilders are going to explode are lower than just a few years after the crisis.
I discuss this in my article, 'Think Piece - Late Cycle Economic Growth'
The fact that today's housing starts number came in extremely weak adds to my concerns that the housing market might not be as strong as building permits suggest.
Housing starts are down 12% versus one year ago. This happens after a few months of sluggish growth. The trend is down since Q1 of 2015. Homebuilder stocks did also bad since 2015.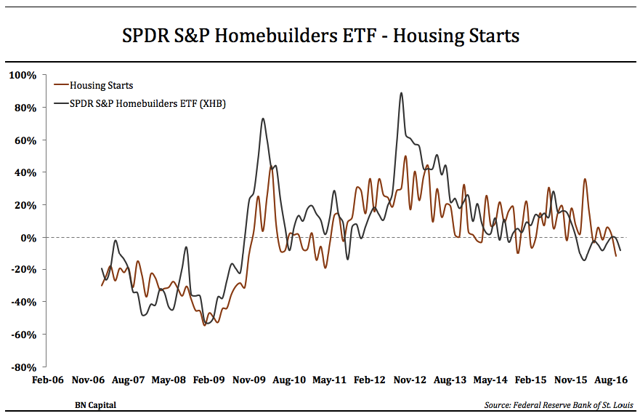 The graph below shows the ratio spread between homebuilding stocks and the S&P 500 (SPDR S&P 500 Trust ETF (SPY)). There is no correlation during the crisis of 2008. Mostly because of big stock crash and volatility. However, since 2010, we see a much higher correlation. If homebuilding keeps doing better, we will see that XHB is going to outperform the market.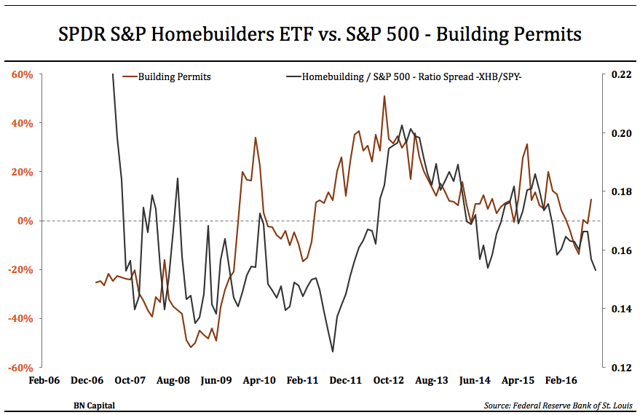 What I am going to use after analyzing today's data is the fact that building permits are very strong. This makes it attractive to buy homebuilding stocks versus the market. At this point, I am not buying homebuilders without a hedge because the economy is not supporting very strong housing numbers.
Many thanks for reading my article. Please leave a comment below if you have questions or remarks.
Disclosure: I/we have no positions in any stocks mentioned, and no plans to initiate any positions within the next 72 hours.
I wrote this article myself, and it expresses my own opinions. I am not receiving compensation for it (other than from Seeking Alpha). I have no business relationship with any company whose stock is mentioned in this article.