September housing starts were weak, continuing their trend. They are one facet of secular stagnation, best seen as annual housing starts per 1000 people. After 7 years of economic expansion, they remain less than half of the previous peak (Jan 2006), and two-thirds of the average during the previous two expansions. They rose to the 1963-2007 lows - and stalled.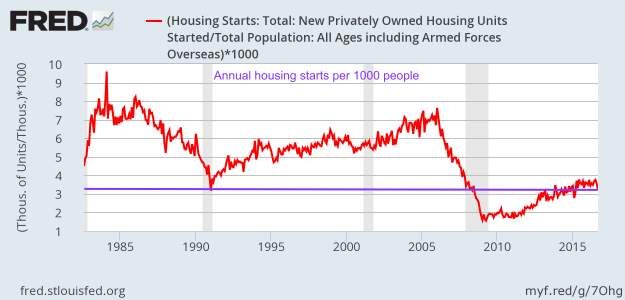 The previous lows were during the 1982-83 recession, with housing crushed by years of severe recession plus doubled-digit interest rates, and in the 1990-91 real estate/S&L bust. Years of the Fed's zero interest rate policy (and record low commercial rates) have produced only a small bounce in new home construction.
For several years after the bust we were told that the overbuilding in the bubble would quickly be absorbed. But still housing remains stuck in low gear. This has baffled many economists and analysts, whose models (based on history) tend to ignore or underestimate demographic effects. For example, Lee Adler of the Wall Street Examiner said "The perverse incentives of ZIRP are why the housing industry languishes at depression levels." (In fact low rates boost debt-funded capital expenditures.)
Answer #1: slow economic growth
Slow economic growth explains much of this. People do not build houses because total GDP rises, especially when that results from population growth. Per capita real GDP has grown at 0.4%/year since the crash. Not enough to fuel the "animal spirits" that gets homes built.
Few economists expect much acceleration in the future (which is why the Fed will not start a new cycle of rising rates).
Answer #2: demographics of an aging America
The Boomers' buying boosted housing demand in their youth and middle age, as only new construction could meet their demand (the Boomer's generation being larger than their parents' cohort).
Now comes the downsizing: from big home to retirement home to nursing home to graves. The boomers' downsizing will provide homes for the next generation to buy - reducing the need for new construction. If marriage and fertility rates continue to decline, boomer selling might even create a surplus of single family homes (to be converted into multiple units).
Look at this gif by Stephen Holzman to see the age wave in motion (source: LAT).
Conclusions
(1) Trade the housing stocks (EFT: XHB); do not own them.
Confident forecasts usually assume that the future will repeat patterns of the past. That's seldom so. Especially now, with large scale demographic trends at work to change almost everything, as Japan has learned since 1989. It is a key factor to consider in your strategic investment planning.
For More Information
Go to this website to see the population pyramid shown in more conventional terms - the age distribution by percent in each bracket - for the US and other nations. Infoplease shows this for the US in tables, by year.
Disclosure: I/we have no positions in any stocks mentioned, and no plans to initiate any positions within the next 72 hours.
I wrote this article myself, and it expresses my own opinions. I am not receiving compensation for it (other than from Seeking Alpha). I have no business relationship with any company whose stock is mentioned in this article.