September 14th gave us another US power plant transaction, this one for almost $2.2B. 5,200MW of AEP's (NYSE:AEP) generation was purchased by a joint venture between private equity firms Blackstone Group and ArcLight Capital Partners. This sale was not unexpected, since AEP has been shifting focus toward their regulated operations and away from competitive generation for some time. Three gas fired plants changed hands: 1,186MW Lawrenceburg, 840MW Waterford, and 507MW Darby. Additionally, the 2,665MW coal fired J.M. Gavin plant was part of the deal. Darby, Waterford, and Gavin are all located in Ohio, while Lawrenceburg is just over the state line in Indiana. These plants are all located in the southern half of the state, as shown in Exhibit 1.
Exhibit 1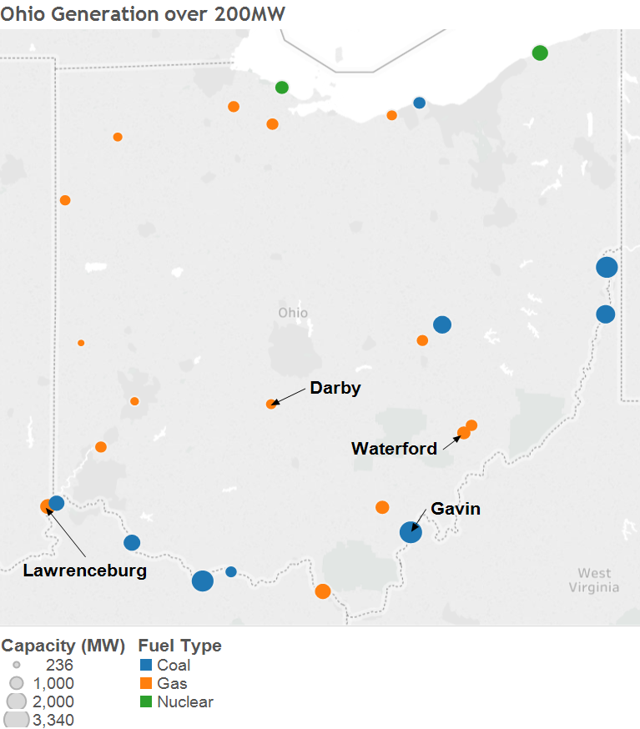 Source: SNL
Power plant sales can be a useful data point in valuing other assets, though great care is needed in undertaking the analysis. Taking $2.2B and dividing by 5,200MW would give a $420,000/MW purchase price if all the plants were of equal value, but it quickly becomes evident that this is not the case. Gavin's status as a coal burning plant is the first big issue. Exhibit 2 shows Ohio's ten coal fired power plants over 200MW. (Only nine coal plants are visible in Exhibit 1 because the Kyger Creek plant is obstructed by the much larger Gavin plant.)
Exhibit 2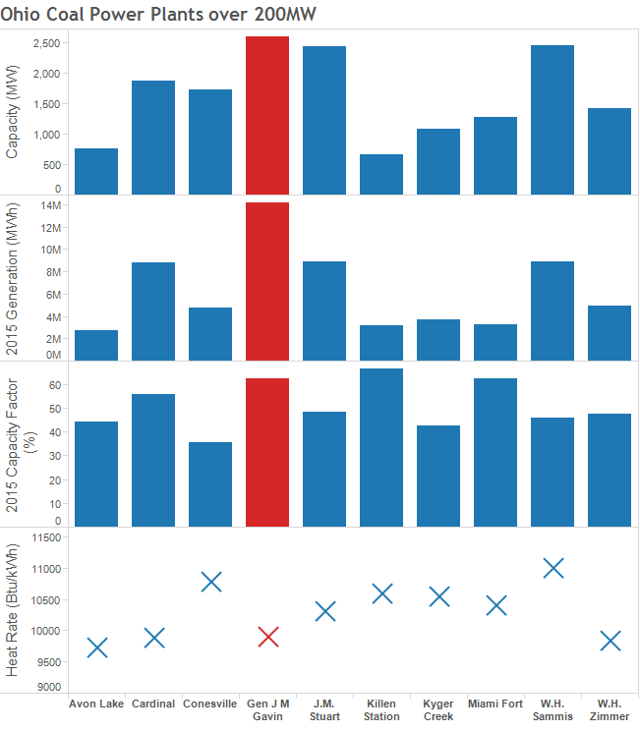 Source: SNL
Exhibit 1 shows that Gavin is actually the largest coal fired power plant in Ohio, and it produces more electricity than any other coal plant in the state. Gavin's heat rate (a measure of efficiency) is 9,900 Btu/kWh, which is also one of the best in the state (lower is better).
Based on the information in Exhibit 2 Gavin appears to be one of the more valuable coal plants in the state. However, this still doesn't mean it is worth much. The big problem for Gavin is the current low electricity price environment in Ohio. Average power prices at the Dayton Hub have been about $27/MWh so far this year. If you assume a $55/ton cost for the Northern Appalachian coal the plant burns, Gavin's fuel cost is about $23/MWh, leaving only $4/MWh to cover other costs at the facility. With these tight margins, and risks (e.g. environmental) associated with coal plants, Gavin's buyers are probably attributing most of the value to the gas plants they are purchasing.
Exhibit 3 provides information about all of the gas fired plants in Ohio over 200MW (as well as Lawrenceburg).
Exhibit 3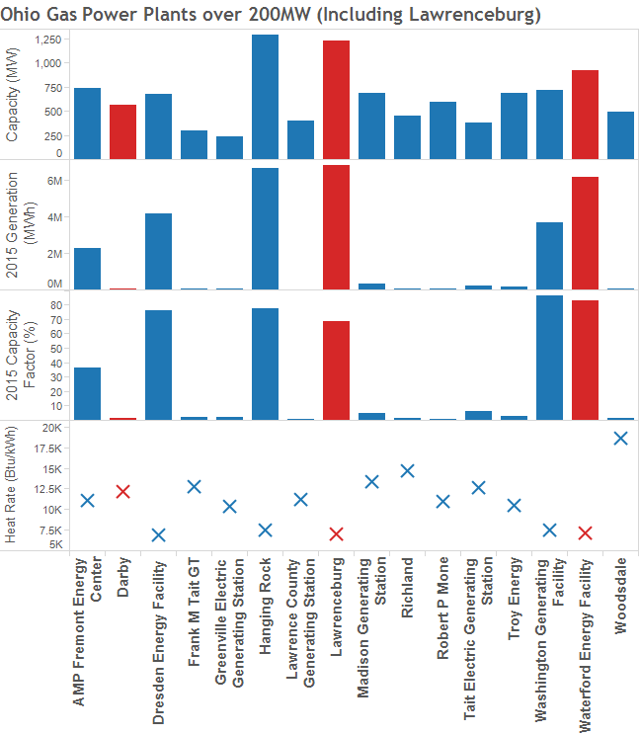 Source: SNL
The Darby plant has just over 500MW of capacity, and hardly ran in 2015. This is a peaker plant that is used only during periods of high demand. The limited revenues from energy sales means that this is another plant where it is hard to attribute much value.
Lawrenceburg and Waterford are much different plants than Darby. Lawrenceburg is the second largest plant shown in Exhibit 3, and it actually generated the most electricity of any of these gas plants last year. Waterford is Ohio's third largest gas plant and was the state's third biggest generator last year. Both of these plants have heat rates of about 7,000 Btu/kWh, making them two of the three most efficient plants in Ohio. Assuming a $2.50 natural gas price puts the fuel cost to operate these plants at about $17.50/MWh, which is substantially better than $23/MWh cost at Gavin. These gas plants were built thirty years after Gavin, resulting in lower operating costs and fewer environmental risks. Based on these factors it is likely that most of the value in the purchase should be attributed to these two baseload gas plants. Conservatively assuming just $800-900,000/MW value would attribute about 70-80% of the $2.2B AEP sale to these two plants. For comparison, a recent EIA report estimates that a slightly more efficient new gas plant would cost about $979,000/MW to build in that part of the country. (See the p.3 of the report here.)
Looking at Exhibit 3, it appears there are really only three other Ohio plants that have similar operating characteristics to Lawrenceburg and Waterford. The potential value of all these plants is presented in Exhibit 4.
Exhibit 4

Source SNL
The Dresden plant is actually owned by AEP's fully regulated Appalachian Power subsidiary. Since it is fully regulated and committed to a specific group of customers it is unlikely that AEP would try to sell this plant in the future. The remaining two Ohio plants are owned by Dynegy (NYSE:DYN), and appear to have a combined value of $1.6-1.8B based on the recent AEP deal. These two plants were purchased from Duke Energy (NYSE:DUK) in 2014 as part of a $2.8B deal for 6,100MW of generation. That deal included coal and gas assets from Illinois, Ohio, and Pennsylvania.
AEP has estimated their net cash from the transaction (after taxes and other items) will be about $1.2B. The company is still determining if it will use the money to make further investments in their business or if they will buy back stock. We will possibly find out more on the use of these funds on AEP's Q3 conference call.
Disclosure: I am/we are long DYN.
I wrote this article myself, and it expresses my own opinions. I am not receiving compensation for it (other than from Seeking Alpha). I have no business relationship with any company whose stock is mentioned in this article.