Today we saw a remarkably bullish inventory report in the middle of a market that wanted to escape the $50.00/bbl level. To summarize, crude oil stocks and distillate inventories fell significantly. A fall of this magnitude would be bullish any time of the year, but is particularly bullish during the shoulder season, when inventories tend to build up. Even when the decline was due entirely to falling imports, it is still very positive for the market and contributes to positive sentiment.
Crude oil prices jumped by more than $0.50/bbl after the report was released and finally broke above the $52/bbl level.
Source: Finviz.com
Stocks:
Crude oil inventories decreased by 5.2 million barrels.
Gasoline inventories increased by 2.5 million barrels.
Distillate inventories decreased by 1.2 million barrels.
We saw a fairly large draw in crude oil inventories, coupled with a reasonable fall in distillate stocks and a moderate increase in gasoline inventories. What is more remarkable is that all of this is happening during the shoulder season, when refineries operate at low levels, gasoline consumption is seasonally low and heating/cooling needs are minimal.
The reason for the large draw in crude oil stocks is a very large decrease in imports, which accounts for the totality of the draw. Regardless, the decline in crude oil stocks is very bullish to oil prices as the sentiment was already very bullish before the report and the market had been wanting to rally since Saudi Arabia got back in the game of supporting prices. In addition, although oil that is produced has to be stored somewhere, it is always better for crude oil prices not to have that oil being stored in the U.S. (as inventories are more visible thanks to the EIA reports).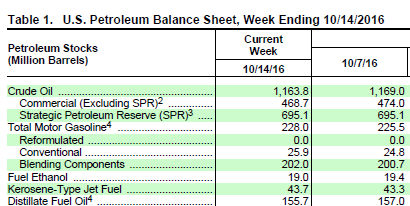 Source: EIA
Production and Refinery Utilization:
Domestic production increased by 14,000 barrels per day. This is a minor change that essentially reverses the decline reported last week. Since EIA's domestic production numbers are modeled numbers, changes of this magnitude are almost meaningless (i.e., they don't actually represent increases or decreases in actual production).
Production in the contiguous United States (excluding Alaska) increased by 6,000 barrels per day. This also reverses the decline reported last week.
Net imports decreased by 912,000 barrels per day accounting for the totality of the fall in crude oil and distillate stocks. While we have repeatedly mentioned in previous articles that "imports" is a heavily modeled line item, it is also a balancing account. While small changes cannot be trusted, large changes are fairly material. In this case, a decline of this magnitude means that either imports have fallen significantly, or that crude oil stock is "hidden" somewhere outside the EIA's reporting system. We have confidence that this week's numbers do represent an actual decrease in imports.
Source: EIA
Refinery utilization decreased by 50 basis points and is now at 85%. Interestingly enough, this is the lowest refinery utilization rate in 181 weeks, which confirms that the decrease in crude oil stocks is due to lower imports. Regardless of the reason, it's still bullish for domestic crude oil prices and we think that is appropriate to try to lower domestic storage levels, before they become problematic.

Source: EIA
Cushing, Oklahoma:
Cushing, Okla., inventories decreased by 1.6 million barrels. At last, a decline in inventories that represents an actual fall, rather than just moving barrels around.
Gulf Coast inventories decreased by 1.5 million barrels. A disappointing decline given the magnitude of the overall fall in crude oil inventories during the week. On a positive note, since this is the area where the largest refinery capacity in the U.S. is located, this means that refineries will still have access to abundant oil supply when necessary.

Source: EIA
Conclusion:
Crude oil stocks fell by a very large amount with only a modest increase of refined products (gasoline plus distillates). That's very constructive for oil prices at a time when the market needed a reason to break from the $50.00/bbl level. The only two caveats are 1) that the fall in stocks is due to a decline in imports, so stocks are accumulating, just not in the U.S., and 2) everyone seems to be on the bullish side of the trade and the only catalyst left (beyond a war) is the upcoming OPEC meeting, which is still six weeks away.
Disclosure: I/we have no positions in any stocks mentioned, and no plans to initiate any positions within the next 72 hours.
I wrote this article myself, and it expresses my own opinions. I am not receiving compensation for it (other than from Seeking Alpha). I have no business relationship with any company whose stock is mentioned in this article.