Last year, I wrote an article in which I discussed a scenario where the rate of global oil production would hit a peak. After hitting this peak, the global oil production will enter a terminal decline. Although the world is yet to witness this "peak oil" phenomenon, it is important for investors and traders to evaluate and analyze peak oil demand, a situation that can go beyond crude oil production. A recent report published by the World Energy Council has even predicted that world could witness peak oil demand by the year 2030. Does this mean that the age of oil is about to end in the next 14-15 years from now?
EV sales all set to grow in the coming time
According to the latest report published by World Energy Council, the global crude oil demand will hit its peak in 2030 and this peak oil demand will stand at 103 million barrels per day, with new technologies (which includes electric vehicles and renewables) pushing the global oil demand to slow down. The report even states that the share of crude oil in transportation sector will fall from 92% in year 2014 to almost 60% in year 2060 under a scenario where technological innovations will limit carbon emissions and drive efficiencies. It needs to be noted that global sales for electric vehicles have grown at an amazing rate in last few years.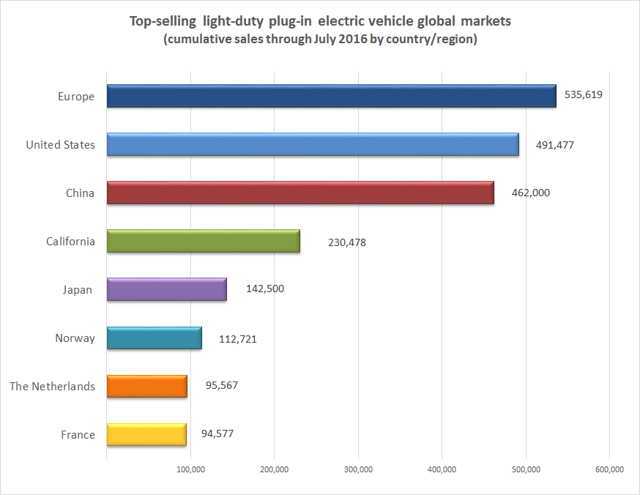 Source: Hybridcars.com
China, which has one of the highest numbers of conventional vehicles globally, witnessed a 340% year on year increase in electric vehicle sales in 2015. Apart from China and of course the U.S, countries like Japan, U.K, France, Germany, Netherlands and Norway have witnessed strong electric vehicle sales. A report published by Bloomberg New Energy Finance (BNEF) has predicted that electric vehicles will cost less than $22,000 by year 2022. At this point of time, electric vehicle sales will skyrocket as it will cost the same as a conventional internal combustion vehicle.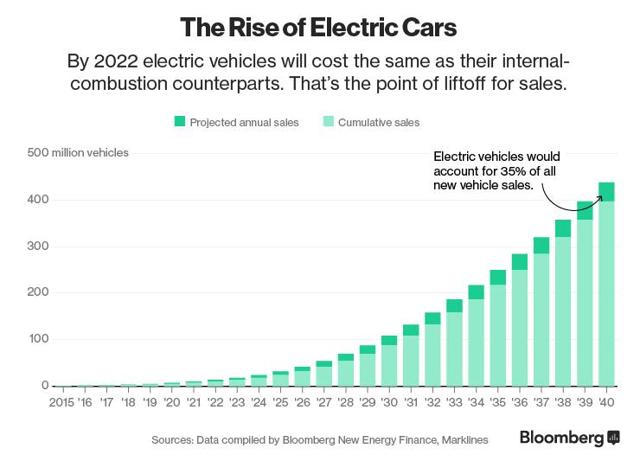 What does this mean for oil?
In order to know the true effect of rising EV sales on oil, we need to look at some crucial numbers. More than 40% of the total crude oil produced is being converted into gasoline, which is mainly used in the automobile industry. So, what will happen when people who were earlier driving conventional cars start switching to electric vehicles? If BNEF is correct in its prediction that an electric vehicle will match the cost of a conventional IC engine car by 2022, the world can witness a steep decline in the global crude oil demand during that period.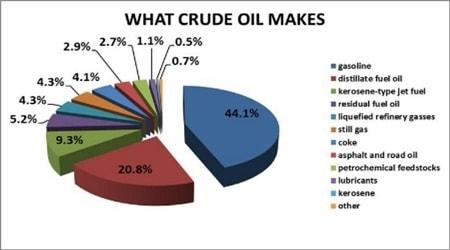 Source: Curious.org
Takeaway for WTI Investors
Primary Energy Regional Consumption by Fuel (2015) In Percentages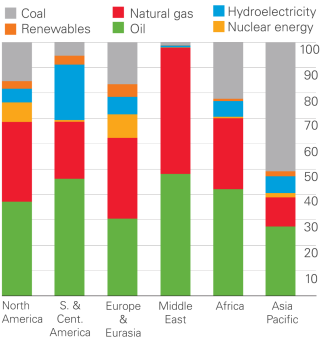 Source: BP.com
In my opinion, oil prices have so far remained insulated from the impact of electric vehicle sales as these vehicles are still more expensive than the conventional IC engine cars. Moreover, in developing countries like India where demand for conventional vehicles is booming, the electric vehicle infrastructure is close to nil. Currently, electric vehicles are finding takers because of its lower operating costs when compared to standard vehicles. A report published in UCSUSA.org even states that an electric vehicle owner can save almost $1200 annually when compared to an owner whose conventional vehicle (27 mpg) runs on gasoline at $3.5 per gallon.
However, the game changes when electric vehicle become cheaper than conventional IC engine vehicles. At this point of time, the world may not enter peak oil demand as demand for gasoline will only fall drastically once countries in the Middle East, Africa and Asia-Pacific start replacing conventional vehicles with electric vehicles. When this happens, the world may witness its peak oil demand and oil prices might fall drastically. Investors must note this.
Disclosure: I/we have no positions in any stocks mentioned, and no plans to initiate any positions within the next 72 hours.
I wrote this article myself, and it expresses my own opinions. I am not receiving compensation for it (other than from Seeking Alpha). I have no business relationship with any company whose stock is mentioned in this article.