A pleasing drop off in loan loss provisions explained a strong quarter at Comerica. After several quarters of more elevated credit costs largely linked to energy sector exposures, this has to be welcome. That said, I can't get too excited: the stock's not cheap, and unlike some other regionals that we've talked about so far this results season, it seem unlikely to grow into value over the next couple of years, and, while the cost focused Gear-Up initiative is certainly worth monitoring, I think it requires decisive evidence of delivery for the market really to engage with the stock.
Let's have a look at the profit composition and how it can evolve. Quarterly total operating revenue at Comerica has been either side of $700m for a while. This will stay north of that figure now given the one rate hike we had in December '15 and some modest volume growth. Note too that non interest income was up 4.6% YoY and 1% for the linked quarter. On the call, management discussed asset growth in line with nominal GDP - broadly speaking you can imagine revenue growth a little above that as we should have another rate hike at some point in the next 2 quarters. Comerica's strategic initiative, GEAR Up, envisages a further $70m of income by 2019, which if evenly distributed from here would amount to about 1.5% QoQ growth. This appears reasonable, and implies just shy of $3bn in annual revenue by 2018.
Costs for the quarter included a $20m restructuring charge and excluding this were up 3.5% YoY. This is fine opposite the 5.9% growth Comerica posted in total operating revenue. However, it isn't the strong expensive reductions Comerica needs for GEAR Up to deliver. By targeting $200m of cost savings by 2018, management is looking to take out just over 10% of the current cost base. The programme target has been increased from earlier this year when $160m of savings were envisaged. The target is impressive and I think implies a cost/income efficiency ratio of ~59% by 2018. Paradoxically, this ambition is perhaps the problem. With efficiency presently closer to 70%, GEAR Up is radical, and the market is likely to hold off rewarding Comerica fully for the programme until it is convinced it can be achieved.
The first real test of GEAR Up on the cost side will come with the 4Q results when a core $25 million reduction is expected.
What about loan loss provisions (LLP)? Credit quality outside of the energy book is pristine. One interesting theme from this results season so far is that management teams keep referring to what they term "normal" LLP, and projecting lower than normal LLP over the course of the next twelve months. This is interesting. A conservative stance makes sense, of course, but if the low growth and low rates matrix prevails, I wonder if subdued credit costs are here to stay, at least for a long while. Naturally I have an eye on the more ambitious loan growth targets being discussed by many banks (though note this is by no means universal) as something which eventually might drive higher credit costs. However, new loans need to season before credit charges mature, and that is a long way off.
Comerica enjoyed a big drop in LLPs to $16m for the quarter, down from $26m in 3Q15, $49m in 2Q 16 and remember, 1Q 16 saw $148m LLP written against the energy book. The call guidance yesterday confirmed LLP should now continue in a low range, but $16m is unlikely to be repeated.
Putting all this together, the outlook assuming full deliver of GEAR Up targets, looks something like the below to me (note the falling share count, which is good news for holders):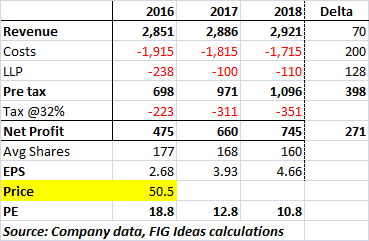 Conclusion
It's early in results season, with many names still to report. Among regional banks, those with relatively higher energy exposure are less punchy about loan growth than those with lower energy exposure, which doesn't just reflect the recent LLP bump but also reflects more subdued local activity. With a weighty cost programme in front of it, it seems Comerica looks OK on value for 2018 if it can deliver. Right now, I tend more towards smaller banks with around 1/3 of the asset size of Comerica, which are growing volumes through portfolio and business acquisitions as well as organically. The healthy credit growth environment is conducive to their strategies.
Disclosure: I/we have no positions in any stocks mentioned, and no plans to initiate any positions within the next 72 hours.
I wrote this article myself, and it expresses my own opinions. I am not receiving compensation for it (other than from Seeking Alpha). I have no business relationship with any company whose stock is mentioned in this article.