Regions Financial Corporation (NYSE:RF) feels a little bit stuck.
The third quarter numbers certainly showed off the bank's strengths:
Capital is robust. Tier 1 CET1 (fully phased in) is 11%
Costs were OK and the $400m of projected cost savings over three years look achievable as does improved operating leverage
RF is buying back stock with ~$640m of share purchases planned over the next twelve months.
All this is very solid. Is it just a bit too solid? RF's presentation emphasizes a pretty much stagnant loan book as "prudently managed" - see below: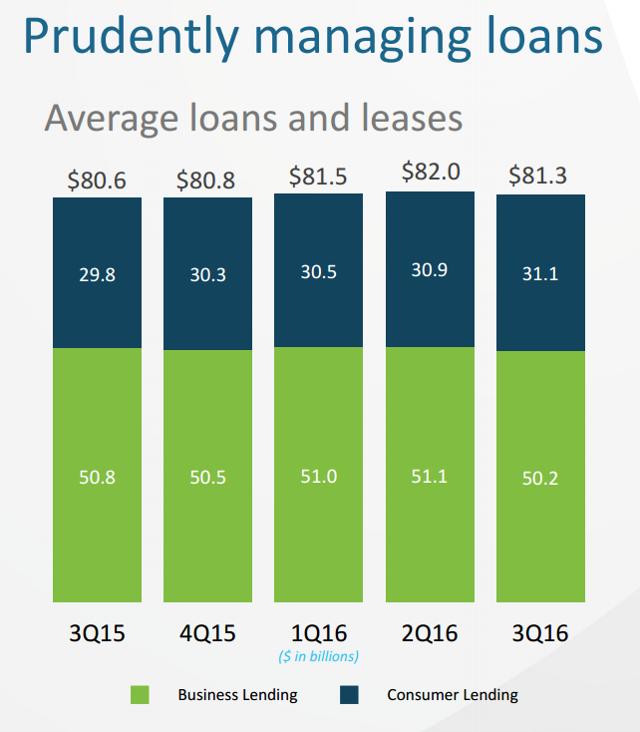 Source: Company presentation, 3Q 16
And with loans treading water, deposits don't need to grow either: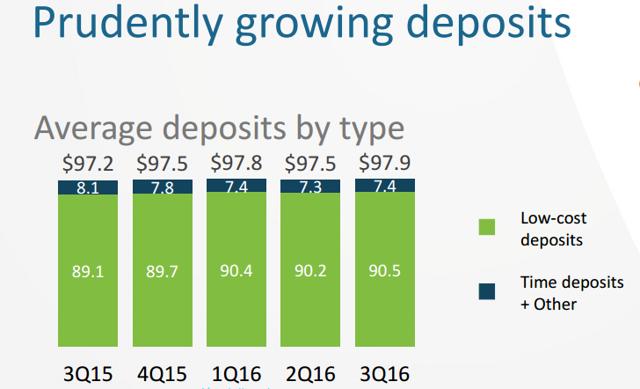 Source: Company presentation, 3Q 16
This stasis of course determines the patterns in net interest income, which is usually 60-63% of the bank's total operating income.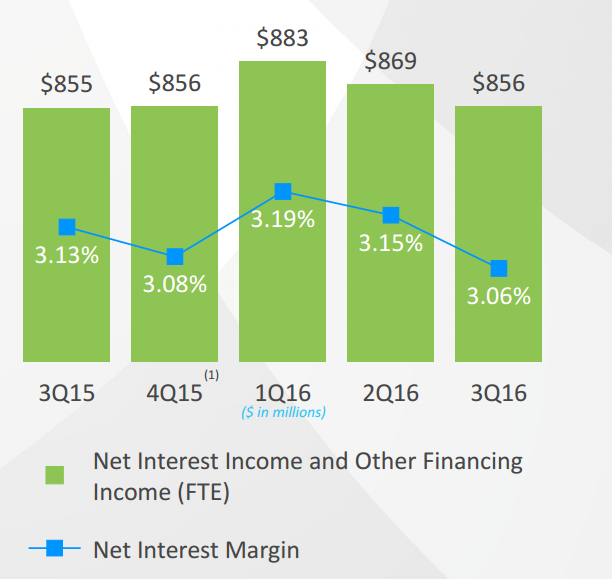 Source: Company presentation, 3Q 16
With not a lot happening in the balance sheet and nearly two-thirds of operating income, what's the picture with non interest income?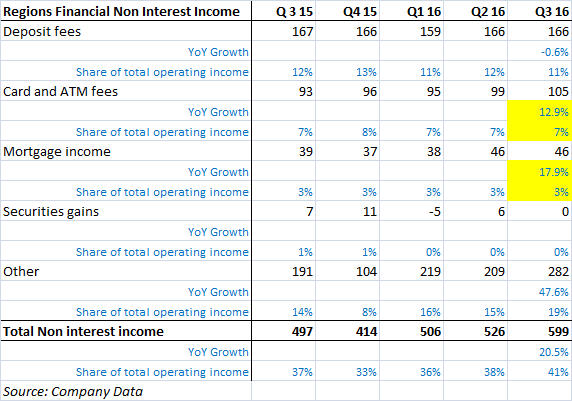 The highlighted areas show that Regions is achieving some healthy growth in repeatable, high quality fee lines. It's just that these areas - Card and ATM fees together with mortgage related fees - account for a combined ~10% of total operating income. The big gain in "others" within non-interest income is not sustainable. There's not a whole lot of juice in overall RF income, then.
With low single digit growth in revenue in prospect, we can get a pretty good idea of what pre-provision pre-tax income will look like over the next two years if we assume the current ~ 64% expense ratio is maintained before projected cost savings. I would expect LLPs to increase slightly over time as the current level is very low.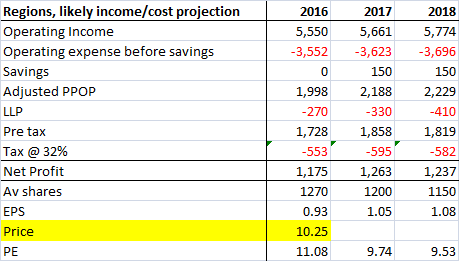 With RF's strong capital allowing a material share buyback program, we have a very nice looking PE by 2018. The yield is OK too, at between 2.5-3% over this period. However, if RF can each 11x current year by the end of 2018, then the two year upside is about 15%. Other regional banks offer much higher growth, albeit from a higher starting point in terms of 2016 PE (Wintrust (NASDAQ:WTFC) and First Horizon National Corp (NYSE:FHN) for example are on around 15x '16 EPS). Bank of America (NYSE:BAC) is even cheaper on 2018. And if you want stolid, low growth banking with yield, and want to think globally, you could get even more capital and even higher payouts in the Nordics. RF is well run, but I think the stock is in no man's land just now.
Disclosure: I/we have no positions in any stocks mentioned, and no plans to initiate any positions within the next 72 hours.
I wrote this article myself, and it expresses my own opinions. I am not receiving compensation for it (other than from Seeking Alpha). I have no business relationship with any company whose stock is mentioned in this article.