McCormick & Company (NYSE:MKC) is in the business of flavor. It manufactures, markets, and distributes spices, seasoning mixes and condiments to retail outlets, food manufacturers, and food service businesses. Operating across two segments, consumer and industrial, McCormick owns many common brands that you would see in your local grocery store. While you may not have heard of McCormick it's a guarantee you've been consuming their products for years. Flavor is essential and this business is highly durable, the large size allows it to tuck-in new brands and instantly brings scale in distribution and marketing. McCormick is investing more into Southeast Asia to add to its manufacturing and R&D capabilities. MKC is one of just 50 dividend aristocrats in the S&P 500 who have paid and increased their dividend for more than 25 years.
Use of Cash: the use of cash test provides a visual overview of the various cash uses that a company has been allocating cash towards. It shows the relative size of the cash uses versus the outstanding cash balance available to the company. It is a quick and simple way to view how the company has used its cash over the past 10 years, and is indicative of what the company may do in the next 10 years with its cash reserves. We examine dividend payments to all shareholders (including payments to preferred dividend holders) as well as net repurchases which includes equity issued via stock option plans etc… as well as interest payments on debt, this offers a more wholesome view of how the company allocates capital.

Source: www.SmartDividendStocks.com
At the end of Q3, $391mm remained on the current $600mm share repurchase authorization but the company reduced its share repurchasing expectations which is now set at 1% of shares outstanding from FY2015, below the initial projection of 2%. The reason for the buyback reduction is due to M&A activity in 2016.
Since the start of the calendar year McCormick had announced two deals. The first was the purchase of Premier Foods for $1.6B, this deal was eventually scrapped. The second was the purchase of Botanical Food Co. for $116M which was consummated in April. Aside from M&A spending McCormick will also be spending capex on investments in Southeast Asia that will include a new manufacturing facility in Thailand and advanced Technical Innovation Center in Singapore. The result will be a draw on cash, but we expect it will be not be a huge burden on share repurchase capability, and McCormick will bump its buybacks back up once its achieved its target debt leverage, this won't be long given the larger of the two transactions did not complete.
10-Year Dividend Yield and Payout Ratios: Higher dividends are great but not if they come at the expense of dividend sustainability. Assessing the payout ratio is a key metric in determining the sustainability of a dividend, and is calculated as dividend per share dividend by earnings per share (DPS/EPS).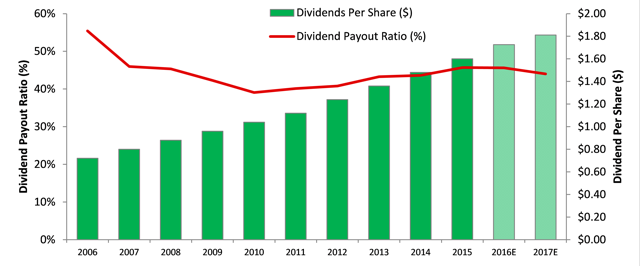 Source: www.SmartDividendStocks.com
McCormick has been a steady dividend grower over the past 10 years; this dividend growth has been mostly supported by earnings growth. Over the last 10 years the dividend CAGR has been 8% while the earnings CAGR has been 9%, the result has been a lower payout ratio, although this trend has reversed in recent years with the payout ratio ticking up. McCormick has maintained a steady 40% to 50% payout ratio which is very solid.
From a yield perspective, McCormick has traded as high as 3% back in 2008 to as low as 1.8% today, most of the time has been spent in the low 2% range in the past 10 years. It is no surprise that the highest yield came when stocks crashed after the financial crisis. It is also no surprise that the lowest yield is happening right now, since quality dividend stocks have been bid up considerably as a result of low interest rates and investors seeking yield. Nonetheless, the average dividend since 2011 has been 2%, and we are trading more or less in line with that level today, meaning it is not overly expensive.
Long-term Dividend Growth: It is important to view dividend sustainability across market cycles, following the prolonged bull market we have seen in recent years it is necessary to look a bit further out to get a more balanced view of dividend sustainability.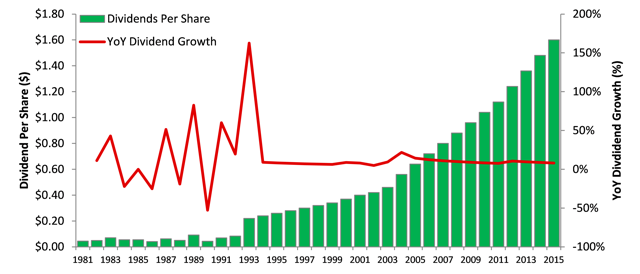 Source: www.SmartDividendStocks.com
As one of the dividend aristocrats McCormick clearly has a great history of returning capital to shareholders, paying rising dividends for 30 consecutive years. We recently wrote about the other aristocrats, ADP (NASDAQ:ADP), here on seeking alpha and McDonald's (NYSE:MCD) here.
Since 1994 when dividend growth became more stable the company has seen average annual dividend growth of 9%. This is a very healthy dividend growth rate to compound your money at. The growth has largely been supported by earnings which we like to see.
Credit risks: One of the largest risks to dividend sustainability is a leveraged company facing large debt payments and/or putting its credit ratings at risk, which would lead to higher interest charges.

Source: www.SmartDividendStocks.com
McCormick has a solid leverage position, with Net Debt/EBITDA of 2.0x. This is clearly a priority for the company given they pullback on buybacks every time they make an acquisition to make sure they return to their target level. Interest coverage is over 11x which is again very conservative. Given the solid current credit metrics and a history of good credit, and a stable business line, McCormick has earned an A2 credit rating from Moody's.
The advantage of this credit rating is McCormick has been able to tap into the credit markets efficiently; the large bonds are in the 3.5% range, with the 2017 tranche of $250M carrying a 5.75% rate. If we assume McCormick refinances this bond at a 3.5% rate, which clearly the market is willing to pay, they will save about $6M in interest expense per year, adding about $0.04/sh of EPS annually.
Summary: McCormick is in the business of flavor, and it's been a great business, giving McCormick the ability to grow EPS at about 10% for over a decade. Earnings growth has been supported by substantial buybacks, which have been stymied for the time being, but should start-up again in full force in the near-term. Shareholders have been rewarded with increasing dividends for 30 years at an annual growth rate of 9%. McCormick is conservatively leveraged using its balance sheet to spend on accretive acquisitions and fund growth in Southeast Asia. We like McCormick for its durability, its solid management, the ability to continue M&A and organic growth, its share repurchases and its dividend yield.
Thanks for reading our article all the way to the bottom! To get these articles as soon as they are published head back to the top of the article, hit the 'follow' button, and select 'real-time alerts'.
Disclosure: I/we have no positions in any stocks mentioned, and no plans to initiate any positions within the next 72 hours.
I wrote this article myself, and it expresses my own opinions. I am not receiving compensation for it (other than from Seeking Alpha). I have no business relationship with any company whose stock is mentioned in this article.