Intel (NASDAQ:INTC) turned in solid results for its 2016 Q3, yet there was some discouraging news, which came out during the earnings conference call. It appears that Intel will not start 10 nm volume production until sometime in 2017. This is roughly according to Intel's original plan, but it means that for some months, the major ARM foundries Samsung (OTC:SSNLF) and TSMC (NYSE:TSM) will have achieved at least process parity with Intel, if not superiority. And Intel will probably fall behind them permanently in 2018 when they move on to 7 nm.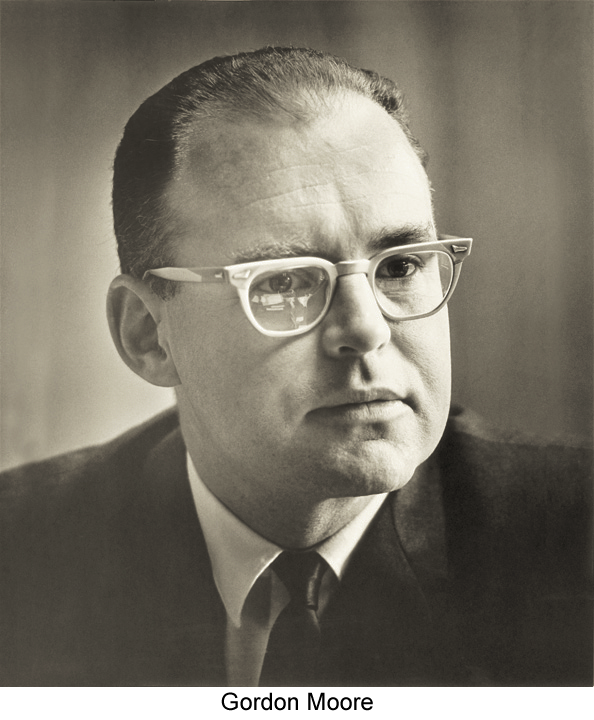 Source: Intel
Moore's Curse
Samsung already has announced that it has started volume production of systems on chip (SOCs) on its 10 nm process node. As I discussed recently, TSMC indicated during its Q3 earnings teleconference that it will be in volume production on its own 10 nm node by year's end.
Intel has offered analysis to show that in terms of how the process nodes scale in effective area requirements, the 10 nm processes of Samsung and TSMC are equivalent to Intel's 14 nm process. In other words, Intel claims that the foundries are still a process node behind.
Intel's Bill Holt, EVP for Technology and Manufacturing, offered this analysis at the November 2014 Investor Meeting: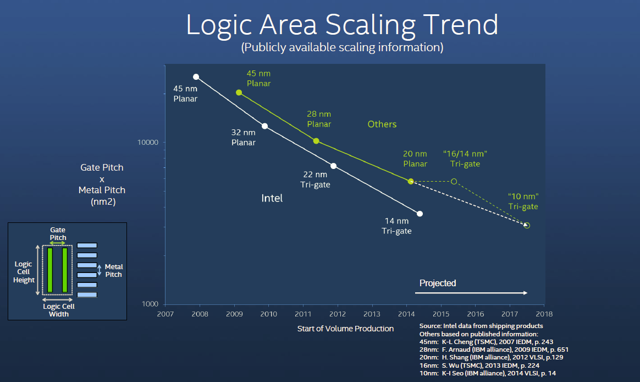 For the November 2015 Investor Meeting, Holt basically recycled the chart. My objection to his projection is that it's still based on 2014 data and doesn't incorporate any findings from actual production at 14-16 nm for TSMC or Samsung, let alone any actual 10 nm production. So we don't really know if Intel's projection is correct.
Let's assume for the sake of argument that it is correct. It still means that with the commencement of 10 nm production, the foundries will have achieved process parity with Intel's 14 nm node. This was something that many Intel bulls insisted could never possibly happen.
Even if Intel's 10 nm process proves to be superior to its competitors, Intel may regain process leadership for only a matter of months. TSMC disclosed that it intends to move on to the 7 nm node and commence volume production in early 2018. Most likely, Samsung will follow suit, although TSMC claims it will be first to 7 nm.
In effect, the ARM foundries are moving to a 12-18 month cadence, even as Intel struggles to recover its two-year process node cadence. Intel has always pointed to Moore's Law with pride as a discriminator for its assumed process leadership. Moore's Law is the observation by Intel co-founder Gordon Moore that the density of transistors in integrated circuits doubled every two years. Each successive process node is expected to deliver that doubling of transistor density. In trying to get back to a two-year cadence, Intel is just trying to obey Moore's Law.
But to the extent that Intel is bound by Moore's Law, it has become more of a curse. The ARM foundries are moving faster.
Lack of Clarity
It's in the context of the overall trends in personal computing devices and the semiconductor industry that the market's reaction to Intel's earnings need to be understood. For several years now, I've been observing how wealth and innovation have shifted to the purveyors of mobile devices such as Apple (NASDAQ:AAPL) and Samsung.
The business models of these two companies have tended to minimize the role of traditional commodity semiconductor companies such as Intel. As Apple, Samsung, Huawei and others design their own mobile processors, Intel has been cut out completely. The change in business model combined with the burgeoning popularity of mobile computing devices has produced a tremendous shift in wealth, and with that shift, a shift in innovation as well.
Despite embracing new products and new business models (Intel offering foundry services for ARM devices), there's still the sense that Intel is moving in slow motion compared to the mobile device markets that it tried and failed to enter.
I had been hoping to see some sign in the conference call that Intel was going to pick up the pace for 10 nm deployment. Here, investors didn't obtain much clarity. Intel did indicate that 10 nm costs would go up in the second half of the year, implying that it was getting started on 10 nm. Stacy Smith, outgoing CFO stated:
So typically on the shape of start-up costs, you would expect that 10-nanometer costs go up in the back half of this year as you're seeing they stay high into the first two to three quarters of next year and then they start to fall-off in the back half of next year.
Smith also stated that capex for Q4 would be higher than normal due to equipment purchases for 10 nm and the Dalian, China, memory factory. This implied that Intel will still be in the early stages of setting up 10 nm production in Q4.
This leaves open the question of when the volume production ramp will actually start. My best guess is some time in the first half of 2017, with parts availability in the second half. And with that takeaway, it became clear that the ARM foundries were going to catch Intel.
Investor Takeaway
Intel actually turned in a very respectable quarter. Revenue was up 9% y/y to $15.8 billion, and gross margin is a comfortable 63%. Net income was also up 9% y/y to $3.4 billion. The key growth areas of the Data Center and Internet of Things saw y/y growth of 10% and 19%, respectively.
Even the Client Computing Group was up 5% y/y. IDC reported a 4% decline in global PC shipments for the quarter, and Intel's Client Computing group platform shipments matched that decline. However, ASPs were up 6%. CCG operating income rose an impressive 37% to $3.327 billion as Intel pulled out of the tablet market.
So Intel continues to have a profitable x86 processor business, but it just doesn't seem to be able to figure out where to go from here. The loss of process leadership (if it occurs) has implications throughout Intel's core business areas. Intel's data center business faces numerous challenges from ARM processor companies such as Qualcomm (NASDAQ:QCOM) as well as traditional rivals such as AMD (NASDAQ:AMD) and IBM (NYSE:IBM). Intel's hold on the data center becomes more tenuous if its competitors are no longer process-disadvantaged.
I recently upgraded my rating of Intel to hold on the strength of its new ARM foundry opportunities. I see no reason to change that for a company that has so many technical strengths and is still profitable and growing in a difficult market environment. But I still have a sense that Intel is too bogged down in the X86 status quo. Until we see a convincing new direction from Intel, it remains a hold.
Disclosure: I am/we are long AAPL, QCOM.
I wrote this article myself, and it expresses my own opinions. I am not receiving compensation for it (other than from Seeking Alpha). I have no business relationship with any company whose stock is mentioned in this article.
Editor's Note: This article discusses one or more securities that do not trade on a major U.S. exchange. Please be aware of the risks associated with these stocks.