(Editor's Note: Investors should be mindful of the risks of transacting in securities with limited liquidity, such as BKEAF. Bank of East Asia's listing in Hong Kong, #0023, has stronger liquidity.)
What is happening at Bank of East Asia (OTCPK:BKEAF) (OTCPK:BKEAY)?
Bank of East Asia is at the center of a proxy fight between unlikely partners: on one side Elliott Associates, one of the most feared activist hedge funds in the world, on the other the Li family, founders of Bank of East Asia in 1918 and still in charge of the bank.
In the middle, Caixabank from Barcelona and Sumitomo Bank from Japan with a combined 36% stake in the Hong Kong lender.
Bank of East Asia in 2015
Bank of East Asia is the only remaining big independent commercial bank in Hong Kong.
The bank, founded in 1918 by the grandfather of current CEO, David Li, has been a proud member of the Hong Kong banking community, together with Hongkong Bank - the core and seed of what is now the HSBC group (NYSE:HSBC) - Hang Seng Bank, owned by HSBC with a 62% stake, and Hong Kong Bank of China, the amalgamation of 12 small lending operations from Bank of China in the late 90s.
Bank of East Asia has been a pioneer in mainland China banking too. BEA's presence in China dates from the first branch in Shanghai in 1920. Almost one century later Bank of East Asia was one of the first banks to receive approval from the China Banking Regulatory Commission to establish a bank in Continental China in 2007; BEA was the first foreign bank to offer renminbi credit cards in Mainland China and the first bank to issue renminbi retail bonds in Hong Kong as well.
The Hong Kong lender owns a network of 125 outlets in Mainland China through Bank of East Asia Ltd. (China). In addition, BEA operates a rural bank in Shaanxi. Outside China the lender owns a small network of representative branches in Malaysia, Singapore, Britain and the US.
The bank employs circa 13,000 people and held assets of HK$781 billion at the end of 2015. At the end of that year, the lender posted revenues of HK$17,064 million and after tax profits of HK$5,202 million.
In terms of financial performance and capital position, BEA is the weakest among the big 4 Hong Kong banks. Top line net interest margin (NIM) is decent at 1.6% compared with 1.2% at Bank of China and 1.5% at Hang Seng Bank; NPLs over loan book ratio are three times higher though at 0.9% compared with 0.3% at Bank of China and 0.2% at Hang Seng Bank; nevertheless, a level of less than 1% for all three banks is extremely low compared with average developed market similar ratios.
Costs are the main differentiator though; Hang Seng Bank and Bank of China have a cost income ratio of 31% and 29%, respectively, while Bank of East Asia posted a CI ratio at the end of 2015 of 57.1%, extremely high by Hong Kong standards and high for western levels as well.
The origin of the high cost income ratio at BEA is the relatively low level of automation of its processes, and therefore, higher labour costs compared with competitors. Bank of East Asia embarked during June 2016 in a cost cutting effort, but much more work is still to be done.
The combination of these P&L parameters generates a ROE (return on equity) of 7.1% for BEA compared with a 14.5% for Bank of China and 17% for Hang Seng Bank.
Finally, capital position at the end of 2015 was 12.6% Tier One for Bank of East Asia, 13.6% for Bank of China and 14.3% for Hang Seng Bank.
Summarizing, Bank of East Asia is abnormally unprofitable for Hong Kong standard due to its high costs compared with local competitors. Therefore, a quick and decisive action cutting costs to the level of competitors could halve CI ratio, more than double Return on Equity and, potentially, double the stock price of BEA.
By mid-2015, Elliott Associates, the US activist hedge fund, had acquired 7% of the equity of Bank of East Asia.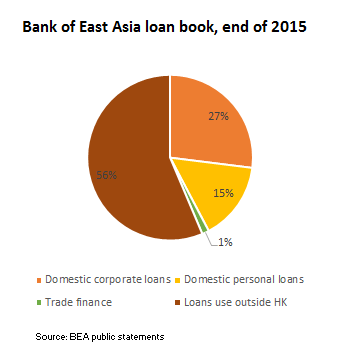 Investments and disinvestments between Hong Kong, Barcelona, Tokyo and New York
In 2008, capital concerns at Bank of East Asia and the need to reinforce the shareholding position of the founding Li family motivated the bank to bring in as shareholders Caixabank from Barcelona, Spain, and Sumitomo Bank from Japan in a syndicated agreement of common shareholding and voting rights.
Caixabank has bought 17% of the Hong Kong bank as part of its ambitious internationalization expansion strategy that brought the Barcelona lender to acquire 10% of Erste Bank, the biggest bank in Austria holding extensive assets in East Europe, and 9% of Mexico's Inbursa, the financial investment vehicle of billionaire Carlos Slim.
The motivation of Sumitomo was similar to Caixabank's: open the back door of the huge China banking market through one of the most consolidated pioneers in the area at a competitive price. Sumitomo Bank increased its stake in BEA to 17.05% through a share subscription agreement in March 2015.
After these capital raisings, Caixabank and Sumitomo owned a combined 36% of the stock at Bank of East Asia, the Li family around 9% and the Malaysian Quek family a further 14%, free of any shared agreement, and thus, open to a quick sale at the right price.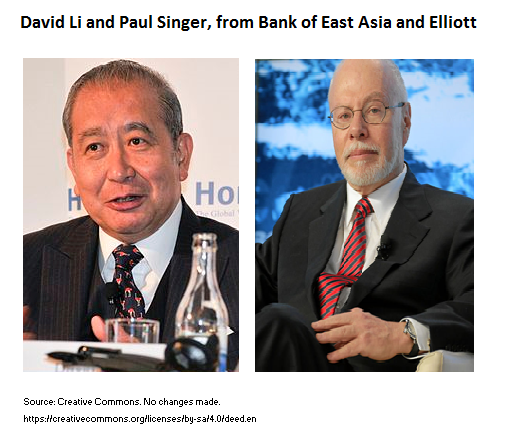 During 2015, Elliott Associates acquired circa 7% of stock at what at that time looked like depressed prices - likely around $28 per share.
The probable intention of the US hedge fund was to unlock the control market for lenders in Hong Kong. Bank of East Asia 1) is the only independent big bank in Hong Kong, 2) has the added value of being one of the top foreign banks in Mainland China, and 3) has a significant scope for profitability improvement.
If the syndication of shares between Caixabank, Sumitomo and the Li family could be broken, the bank could be ripe for takeover by any global lender with ambitions to gain a foothold in China and Hong Kong or from a Mainland big lender with international horizons.
This strategy assumed, of course, that foreign lenders could be interested in increasing their footprint in an economic area - Hong Kong & East Asia - with a future not as bright as it once was.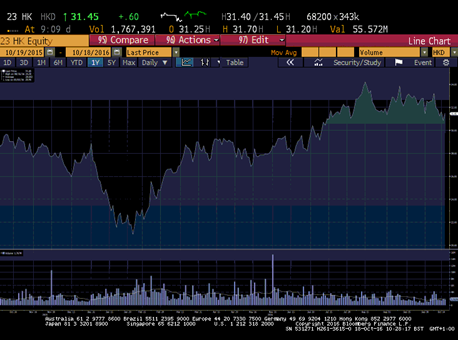 Stock prices and the future
So what does all this mean in terms of the stock price? Bank of East Asia's stock price has experienced significant volatility during 2015 and 2016. By nature, BEA is a highly volatile stock: from 2012 to 2015 even though prices followed a secular upside trend that finished at HK$34 by mid-2015, Bank of East Asia has experienced big ups and downs.
After June 2015, a huge fall and an equally extreme spike up were ended by the Banking Panic of early 2016; at that time stock price crashed to minimums of HK$20.3, just to increase 67% to the HK$34 level among speculations on the Elliott proxy battle to unlock value from the Hong Kong lender.
Fundamentals of the bank are slowly deteriorating together with the Chinese economy and 2017 does not look better given the current low level of NPLs.
Nevertheless, even if we foresee a short or hard landing of the Chinese economy, this will be a mid- to long-term process; after mild macro Chinese data recently released, it looks like on a six-month horizon the market heat from the fight between Elliott, Bank of East Asia, Caixabank and Sumitomo combined with better than expected China macro data will keep stock price of Bank of East Asia at least at current levels.
For this reason, a sale of downside volatility in the short term, in the context of a wider portfolio of longs and shorts to smooth volatility could be a good investment option for a bank investor.
Disclosure: I/we have no positions in any stocks mentioned, and no plans to initiate any positions within the next 72 hours.
I wrote this article myself, and it expresses my own opinions. I am not receiving compensation for it (other than from Seeking Alpha). I have no business relationship with any company whose stock is mentioned in this article.
Editor's Note: This article discusses one or more securities that do not trade on a major U.S. exchange. Please be aware of the risks associated with these stocks.