Most people would ask what is TIC?
TIC is "Treasury International Capital."
TIC is a select group of capital monitored with regard to their international movement. Treasury International Capital is a useful economic indicator that tracks the flow of Treasury and agency securities as well as corporate bonds and equities into and out of the United States. TIC data is important to investors, especially with the increasing amount of foreign participation in the U.S. financial markets.
So what does it mean when TIC moves up or down?
As demand for U.S. financial instruments increases, the value of the dollar is held up. Demand for U.S. dollars increases as they are needed to purchase U.S. securities. High demand also places downward pressure on interest rates.
Because this data can have a direct effect on interest rates and the value of the dollar, and because foreign ownership of U.S. debt is more prevalent than foreign ownership of U.S. equities, this data seems to have a larger effect on the bond markets than on the stock markets.
TIC surged last April and last month and did indeed telegraph a future rise in the USD a short time thereafter. The same signal is flashing now and investors can expect a rise in the dollar over the next two months at least.
So why is this important now?
In a report, The Department of the Treasury said that U.S. TIC long-term purchases rose to a seasonally adjusted 48.3B, from 102.8B in the preceding month whose figure was revised down from 103.9B.
Analysts had expected U.S. TIC long-term purchases to be 20.0B in September. Instead of that, it has exceeded this estimate by over two times, but is much less than last month's 100B-plus.
The increase in TIC represents strong underlying demand for the U.S. dollar going forward. It is strong not only in that it has turned positive since August but it has consistently confounded more pessimistic analyst estimates by three times in August and now two times in September. One can only imagine what has happened to the trading accounts of those trading houses relying on their analysts' predictions. The blowing out of these presumably short positions would have added even more steam to the upward movement of the USD as short sellers bought the USD to cover their positions upon exit.
This sort of move reliably telegraphs a rise in the value of the dollar over the coming months. The chart below shows that the weighted value of the USD has indeed risen as forecast. It might fall again as it did after the April numbers, but a small rally has already taken place this month and the consistently high TIC numbers this month telegraph that this rally could be sustained a little longer and at the very least give support for the USD not falling. Important from a technical point of view is that the USD has broken over the former July highs and appears to be in an uptrend on consistent volume.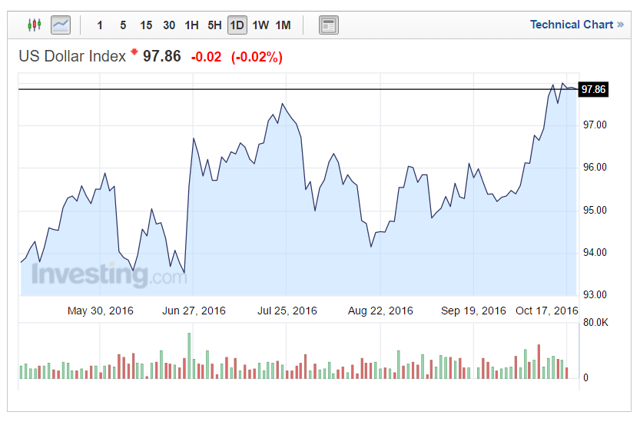 Source: Investing.com
So how can this trend help me?
The most obvious benefits of this trend for investors and traders are as follows:
Disclosure: I am/we are long HZN, GLOG, BX, BXMT, CURE, HEDJ, IVV, PTEN, RFI, CSQ.
I wrote this article myself, and it expresses my own opinions. I am not receiving compensation for it (other than from Seeking Alpha). I have no business relationship with any company whose stock is mentioned in this article.