Wells Fargo (NYSE:WFC) announced a 3Q net income of $5.6 billion, down 2.6% y/y, corresponding to $1.03 per share which, somehow topped the market consensus of $1.01. Thus, ROA, ROE and ROTCE figures came down 1.17%, 11.6% and 13.96%, respectively, from the previous quarter's readings of 1.2%, 11.7% and 14.15%. With broad strokes, profitability metrics continued the downward trend. Market reaction to the results was barely positive, while the stock was trading around its 2-year lows.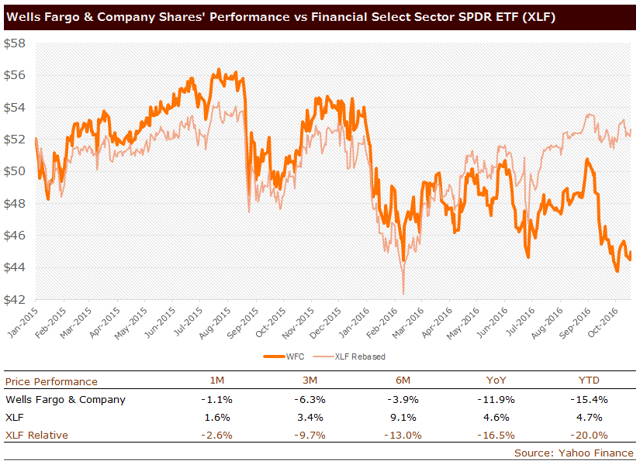 In a previous article about Wells Fargo that was written hours before the bank's cross-selling fallout first reported in the media, we shared our bullish thesis citing a margin acceleration playing its part in driving profitability higher. Now we feel the need of lowering our earnings expectations owing to slower-than-expected retail banking activity, higher operational expenses, and lifted operational risk charges that would eat up capital.
The street seemed to be torn over whether Wells Fargo's cross-selling scandal is priced into the stock. The shares now stand at an attractive entry point according to some, while others choose to believe that downside risks remain as uncertainties and will be in place for the foreseeable future. We believe that there are some compelling arguments on both sides of the debate, and maintain our buy rating while we significantly reduce our 12-month price target.
In its 3Q16 Quarterly Supplement, the management shared some statistics about the retail banking activity last month in order to show the impact of the news flow on its retail operations. The bank's reputation that survived the global financial crisis surely took a huge hit. Wells Fargo experienced declines in customer traffic, account openings, card applications etc. This does not bode well for growth in direct loans and credit cards, which we had expected to be fast earlier. Moreover, we foresee a strengthening demand for consumer finance products for some time to come, when Wells Fargo will be mending the fences with its customers. Thus, we lower our retail loan growth projections.
The prime mover for us to trim our future earnings projections is the higher operational expenses. First, the bank will need to change its sales culture in consumer banking, which requires structural reforms and massive revisions within the unit. Maybe the bank will even need to exit some businesses. Second, the bank must empower its internal audit system, so that it can prevent a similar crisis recurring in the future. At this point, the bank will also work with a consulting firm to receive spot. Ultimately, compliance costs will escalate. Wells Fargo will also be heavily spending on marketing to be in its customers' good graces again. With higher advertisement, PR, and communication costs, Wells Fargo will end up with an inflated expense line. Consequently, we lift our efficient ratio estimates to 60% (a change for the worse) over the next two years. We also need to highlight that Federal Reserve's treatment of the bank on operational risks is likely to be very punitive. This would weigh on the bank's capital adequacy through increased risk-weighted assets, and result in more capital being set aside to maintain the current dividend ratios.
Wells Fargo is set to face challenging conditions in the near term and we expect no ROE improvements. We now estimate lower earnings for the bank over the next two years (2017E EPS $4.10, 2018E EPS $4.45) under our base, implying an ROATCE of 12.5%. We are lowering our Gordon growth model based price target by 17% to $54, to reflect a 1.5 percentage point reduction in sustainable ROATCE assumption. Still, our price target offers 19% upside from the current stock price; thus we maintain our buy rating on the shares.
Disclosure: I/we have no positions in any stocks mentioned, and no plans to initiate any positions within the next 72 hours.
I wrote this article myself, and it expresses my own opinions. I am not receiving compensation for it (other than from Seeking Alpha). I have no business relationship with any company whose stock is mentioned in this article.