Opening Rant
Back in July, I wrote an article talking about the correlation of the velocity of MZM and the ten-year Treasury rate and how it can act as a predictor of future inflation. To take that article one step further, I decided that it was important to see if this correlation was just by chance or if it exists elsewhere. I decided to run a similar test using Japan.
The chart below shows you the GDP and M2 money supply of Japan since 1967. The most striking thing here is that is more M2 money supply than GDP. You can see how aggressive the BOJ and the Government of Japan have been in printing money over the years. This would lead you to believe that Japan would have an inflation problem. However, that is not the case.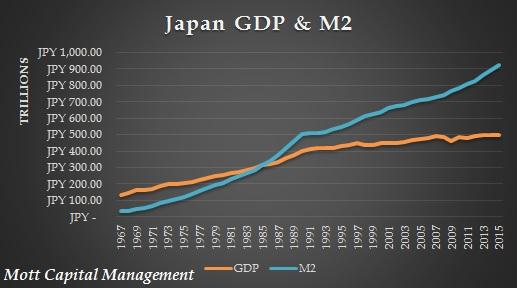 The next chart shows the velocity of M2 and the 9-year JGB yields.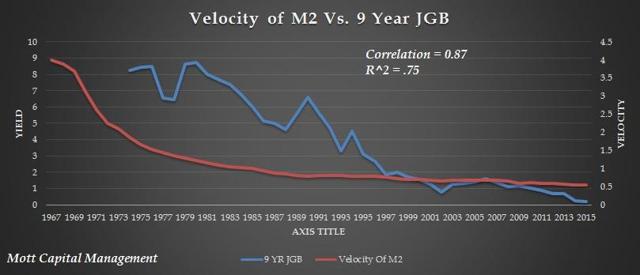 We can see there is a strong correlation between the JGB yields and the velocity of the M2 money supply. In fact, because Japan has a massive amount of M2 money supply versus GDP, the velocity is nearly non-existence as is its bond yields.
The problem with Japan is that there is simply no growth in the economy. Clearly, the BOJ has been one of the most aggressive central banks, and all the money printing has not been able to stoke inflation or economic growth.
The biggest problem facing Japan and perhaps the greatest reason for its lack of economic growth is due its population, and in Japan's case, its decreasing population.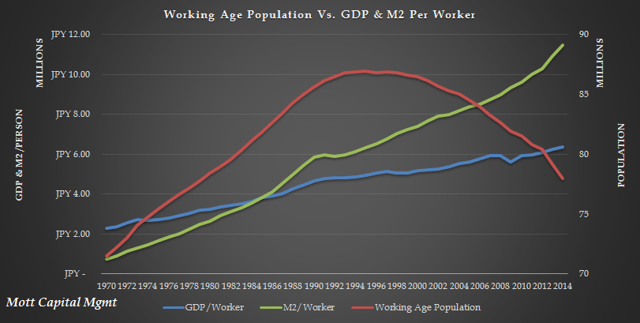 Despite Japan's falling working-age population, the government has been able to keep its economy from contracting. Part of that is due to increased worker productivity as you can see in the chart above with the Blue Line. The other part, being money print, in essence, has made up for the losses in population.
What is the lesson in this? It is that money printing does not always lead to growth or inflation. Also, as in the US's case, the velocity of money has proven to be an accurate predictor of future inflation. Unfortunately, in Japan's case, there is neither inflation nor growth.
Markets & Sectors
The S&P 500 (NYSEARCA:SPY) is having some follow through off of yesterday's strength, with the index up nearly 35 bps to 2,147.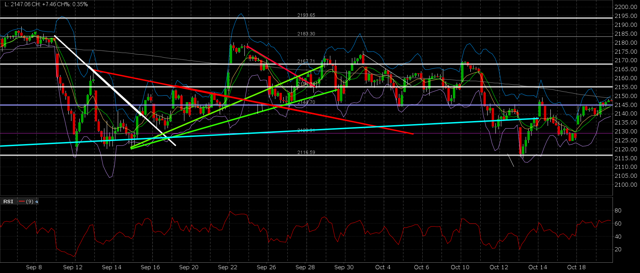 You can see that yesterday's rally took us to about the same level as today before the index failed and reversed. It will be important to see if we can hold these and manage to close at or above 2,145.
Today, the Energy sector (NYSEARCA:XLE) is leading the charge higher, with a gain of nearly 2%. It is taking the lead from oil (NYSEARCA:OIL) with WTI trading above $51. The Financials (NYSEARCA:XLF) are also advancing today, up about +1%, which should come as no surprise given some strong earnings in the group.
The Biotechs (NASDAQ:IBB) continue to lag with the IBB down about 60 bps. The IBB is down over 10% in a very short time and appears, for now, to have found a resting place, in this $267-270 range.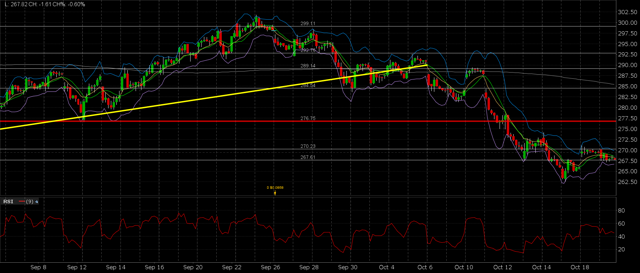 Caution needs to be taken here with this sector. The biotechs are in the risk part of the market, and as we have previously noted, the market does not seem to have an appetite for risk.
Currency & Yield
The Ten-year (NYSEARCA:TLT) is unchanged today and still sits at 1.75%. The dollar seems to be taking a rest today, with the Dollar Index (NYSEARCA:UUP) flat at 97.92. The Yen (NYSEARCA:FXY) appears to be rolling over around this 104 vs. the Dollar level.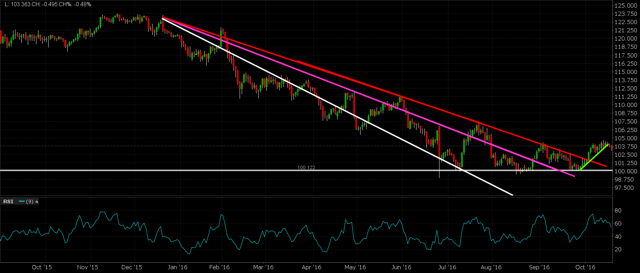 We will continue to watch this. However, I don't currently believe this is the start of another attempt to take 100.
How Do We Interpret This?
Today's trading, although boring is interesting. If you look at the three market charts I have on this page, they all have something in common. They are all at or near support or resistance levels. While the sectors that are trading higher, they have an underlying theme. It just leaves me to believe that most investors are unsure of the market's future direction. It is as though they are patiently waiting for something to happen. These movement we saw yesterday and today are, in my opinion, just machines and programs trading. The ECB and Draghi are up tomorrow; perhaps we will learn something new there, maybe not.
Summary
If the markets feel indecisive, it is because they are. Perhaps it is earnings season that has something to do with it. Or perhaps it is the Presidential Election or the Fed. For now, it would seem the machines are in charge and running the show.
If you'd like to get a full listing of the different items we currently have a rating or view on, you can find a list in our research area. Remember, if you like reading these commentaries, make sure you follow us with that little "+" button at the top of the page next to our name. If you like us, then sign-up, and start receiving our research in your inbox, where we cover even more topics.
Have a great day!
Mike
Disclosure: I/we have no positions in any stocks mentioned, and no plans to initiate any positions within the next 72 hours.
I wrote this article myself, and it expresses my own opinions. I am not receiving compensation for it (other than from Seeking Alpha). I have no business relationship with any company whose stock is mentioned in this article.
Additional disclosure: Mott Capital Management, LLC is a registered investment adviser. Information presented is for educational purposes only and does not intend to make an offer or solicitation for the sale or purchase of any specific securities, investments, or investment strategies. Investments involve risk and unless otherwise stated, are not guaranteed. Be sure to first consult with a qualified financial adviser and/or tax professional before implementing any strategy discussed herein. Past performance is not indicative of future performance.