Asanko Gold (NYSEMKT:AKG) has experienced a very successful year. Only 11 months ago, the company announced that construction of the Asanko Gold Mine is almost completed, with the commencement of hot commissioning expected in December. In January, the production of the first 400 toz of gold was announced. On April 1, commercial production was declared. In May, Asanko announced that as the Asanko Mine has demonstrated the ability to operate at greater than 110% of its designed capacity. The Phase 2 (expansion of the Asanko Mine) will be divided into stages in order to optimize the cash flow and to enable self-funding of the expansion. In September, Asanko increased its H2 2016 production guidance from 90,000 - 100,000 toz gold to 100,000 - 105,000 toz gold and it was also able to announce excellent drill results from a newly discovered Akwasiso deposit. On October 13, the company announced that 53,986 toz of gold were produced in Q3 and 52,000 - 57,000 toz should be produced in Q4, which means that the recently increased H2 production guidance should be beaten.
All of this news, along with an increased gold price, resulted in significant share price growth. Asanko's share price is up by 120% over the last 12 months and by 160% year-to-date. And although the company isn't cheap anymore, it still has enough space to grow thanks to the exploration potential and the Phase 2 feasibility study that is expected in the coming months.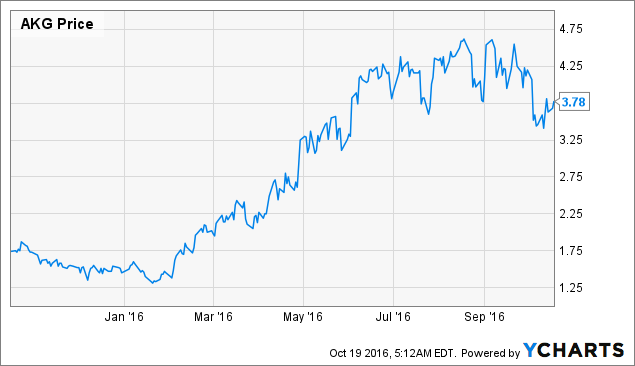 AKG data by YCharts
Asanko Mine - Phase 1 more successful than expected
The Asanko Mine started gold production in late 2015. The plant was designed to process 250,000 tonnes of ore per month, or 3 million tonnes of ore per year. But Asanko was able to increase it to the current level of 300,000 tonnes per month (3.6 million tonnes per year) only by making some minor changes. During Q3, 852,000 tonnes of ore grading 2.1 g/t gold were processed. The production climbed to 53,986 toz gold. In September, 298,000 tonnes of ore were processed and 19,820 toz gold were produced. Similar production numbers are expected also in the last three months of 2016.

Source: Asanko Gold
As the Asanko Mine is able to process much more ore than originally expected, the company decided to change its development plans. The Phase 2 of the Asanko Mine development will be divided into Phase 2a and Phase 2b. Phase 2a should be realised in 2017. The existing plant should be expanded to five million tonnes per annum and a conveyor belt should start to feed it with oxide ore from the Esaase deposit located 25 kilometers to the north. The conveyor belt should be completed in H2 2018. The Phase 2a should cost $100-125 million and it should be financed from the cash-flow generated by Phase 1. The combined production from Phase 1 and Phase 2a should be approximately 280,000 toz gold per year.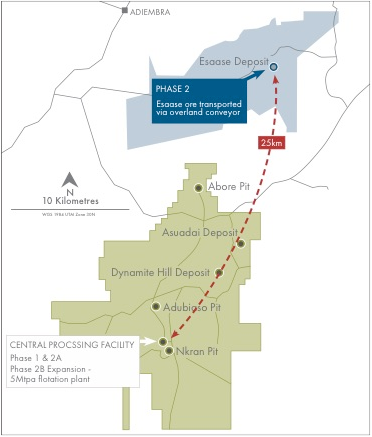 Source: Asanko Gold
The second phase of the expansion (Phase 2b) should start in 2019 or 2020. This phase includes expansion of the capacity of Asanko mine to 10 million tonnes of ore per year. The majority of ore should be sourced from the Esaase deposit. The total annual production of the Asanko Mine should grow to more than 450,000 toz gold per year, starting from 2021. Phase 2b should be financed from cash flow generated by phases 1 and 2a.
Although the DFS for phases 2a and 2b hasn't been completed yet, management seems to be pretty confident that the results will be positive. It is preparing for construction of Phase 2a and the last permits needed to progress to construction are expected by the end of 2016. Also the DFS should be completed by the end of 2016. It means that Asanko's shareholders should expect two important catalysts in the near future.
The Akwasiso deposit
One of the recent great news is also the discovery of the Akwasiso deposit. Although Akwasiso was drilled by its previous owner, there hasn't been completed any NI 43-101 compliant resource estimate. Asanko started to drill-test it this summer in order to identify further satellite resources that will feed the Asanko Mine, while the conveyor to Esaase is under construction. According to Asanko's CEO:
The three current exploration targets offer immediate, low-cost, incremental ounces that will keep our "hungry" mill full for the next two years while we develop our Phase 2A expansion project. These near-surface deposits are now being incorporated into our Life of Mine Plan, with mining targeted to commence in early 2017.

Akwasiso is an exciting new target which is in close proximity to the Nkran Extension and is an important addition to our satellite deposit project pipeline. We are targeting an initial Mineral Resource Estimate during Q4 2016.
It was expected that some gold will be intersected, but the actual results were a big positive surprise. Asanko completed 81 holes totaling 10,000 meters and it discovered mineralisation similar to the main Nkran deposit that is being mined right now. Some of the best results include: hole AKDD16-004 (54 meters grading 3.85 g/t gold), hole AKDD16-011 (13 meters grading 2.44 g/t gold and 16 meters grading 3.65 g/t gold), AKDD16-012 (7 meters grading 0.63 g/t gold and 4 meters grading 14.68 g/t gold and 5 meters grading 1.23 g/t gold and 31 meters grading 0.98 g/t gold) and hole AKDD16-013 (7.50 meters grading 5.67 g/t gold and 3 meters grading 21.93 g/t gold and 12 meters grading 4.66 g/t gold).
The initial Akwasiso resource estimate should be completed by the end of 2016, but it is almost sure that it will grow further in 2017 as the deposit is still open along strike and at depth and Asanko is planning another drill campaign. According to the CEO:
We are very excited about the potential of Akwasiso, which is displaying similar geological features and mineralization to the Nkran deposit, our main resource. The first set of results show the potential to be even more significant than previous near-mine discoveries at the Adubiaso and Nkran Extensions. With the mineralization still open at depth and along strike, we will plan to initiate a further drilling campaign and prepare a maiden Mineral Resource Estimate.
Conclusion
The Asanko Mine development is progressing better than expected. Phase 1 is operating 20% above its designed capacity and Phase 2 DFS is about to be completed in the near future. Construction of Phase 2a should start next year and Phase 2b should be realised around 2020. It is expected that the Asanko Mine will be able to produce more than 450,000 toz gold per year after the Phase 2b is completed. What's important, Asanko Gold should be able to finance phases 2a and 2b from its cash flow. It means no further dilution and no more debt, if everything goes well. There is also the Akwasiso deposit that generated some very good drill results and it has the potential to boost Asanko's gold resources significantly. Barring a gold price collapse, Asanko Gold's share price has still a lot of space to grow.
Disclosure: I/we have no positions in any stocks mentioned, but may initiate a long position in AKG over the next 72 hours.
I wrote this article myself, and it expresses my own opinions. I am not receiving compensation for it (other than from Seeking Alpha). I have no business relationship with any company whose stock is mentioned in this article.