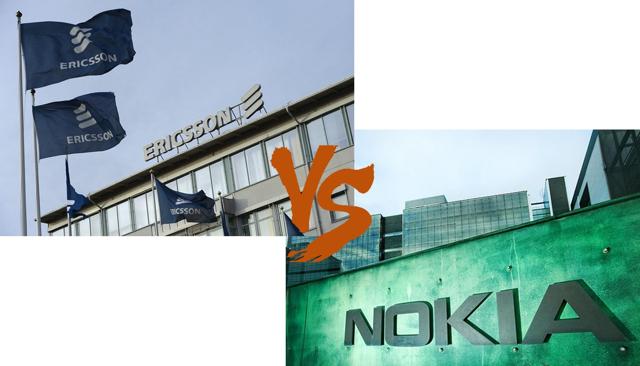 Credit: androidauthority.com and the WSJ
Nokia (NYSE:NOK) has fallen hard in sympathy for Swedish network equipment peer Ericsson (NASDAQ:ERIC). Shares of the Finnish company dipped -7% between October 12th and close-of-business October 18th, following Ericsson's announcement that "earnings this year will be significantly lower than expectations amid weaker broadband demand." During the same period, ERIC dropped -22%.
But is the drop in NOK's price justifiable? Or does the -7% pullback represent an opportunity to buy a great stock at a discount? In this article I present a few of the key similarities and differences between Nokia and Ericsson and try to reach a conclusion on whether NOK at $5/share - levels not seen since late August 2012 - is a deal that bargain hunters should take full advantage of.
Similarities: reasons to stay away from NOK
- The low cost threat: one of the key themes in the network equipment space for the past few years has been increasingly fierce competition. On the one hand consolidation in the radio and core network space has produced only three giant players out of a once fragmented business in which a dozen companies competed. On the other hand pricing power has eroded as low-cost suppliers have won the hearts of carriers around the world.
Most notably, Chinese equipment provider Huawei continues to undercut its European peers by driving costs and prices as low as possible. And while Nokia has been able to increase IFRS gross and op margins up by 190 bps and 150 bps between 2014 and 2015, respectively, nearly 40% of the company's continuing ops employees in 2015 were still based in Europe - 12% in the company's home country, Finland.
Therefore, the same challenges that Ericsson has been presented with by low-cost providers will probably also impact Nokia's competitiveness in the future.
- Over-exposure to telcos: servicing large telecom providers is a tricky business. During major infrastructure upgrades, as we have seen in 2013-2015 as mobile technology transitioned from 3G to 4G LTE, equipment suppliers tend to fare better. However, most of the global service providers have largely completed their 4G upgrades (with the material exception of China Mobile (NYSE:CHL) and other large players in the Far East), and have now retreated into capex-savings mode. AT&T (NYSE:T), for example, continues to see its spending in capital projects in 2016 converge to the lower end of management's guidance from earlier in the year. And CEO Randall Stephenson stated during AT&T's most recent earnings call that the company's "network transformation is pivoting to software-defined networking or SDN" and that he expects to see 30% of the company's network functions virtualized by 2020 (up from 5% as of the end of 2015). What this means is that "virtualized functions that previously required dedicated solutions, dedicated hardware, dedicated software and dedicated teams" will not depend as much on the traditional equipment and services that supported the infrastructure in the past.
This trend does not bode well for companies like Nokia and Ericsson as the great majority of their revenues come from the telco client segment. This is especially true for as long as lower-cost network equipment vendors continue to provide carriers with low-budget, deep-discount solutions.
Differences: reasons to consider buying NOK on the dip
- Nokia is one step ahead in its transition plan: while Ericsson is in the early innings of its business model and leadership transition, Nokia has already been through the thick of its own transformation. The Finnish company is, today, much different from what it used to be a mere three or four years ago. Remember that over 50% of Nokia's revenues in 2013 came from Devices and Services, a division sold to Microsoft (NASDAQ:MSFT) early in 2014. Many key leaders stepped down or were transferred to Microsoft as a result of the Devices business disposition. The company's current CEO, Rajeev Suri, took over in May 2014. He has since had the opportunity to execute on many of Nokia's key strategic goals including the capital structure optimization program through which 2 billion euros of Nokia's debt was targeted for retirement between 2013 and 2Q16. During this period, Nokia's HERE division was sold and Alcatel-Lucent was acquired, better positioning the Finnish company, in my view, as a dominant networking equipment provider.
Ericsson, on the other hand, has only very recently reorganized its business units and continues to look for a permanent CEO to lead the company through its upcoming transition. It seems clear to me that, while Nokia will continue to have its hands full with the integration of Alcatel-Lucent over the next few quarters, the company is in a better, more stable position to weather the macro headwinds that Ericsson is currently facing.
- Stronger balance sheet: one of the key differences that I see between the two European companies is their financial position. I believe this is especially important during times of uncertainty and negative free cash flow generation.
As of 2Q16, Nokia had 6.3 billion euros in net cash, excluding pension and long-term available-for-sale investments, which represented about 25% of the company's market cap. On the other hand, Ericsson's net cash position stood at about $2 billion as of 2Q16, amounting to only about 11% of market cap. I also appreciate Nokia's higher gross margins compared to its peer (39.1% YTD on a non-IFRS basis, vs. Ericsson's 32.8% ex-restructuring over the same period). Because the companies share similar op margins of 7%-8%, higher gross margin means that Nokia is a bit better positioned than Ericsson, from an operation leverage perspective, to benefit from potential savings in operating expenses - a strategy that both companies will pursue and try to implement over the next several quarters.
The verdict: is NOK a buy on the dip?
At the end of the day, I continue to believe that there are more than enough uncertainties surrounding Nokia's future prospects to keep me skeptical and cautious about buying NOK at current levels. I still own ERIC, which I bought following an April 2016 dip of 15%, and it remains a small and speculative piece of my equities portfolio. Although I'm no more optimistic about ERIC than I am about NOK, at least ERIC has de-risked significantly more this year so far (shares are down -43% YTD), whereas NOK has remained resilient relative to its peer (shares are down -28% YTD).
In line with my most recent opinion issued on NOK, I believe the general direction of the stock is sideways for a few more quarters to come.
Disclosure: I am/we are long ERIC.
I wrote this article myself, and it expresses my own opinions. I am not receiving compensation for it (other than from Seeking Alpha). I have no business relationship with any company whose stock is mentioned in this article.