I like writing about the Internet companies with significant intangible assets on their balance sheets. The recent examples include Netflix (NASDAQ:NFLX), Alibaba (NYSE:BABA), and Yahoo (NASDAQ:YHOO). The main reason why I like writing about them is simple: in my practice, they are more often mispriced relative to other real-sector companies. I do not know why this is the case. Nevertheless, I have a hypothesis: people from the older generation of investors do not understand the underlying foundations of the business and follow the trends. The younger generation is keen on doing things online and invests on the basis of personal utility (i.e. "if I use it, then it is worth investing into").
Frankly speaking, I planned to write about Twitter (NYSE:TWTR) before the stock fell dramatically because of the unmet expectations about the potential merger. I was skeptical about this deal but it is too late to talk about it. Now, after the decline, I want to write about the company's real valuation in the event nobody buys it for $15B or more (after all, the fair value is the price the buyer pays for the company).
Company profile
Twitter Inc. is a company which main intangible asset is its website (twitter.com). This site allows users to post anything they want with the following limits: 140 characters per tweet, 2,400 tweets per day.
As in the case of any other social network, most of Twitter's revenue comes from advertising. According to the latest 10-Q, Twitter's three-month revenue has increased by more than 18% while the six-month revenue has increased by ~27%. Another source of revenue for the company is data. The company sells users' data to third parties. The total revenue share from this source was around 10% in 2015. According to the latest 10-Q, both three-month and six-month data revenue has increased by more than 34%.
According to these figures, I project Twitter's total annual revenue for fiscal 2016 to increase by ~24-25% on the year-over-year basis. This trend looks quite positive. However, the figures are a lot lower than the market's expectations. In 2012-2014, Twitter doubled its top line each year. Revenue growth is considered as the main valuation driver for the company. Hence, during the last two years, the stock has continually been falling in price as revenue growth has slowed down (see diagram 1).
Diagram 1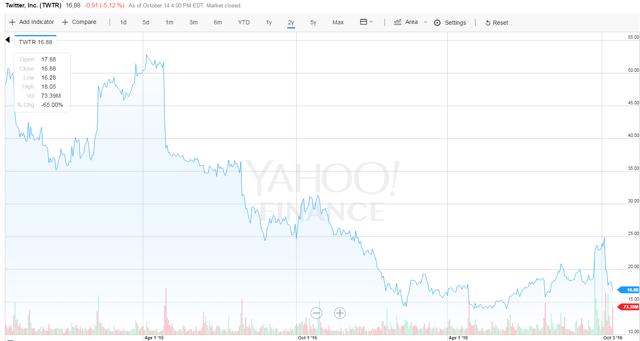 (Source: Yahoo Finance)
I do agree that revenue is a keystone of a company's value. However, costs are important as well.
Industry experts have agreed that Twitter is a start-up company with a huge potential for monetizing its activities. Hence, long-term investors have not paid attention to losses the company has accumulated during its tenure on the stock market. As you can see in Diagram 2, Twitter's EPS has never been positive. Moreover, the company has to finance its main activities by issuing debt and selling shares on the market via SPOs. Hence, the existing investors' ownership share is being diluted.
In addition, the gross profit margin has become negative, indicating that the cost of acquisition of one customer has increased due to a cutthroat rivalry on the e-advertising market. These negative trends, among others, have put pressure on Twitter's market performance.
I expect Twitter to become a "net profit generating" company only in FY2020. According to my base scenario assumptions, the net profit margin will increase from the current level of -16.5% to 11.3% by 2022. Hence, the free cash flow yield will increase from -28% to 13% over the same time period. In addition, the free cash flow yield will become positive a year earlier - in 2019. However, the free cash flow yield depends on the future pattern of capital expenditures. I expect the capex-to-revenue ratio to decrease in the future because Twitter, after these years, has to put this expensive infrastructure to work.
One positive development worth mentioning is that Twitter has showed a positive EBITDA for the first time in its public history.
Diagram 2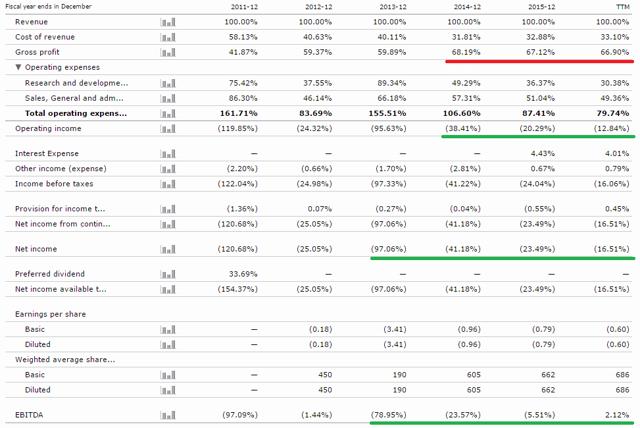 (Source: Morningstar.com)
This may sound radical but I think Twitter is either a distressed company with no opportunity to return the money invested before to its investors or an undervalued star which is about to become a cash cow (refer to the BCG matrix). I would like my valuation part to try to resolve this dichotomy.
DCF Analysis
My DCF model is presented in Diagram 3. In Diagram 4, you can see how different metrics of the company are expected to change during this period. I have made and revised several assumptions which can be seen in the "Assumptions" tab of my Excel file. Pay special attention - they are quite optimistic.
My model shows that, after subtracting the market value of debt, minority interest, adding back cash and investments, and other issues the market value of equity is around $11.97B in the Base scenario. Consequently, the stock's fair value is around $17.50 per share. It is 3% higher than current market price ($16.88 per share at the time of writing).
Diagram 3

(Source: data - Morningstar.com, DCF model by author)
Diagram 4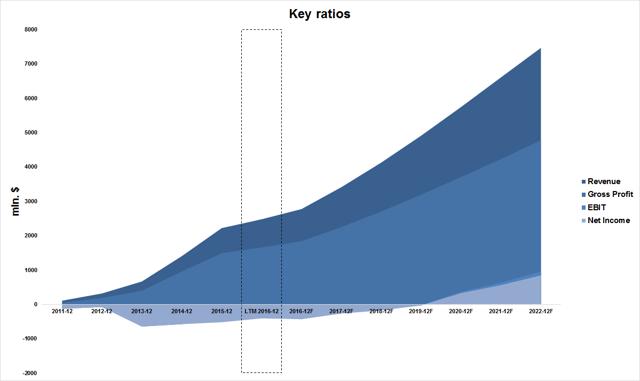 (Source: data - Morningstar.com, model by author)
Sensitivity Analysis
My DCF analysis is based on a number of assumptions which create a certain expectation of the share price. However, we need to see the entire picture and derive a range of possible prices. A few assumptions about WACC and the terminal EV/EBITDA multiple give a plausible price range of $15.90 - $19.30 per share. This means that the stock has an upside opportunity of (-6%) - 14%.
Diagram 5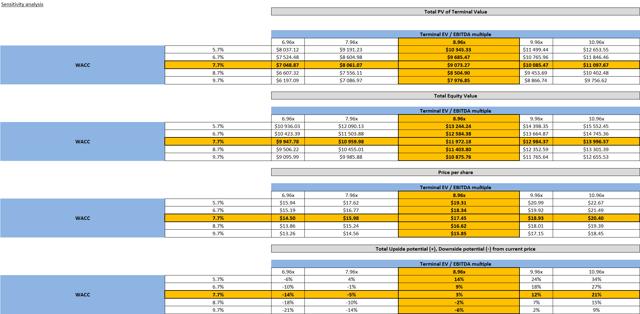 (Source: data - Morningstar.com, model by author)
Comparative Analysis
My comparative analysis is based on three key ratios: P/S, P/BV and EV/EBITDA (see Diagram 6). The current P/S and P/BV ratios indicate that the stock is considerably undervalued. Twitter's current EV/EBITDA multiple is 184.8x, which is off the charts. However, because the company is in the growth phase, the current EV/EBITDA multiple is not applicable. According to my estimates, the three-year forward EBITDA multiple is 25.7x, which is a little higher than the current industry's average EBITDA multiple of 23.8x (according to Damodaran). I concluded that the comparative analysis is not reliable in this case because applicable multiples largely depend on the future growth of the company's key metrics.
Diagram 6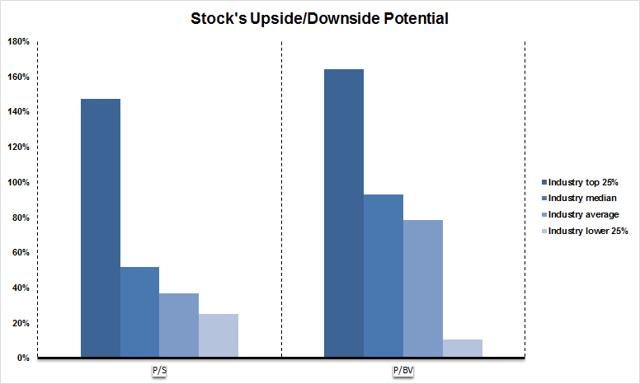 (Source: data - Morningstar.com, infographics by author)
Recommendation
Twitter is an Internet company which has yet to become a cash cow. Despite the fact that margins are getting better, the DCF analysis, based on a few positive assumptions, shows that the stock is undervalued by only about 3%. However, changing the assumptions for the terminal EV/EBITDA multiple or the discount rate by only 0.5 percentage points shows a different picture.
At the moment, the stock looks fairly priced. I issue a hold recommendation with a target price range of $16 - $19 per share.
Disclosure: I/we have no positions in any stocks mentioned, and no plans to initiate any positions within the next 72 hours.
I wrote this article myself, and it expresses my own opinions. I am not receiving compensation for it (other than from Seeking Alpha). I have no business relationship with any company whose stock is mentioned in this article.