When I seek out dividend-growth stocks for my retirement portfolio, I look for companies that have a long history of increasing their dividends as well as either a solid dividend yield, strong dividend growth, or both.
3M For Retirement
3M (NYSE:MMM) fits my strategy nicely. It has increased its annual dividend for 58 years in a row. Its five-year dividend-growth rate is 14.3% and its dividend yield is 2.6%.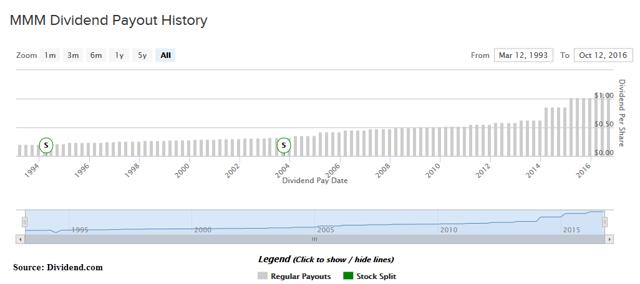 The payout ratio for 3M, at 52%, is also very low compared to its peers. This low payout ratio means 3M can continue to pay its dividend easily, even when times might get tough during a recession. Speaking of recessions, during the last recession in 2008-2010, 3M managed to increase its dividend by 4%.
How A Company Like 3M Can Set You Up For Retirement
Dividend champions such as 3M can set you up for retirement. Keep in mind that I am not recommending people invest in one stock like 3M. I highly recommend diversifying among many strong dividend-growth stocks that have characteristics similar to 3M, such as Altria (NYSE:MO), Exxon (NYSE:XOM), and Johnson & Johnson (NYSE:JNJ).
I want to analyze how a basket of stocks like 3M can change a person's entire retirement situation. Let's look at a case study using the WealthTrace Financial Planner, which you can use as well.
Let's take a 50-year-old couple that has $500,000 saved. Everything is in IRAs. Half their money is in an S&P 500 index fund and half is in 10-year treasury bonds. I assumed the S&P 500 fund will return 6% per year and the treasury bonds will return 1.7%. Let's also assume inflation of 2.5% and that they want to retire when they're 65.
Taking in account inflation, how much will they have when they retire? The results are below:
| | | | |
| --- | --- | --- | --- |
| Beginning Value Of Account | Ending Value Of Account (Nominal $) | Ending Value Of Account (Real $) | Real Annual Return After Taxes |
| $500,000 | $900,740 | $625,110 | 1.50% |
In 15 years, their investments have only grown by a mere $125,000 if we reduce everything by the inflation rate. That is only 1.50% per year in real terms. I also ran Monte Carlo analysis on this plan and found that they only have a 21% chance of never running out of money in retirement if they plan on spending $50,000 per year.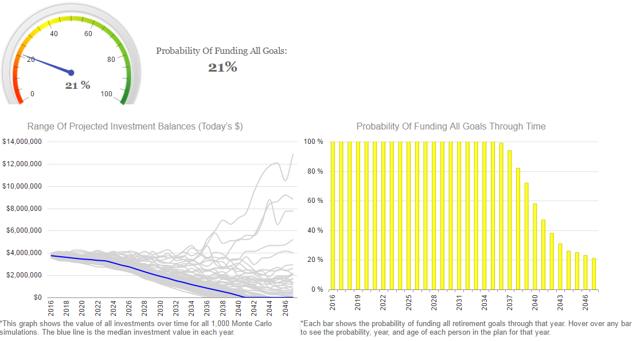 This couple simply cannot retire at age 65 with this portfolio.
How Can We Save Them?
We're going to save this couple's retirement by moving them into a basket of dividend payers like 3M. I assume they take all of their treasury bonds and move them to a basket of dividend champions that pay a dividend yield of 2.6% with a dividend growth rate of 10%.
I ran the dividend payout numbers in our free online calculator called Dividend Yield And Growth.
| | | | |
| --- | --- | --- | --- |
| Beginning Value Of Account | Ending Value Of Account (Nominal $) | Ending Value Of Account (Real $) | Real Annual Return After Taxes |
| $500,000 | $1,400,000 | $967,000 | 4.5% |
This is much, much better. Their portfolio will be nearly $1 million (in today's dollar terms) when they retire. I ran another Monte Carlo analysis and found that their probability of never running out of money leaps to 87%.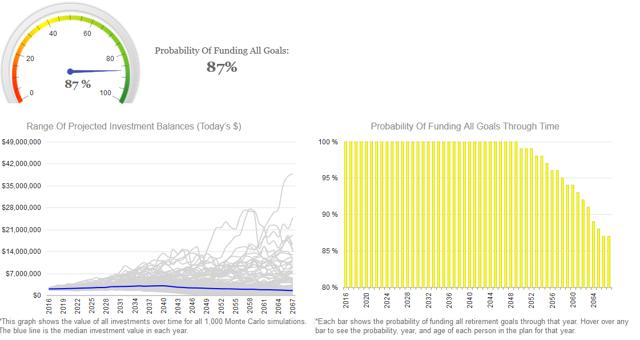 And this assumes that the dividend payers' stock prices don't even move. If we allow for a 2% increase in their stock prices per year, the probability of not running out of money increases to 93%.
Part of the reason dependable dividend-growth stocks do so well in Monte Carlo analysis is that they generate lots of income in retirement if you invest in them early enough. The income payments begin to swamp the more volatile price component of the total return, which is another way of saying that the income is covering expenses every year.
Start Investing In Dividend-Growth Stocks Early
As I mentioned, because of the time factor involved with dividend growth stocks, it is extremely helpful to begin investing in companies like 3M early on. For those already in retirement, this strategy can still be very helpful, but not as much as starting early on in life.
Disclosure: I am/we are long MMM.
I wrote this article myself, and it expresses my own opinions. I am not receiving compensation for it (other than from Seeking Alpha). I have no business relationship with any company whose stock is mentioned in this article.