Scotts Miracle-Gro (NYSE:SMG) shares are up nearly 33% so far this year. That's a huge gain for a company that basically sells gardening stuff. But by design, Scotts is benefiting from what appears to be a countrywide push toward legalizing marijuana. Expanding into hydroponics is the right move for the company, but it probably isn't going to be as big a deal as investors think based on the large price advance through the first 10 months or so of 2016.
Boring!
Scotts describes itself as, "... the world's largest marketer of branded consumer products for lawn and garden care." It has some great brands, too, selling products under the Scotts, Miracle-Gro, Ortho and Roundup names, among others. Only, when you step back from the company, it's just selling lawn and garden care products. That's not exactly an exciting growth business.
Unless, of course, you think that legalized marijuana could lead to materially higher sales. Scotts, it turns out, likes the space a great deal. CEO Jim Hagedorn recently noted that, "Two years ago, we began sharing our vision for the hydroponic category and I'm pleased that we have been able to assemble some of the best brands in the industry." Note, he didn't say anything about growing weed, but trust me, it's implied, since hydroponic techniques are frequently applied to the space (it's the reason for the term "grow house").
Two recent examples of the push into the hydroponic space include the purchase of a 75% stake in Gavita, a Netherlands-based manufacturer of lighting and related equipment for hydroponic gardening, and an agreement to acquire Botanicare, an Arizona-based manufacturer of plant nutrients, plant supplements and growing systems used for hydroponic gardening. Still no mention of weed, but clearly this push is for real.
There's no question that wide legalization of marijuana could materially change things in the United States. But what exactly does that mean, and will it really lead to a large, and sustained, business boost at Scotts? That's a lot less certain.
The problems
The first big issue for investors to consider is the idea of legal marijuana. For it or against it, it doesn't matter. The question is: how does the industry progress? I find it hard to believe that small-time growers are going to be the dominant factor here over the long haul. It's far more likely that large growers beholden to or owned by cigarette makers end up being the big players.
Why? First off, pot's legalization is being built on the drug's medicinal properties. That hints at regulation, something that companies like Altria (NYSE:MO) are already used to dealing with. Mom-and-pop growers with a few plants in the basement might find it a little daunting to tussle with the FDA. And while there are larger-scale operations in the space, they have largely worked hard to keep their businesses under the radar. Working in a more open, and controlled, environment will be harder.
Then there's the issue of scale. Altria and its peers have that, from the production of things people smoke to the distribution. If marijuana really goes mainstream, it's hard to believe the big cigarette companies won't try to muscle in. And if they do, they'll likely crush the industry's margins, something smaller players won't be able to keep up with.
The second issue to consider is Scotts' business. Take a look at the company's quarterly earnings... they look like an EKG reading. That makes sense, since growing things is kind of seasonal. But there's nothing in those numbers that suggest a huge and lasting change in the company's profitability. Could the uptick in the first part of 2016 be a harbinger of things to come? Sure. Could it just be a relatively good year? Yeah.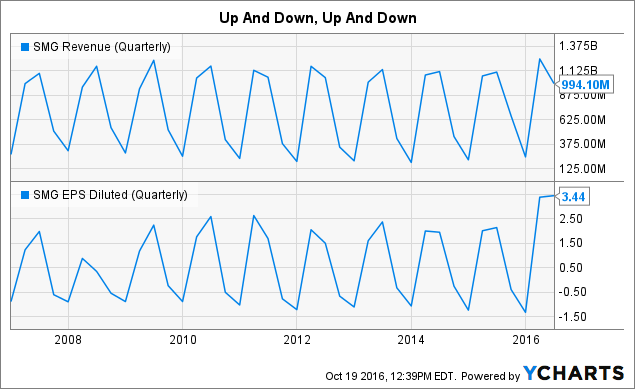 SMG Revenue (Quarterly) data by YCharts
That's part of the problem, Scotts' sales depend a great deal on the weather. Lousy weather will push sales lower, and good weather will do the opposite. Hydroponic sales should be more stable over time, since they aren't as reliant on weather. But they are just one piece of a larger business. And at this point, they are a relatively small piece. Until there's a real change visible on the top and bottom lines, it's hard to attribute Scotts' results to anything other than the vagaries of the growing season.
Now take into consideration that long-term debt made up roughly 72% of the company's capital structure at the end of April. That's a lot of debt. And it's up from 62% at the end of September 2015. So the new push into hydroponics is still in its infancy, and it is already materially increasing the company's heavy debt load. And in an industry that is highly impacted by the vagaries of the weather. A few bad growing seasons in a row and adding debt could turn out to be a misguided move, and that assumes that the push into hydroponics works out as hoped.
This story has holes
I don't want to paint Scotts as a bad company - it's not. There's plenty of reason to like it, but don't buy it just because you think it's a great way to play legal weed. Maybe that works out, but there are reasons why it might not, too. And it's just a small part of what the company is all about. At this point, Scotts looks to me like a dividend-paying story stock which comes with too many risks for most investors.
Disclosure: I/we have no positions in any stocks mentioned, and no plans to initiate any positions within the next 72 hours.
I wrote this article myself, and it expresses my own opinions. I am not receiving compensation for it (other than from Seeking Alpha). I have no business relationship with any company whose stock is mentioned in this article.