Troubled Canadian telecommunications network equipment provider DragonWave (NASDAQ:DRWI) finally announced the long-anticipated selection of its microwave backhaul equipment for network deployment by Sprint (NYSE:S) as part of the company's densification and optimization strategy:
(...)

DragonWave was selected for the combination of its dual channel capability and industry leading system gain, as well as its advanced network security capabilities. DragonWave's microwave backhaul equipment will be used as part of Sprint's strategy to significantly densify its network through the deployment of small cells and other solutions, with the goal of further improving network performance and the customer experience. Densification enables Sprint to keep pace with the growing demand for data and provide customers with more capacity and faster data speeds in targeted high-traffic locations.

(...)
Management has been hinting to the announcement for already a couple of quarters now and, in fact, just reiterated their expectations on the company's recent Q2/FY17 conference call:
We continue to believe that our revenue base in the Americas will be strengthened further when we are able to confirm a selection decision with a large existing North American Tier 1 customer. This would further overlay strong revenue probably now starting in Q4, to what is an already solid foundation in this region.
So this is by no means a surprise win, and accordingly, current analyst consensus revenue expectations for the second half of the company's fiscal year 2017 are almost 30% above DragonWave's first half top line performance. FY2018 estimates are currently calling for another 22% growth in revenues. Unfortunately, the expected top line increase will not result in DragonWave reaching profitability or at least generating positive cash flow. In fact, investors will have to prepare for further substantial losses going forward.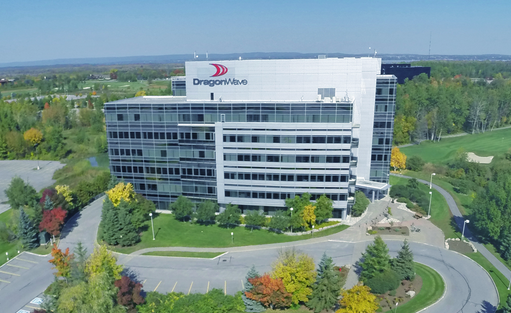 Taking a closer look at today's announcement, the lack of "meat" is eye-catching as management neither reiterates its expectations from the conference call for meaningful shipments starting in Q4/FY17 nor does it contain details on the deal. Obviously, DragonWave, at this point, has no visibility into the timing and the amount of potential future orders.
Moreover, investors should not expect favorable pricing from an equipment supply deal with one of the nation's largest wireless carriers. Sprint is actually fighting heavy losses itself and has nothing to give away. DragonWave would most likely be lucky to earn gross margins roughly in line with last quarter's 32% number despite the corporate average still being dragged down by sales generated through the Nokia (NYSE:NOK) channel.
Admittedly, despite the less-than-favorable concomitants, the announcement is still a big deal for a company carrying a market capitalization of just $12 mln (before today's news), and not surprisingly, at the time of this writing, the stock is still up roughly 60% in the late session after almost doubling initially.
It doesn't take much these days to attract the momentum crowd, and clearly, DragonWave's stock actually looks almost perfectly suited to get taken on a major ride by the fast money at least for Thursday's session, given the compelling combination of material news and a tiny float of just 5.5 mln shares.
In fact, it took actually much less for the stock to more than quadruple from similar levels within five consecutive sessions starting at the end of March. At that time, the company's share count had undergone a 1:25 reverse split in February, reducing the number of outstanding shares to a mere 3 mln. On March 30, DragonWave announced a collaboration with Mitel Networks (NASDAQ:MITL) "focused on advancing the development of 5G networking." Supported by further minor news releases the next day and on April 5, the stock peaked at $10.66 on April 6, before being brought down back to earth the next day after management wisely decided to literally grab the bull by the horns and raising some much needed fresh capital.
Since then, DragonWave has been forced to raise more cash back in August to cover ongoing large operating cash losses. Accordingly, the number of shares has increased from 3 to 5.5 mln since the stock's last major bull run discussed above.
While admittedly the share count has increased considerably, the catalyst is actually much stronger this time, so investors should prepare for another potentially outsized move tomorrow.
Should the scenario laid out above indeed materialize, expect the company to again capitalize on the move by conducting just another public offering to raise some much-needed cash to prepare for potentially required working capital increases in conjunction with the expected ramp-up in revenues over the next few quarters.
Moreover, the momentum crowd will face some major obstacles this time as the August offering included almost 5.4 million in immediately exercisable warrants at strike prices of $4.00 (3.6 mln warrants) and $4.37 (1.8 mln warrants) that will have to be absorbed first.
So with the potential double whammy of another equity offering and the exercise of a highly material amount of warrants looming, expect the shares to run into major trouble around the $4.00-4.50 level and the whole bull run to collapse with the offering announcement at the latest point.
To be fair, there's a slight chance that management will decide against another offering this time as the potential warrant exercise would provide the company with roughly $22 mln in fresh funds. On the other hand, this would result in a doubling of the share count to roughly 11 mln, making further outsized moves somewhat unlikely.
Bottom line
Expect a wild ride for DragonWave's shares over the next few sessions. Investors would be well served to remain on the sidelines at least until the momentum crowd has moved on and the dust settled as the risk to get caught flat footed by another equity offering looks simply too high. Expect the existing warrant overhang to act as an additional drag on the stock's upside potential.
Personally, I decided to take a small gamble and bought a few thousand shares in after hours around $3.40, hoping for the stock to at least initially clear the $4 mark in tomorrow's session. Almost regardless of tomorrow's action, I will dispose of the shares at the end of the session at the latest point.
Disclosure: I am/we are long DRWI.
I wrote this article myself, and it expresses my own opinions. I am not receiving compensation for it (other than from Seeking Alpha). I have no business relationship with any company whose stock is mentioned in this article.
Editor's Note: This article covers one or more stocks trading at less than $1 per share and/or with less than a $100 million market cap. Please be aware of the risks associated with these stocks.