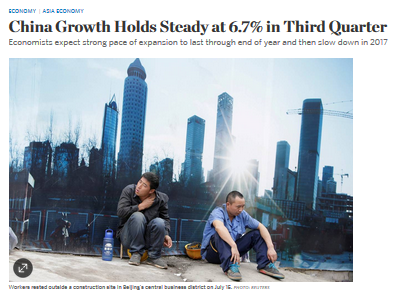 In a recent article I featured slowing global growth and a worldwide debt bomb while I suggested readers pay attention to coming economic reports, one being from China. It was released on Thursday, October 19.
While concerns are growing about China's increasing debt and risks to their financial system, its economy expanded by 6.7% in the third quarter. This was fueled by stronger government spending, record bank lending, and a red-hot property market, all adding to the growing level of China's debt. Economists see expansion continuing through the year, but slowing in 2017.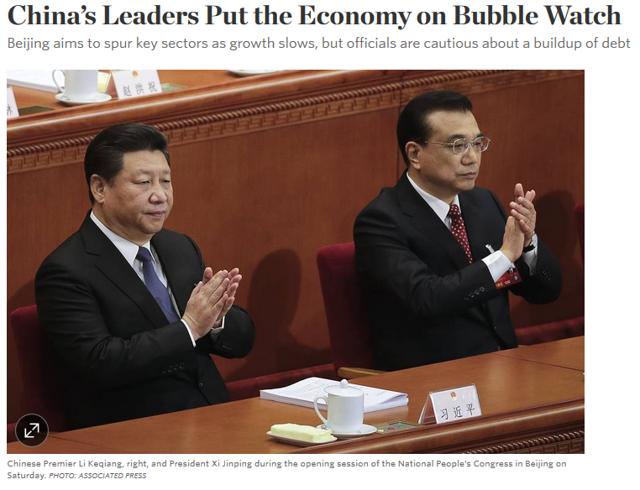 Bubble Watch
It's all about growth over restructuring for the coming year. This means massive amounts of money will flood their economy in an attempt to further stimulate and maintain growth. This policy set forth by the government fails to explain how it will balance growth with needed restructural reforms which may have to wait. The continued decrease in GDP indicates their market has become weaker in spite of massive and continuous stimulation.
The economy has grown weaker
Although a GDP of 6.7% is nothing to sneeze at, it reflects a weaker economy compared to the 2007 peak.
The Chinese economy grew at its slowest pace in a quarter century in 2015. Data released on Tuesday showed, increasing pressure on Beijing to address fears of a prolonged slowdown and ease the jitters affecting global markets.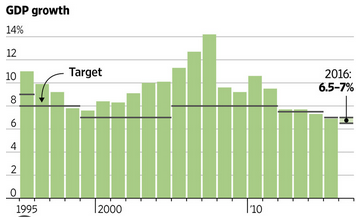 Source: WSJ
Increased Debt
Debt has increased with slowing growth since 2012.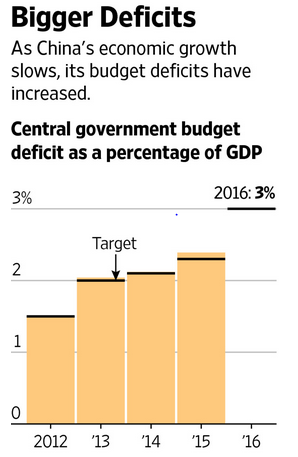 Source: WSJ
There is concern that increasing debt may exacerbate the imbalances in the Chinese economy, like those in industrial capacity and housing. There is the problem of trying to forge ahead at the risk of drifting downstream as the country tries to wean itself from decades-long dependence on investment and manufacturing.
Takeaway
Investors need to heed the growing debt problem which robs China of previously greater GDP levels. Currently and through 2016, the country is likely to meet the current GDP forecast. But in the face of neglecting internal restructuring, will growth levels continue to diminish and debt levels increase? This is a major risk, in my opinion, because the ramifications concern the health of the world's second-largest economy as it confronts high debt, weak exports and slowing investment. The real test will the first-quarter GDP. Stay tuned!
Note: Thank you for reading and commenting. You can follow my articles on SA by clicking the circle button after my name on the top of the page.
The information and data that comprise this article came from external sources that I consider reliable, but they were not independently verified for accuracy. The points of view expressed are my reasoned opinions, and not investment advise. I am not responsible for investment decisions you make.
Disclosure: I/we have no positions in any stocks mentioned, and no plans to initiate any positions within the next 72 hours.
I wrote this article myself, and it expresses my own opinions. I am not receiving compensation for it (other than from Seeking Alpha). I have no business relationship with any company whose stock is mentioned in this article.