Data Download: 10-14-2016 Weekly Petroleum Status Report
Every week after the EIA releases their Weekly Petroleum Status Report I download their updated files, consolidate them, and ultimately link them to a simple excel dashboard file which you can download for free at Excel-Data-Junkies.com. Open it up and follow along below, then let's discuss it in the comments section below. For a methodology review take a look the intro " Data Download"
Headline: Total Petroleum Stocks Down 3.6 Million Barrels
For the fifth week in a row the EIA reported a decrease in total petroleum stocks for the week with crude being down 5.2M bbls and products up 1.6M bbls. The main story this week is crude imports and product exports.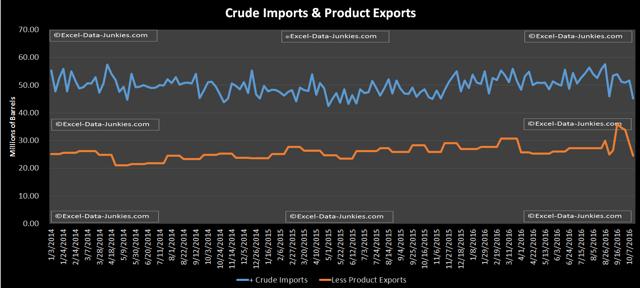 Crude imports came in at 45.3M bbls, 6.4M bbls less than last week explaining the decline. For a baseline, crude imports have averaged about 52M bbls a week over the last six months with a high of 57.5M bbls and a low of 46M bbls. It will take a few more weeks to prove or disprove, but my guess is that this is another one off caused by Hurricane Matthew. Recall that Matthew was battering the Georgia and South Carolina coast on the first day (10/8) of this report and there was a lot of uncertainty in regards to the track. It sounds plausible to me that given the timing and track uncertainty, a dozen or so tankers were diverted or delayed last week. If that's the case, we should see an uptick in our next few reports, just like we did last month with the Hurricane Hermine disruptions.
Somewhat offsetting the reduction in imports and perhaps boosting that storyline, product exports, which have been surging over the last month were also down big from 28.9M bbls last week to 24.5M bbls this week, a 4.4M bbl swing. If you net the imports and exports, you get a reduction of 2M bbl, which explains more than half of the weekly draw.
For The Bulls:
Another week, another draw, and not surprisingly the price of oil (NYSEARCA:USO) is getting close to $52. Over the last 7 weeks, total petroleum stocks are down nearly 34M bbls, and OPEC hasn't even cut a drop of production yet. If we keep shedding stocks at this pace, we can easily hit $60 by the end of the year if not sooner.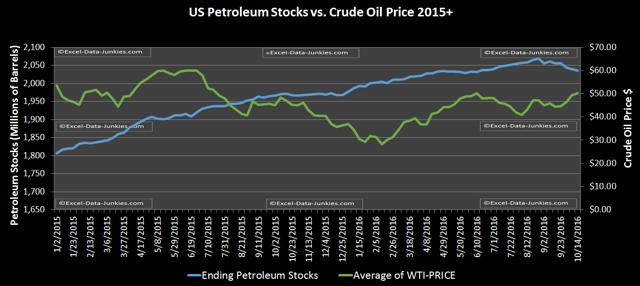 For The Bears:
All is not lost for the bears. Sure, the stock draws continue, but coming down a bit after hitting a record high 7 weeks ago isn't actually that impressive, especially since it took the help of two hurricanes and some abnormally high exports to get here. Still, while the possibility of a crash back under $40 remains possible, the probability of that scenario unfolding seems to be decreasing at this point. Take some solace in the chart below, which might just show the beginnings of gasoline demand rolling over. It is the rolling 52 week average, so it doesn't move very quickly, but keep an eye on this one if it starts heading south around the same time the OPEC "deal" starts falling apart.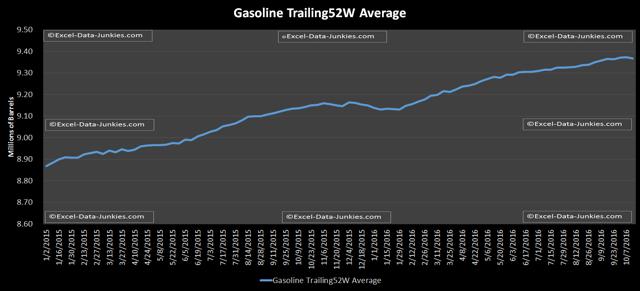 Gut Feeling:
I was wrong last week expecting weak demand to result in an inventory build and keeping oil under $50 for another week. Demand was down 7M bbls week over week, but I totally missed the timing of the imports and exports, which may or may not be related to Hurricane Matthew. We should find out in the next few reports if both rebound. In that vein I'll stick my neck out a little further and guess that over the next 2 weeks imports and exports normalize while consumption stays weak, putting an end to these inventory draws and a brake on the price of oil. I'm curious to see what everyone else thinks in the comments below.
Disclosure: I/we have no positions in any stocks mentioned, and no plans to initiate any positions within the next 72 hours.
I wrote this article myself, and it expresses my own opinions. I am not receiving compensation for it (other than from Seeking Alpha). I have no business relationship with any company whose stock is mentioned in this article.