Goldman Sachs (NYSE:GS) is a name I've been bullish and cautious on at times, most notably the latter. The landscape for GS' model hasn't been particularly great of late and heading into the Q3 earnings report this week, I was on the sidelines. However, GS exceeded my expectations and the stock is at its YTD high as a result of the strong report. After a very strong rebound in Q3, is GS finally turning the corner higher?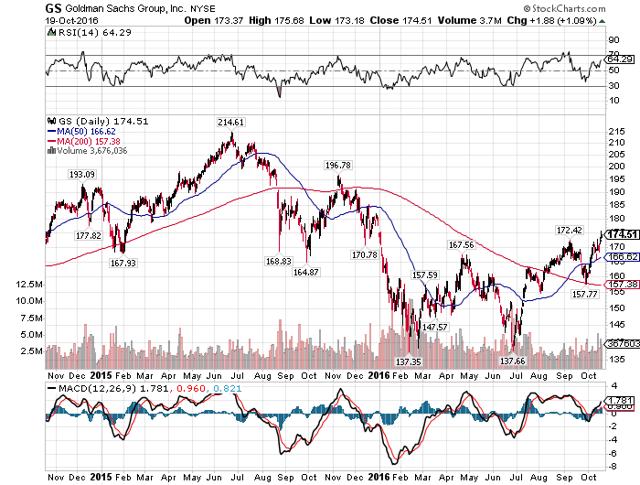 Goldman crushed estimates on revenue this quarter and while I thought we'd see a nice number, I certainly wasn't expecting a 19% Y/Y gain. The consolidated gain was huge but it was on the back of two segments as we saw lackluster results from investment banking and investment management. Those two businesses were flat and up 4%, respectively, as M&A activity weighed heavily. But given the strength of the other two segments - institutional client services as well as investing and lending - it really didn't matter.
ICS is GS' largest segment and posted a whopping 17% gain over last year's Q3. FICC, a source of much angst in the investment banking community in the past few quarters, was a superstar for GS in Q3, producing a 34% gain over last year. That gain would have been 49% except for a DVA gain that was recorded in last year's Q3. Either way, the fact that FICC is back in a big way for GS means very good things for its revenue going forward given the importance of the ICS segment.
In investing and lending, revenue doubled from last year and was up 26% sequentially as stronger equity prices as well as higher interest income produced strong gains. Goldman is also starting up its new Marcus lending program that is exclusive to customers that receive invites from Goldman to apply. Discover has had tremendous success with its personal loan program and the man running the program for Goldman was poached from Discover to do the same thing. This could end up being a real source of growth for Goldman going forward but we'll have to wait and see.
Compensation expenses were way up during Q3 because GS' compensation accruals are very closely tied to revenue. We see this every quarter and I'm not the least bit shocked compensation was up 36% in Q3 given the tremendous strength in revenue we saw. The good news is that non-compensation expenses were down 15% against last year's Q3, offsetting some of the pain from compensation expenses. GS' compensation ratio was up to 41% in for the first nine months of the year against 40% last year, but GS is having a better year so expenses are going to be higher. I'm certainly not concerned about a 100bps increase in compensation costs if it means higher revenue.
Book value was up 2.6% during the quarter as the share count was also decreased by 1.8% due to buybacks. GS generally keeps us in the dark as to how much it is intending to spend on both the dividend and buyback so GS' ability to retire shares is a surprise each quarter. A 1.8% reduction is strong and GS' share count is at a record low right now, something the other big financials cannot claim.
GS' transitional CET1 ratio was up 20bps over Q2 to 12.4%, a very strong number indeed. GS has always had plenty of capital and given that it earned so much in Q3, it is unsurprising we saw another build. That's probably going to continue to happen as it seems that whatever the Fed approved for GS, it likely isn't enough to create a capital drawdown scenario. Its SLR was also up 20bps over Q2 to 6.3% and while that's more of an average number for a large financial, it is certainly good enough. You don't necessarily want to stockpile capital because it hurts return metrics so GS seems to be in a good place.
ROE has been a sore spot for GS this year but in Q3, it was a very nice 11.2%. That compares very favorably to the YTD number of just 8.7% and could be the start of GS getting its mojo back. A sizable reason why the stock has been languishing is because GS isn't earning its GS-like ROE numbers any longer but if Q3 is any indication, those days may be in the rearview mirror. It is way too early to tell if this is a longer-term shift higher but Q3 was extremely encouraging and Q4's ROE number is going to be critical.
Despite the fact that GS has gone from $137 to $175 in just a few months, it is still only going for 10.2 times next year's earnings. That is a low multiple for GS or for any financial for that matter, and it means that if GS can keep its ROE in the double digits and continue to grow revenue, there is probably some upside potential. I'll admit I wasn't expecting Q3 to be as good as it was so I'm forced to rethink my valuation of GS. I was too cautious and GS blew it out of the water this quarter; if that continues then GS is still too cheap.
With the stock breaking out to YTD highs, it certainly seems like the door is open to buy here. I wish I hadn't been quite as cautious as I was but the facts have changed and GS looks cheap again.
Disclosure: I/we have no positions in any stocks mentioned, but may initiate a long position in GS over the next 72 hours.
I wrote this article myself, and it expresses my own opinions. I am not receiving compensation for it (other than from Seeking Alpha). I have no business relationship with any company whose stock is mentioned in this article.