The great inflation hoax
Last year at the Kansas City Fed's symposium in Jackson Hole Wyoming, papers were presented on theories of inflation creation. One finding was that inflation models and theories were not very robust. While many different models had some explanatory power there was no clear winner as an inflation determinant. In short the conclusion was that we know much less about the inflation process than we thought. This is a very disturbing finding for a central bank with an inflation target (the Fed, ECB, BOJ and BOE to name but a few). It has implications for everything central banks do… But mostly what central banks do is to carry on as though this is not true. The Fed in particular insists on offering up forecasts and telling us that it must make policy based on forecasts even in the wake of this symposium which just told us that the Fed can't do any of that very well. Now is it clearer why the Fed and its policies are so erratic?
As if the events of the last few years have not underscored that fact…
Yes, we have no inflation
Both Japan and Europe have had a hard time getting inflation up to their desired positions. But now with the pound sterling, having fallen sharply and with Brexit pounding the pound lower, oil prices rising and the U.K. unemployment rate low there is an intoxicating brew and belief that U.K. inflation will rise. At least MPC and former MPC members believe it. If inflation does rise appreciably it would be a very interesting development since inflation has not been able to gain purchase anywhere else in a G-10 economy or in EMU. Will the U.K. generate inflation pressures and prove that inflation is not really dead? Has someone pulled the stake out of the heart of the zombie-inflation process? Or will inflation pressures there emerge and eventually be restrained after a brief pass-through from exchange rates into domestic prices? Is the low inflation game up or is it still in train? The U.K. may be a proving ground to resolve this.
FX effects are magnified- Recent research has showed that market events have had outsized impact on exchange rate movements. In the U.S. the Fed's various forays into hiking rates or planning to hike rates seem have had substantial impacts on the dollar's strength and have helped bring about subsequent weakness in the U.S. economy as well as having damped inflation. There are questions about how much exchange rates are impacting growth and whether the effects have been magnified beyond simple market reactions to events. Will the UK's situation cast any light on these developments?
Shock of the…old- What the UK's situation has done is to give life to the view that inflation is coming. The dead spots for inflation in Europe and in Japan have made it appear as though inflation might be dead…but we know better... With oil prices moving higher and the pound sterling sharply lower, there is now a belief that inflation can be reignited in the UK. In the US the Hawks have been pushing the view that rates, too low for too long, will finally cause inflation there. This view has upset markets. The timing of this concern couples with rising oil prices, a coming U.S. presidential election and smells suspiciously like a contrived market event more than real inflation - which we have yet to see. But time will tell. Won't it? Is the US a trap for conventional inflation thinking or is HG Wells taking us back to those thrilling days of yesteryear when men were men and inflation was hearty?
Inflation 'disappointment'...yes, it failed to rise up- The U.S. September CPI inflation report shows core inflation rates breaking lower in both goods and services. But we are in period when inflation is supposed to be rising because of 'base' effects. That is, because inflation was low in the past. The argument is that now, ordinary inflation pressure might push the measured inflation rate up and make it seem higher - distort it- from a base that is too low. Since this effect is the largest for headline inflation I have created two charts to demonstrate this impact on the CPI (where inflation is now higher than in the PCE). At the last FOMC meeting at least one member referred to the rising CPI as evidence that inflation has reached 2% already… But since the Fed targets the PCE index that statement is false. I do not even know how such a statement got into the Fed minutes because it seems wrong-headed. Yet, some FOMC member meant to stir the pot on inflation expectations. Mission accomplished…
The first chart is the hypothetical look at the evolution of year-over-inflation in an environment where the CPI rises by 0.1% per month in all coming months.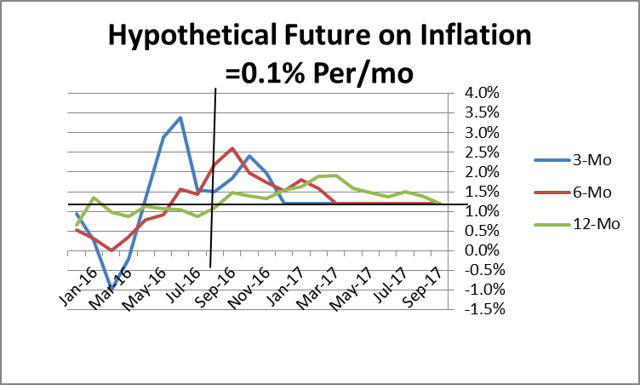 The CPI is being driven in these calculations by base effects since the monthly increases are at a steady 0.1% per month. This allows us to see how the base effects drive the inflation calculations for year-on-year gains and on other horizons. We can see that the big impact on the three-month inflation rate is behind us but the impact on year-over-year inflation will come to a peak around March of 2017.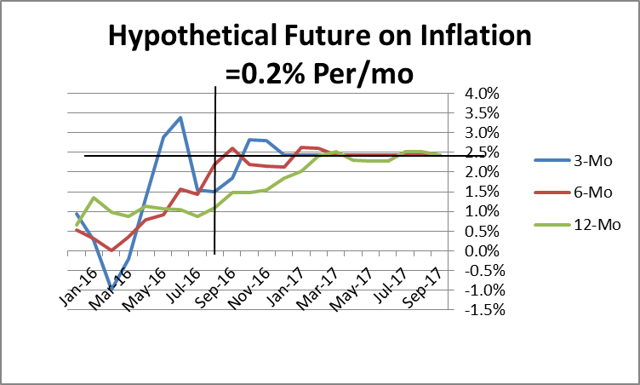 I have also done this for the CPI gains using 0.2% per month. That result is presented on the chart above. At 0.1% per month inflation is converging by assumption on a 1.2% pace. At a 0.2% per month rise the annual rate is at 2.43% pace. At a 0.2% gain we see inflation base effects acting to smooth the rise to a pace of 2.4% by March of 2017. It is less of a bulge and more of a transition with very little 'overshooting' of the 2.4% pace.
Reality will bite- Of course, in reality, inflation will not increase by the same amount month-by-month. And with oil prices rising the gain will likely overshoot the boundaries in this chart. But the point here is to reveal where and when the bulges will appear. What we see here is that these biases are not going to exaggerate inflation by that much. The notion of base distortions seems to be overblown.
Boiled in oil and hoaxed by inflation hucksters… No doubt inflation is going to bulge in the months ahead as oil prices rise. But we have seen in recent years that oil does not have the same power to seduce and to produce generalized inflation as it once did. The fear from base effects, from a period of when inflation was too low, (when interest rates remained too low), from oil prices, or from knock on effects to wages (from low unemployment), all have proved to be false alarms or hoaxes. The question is how long it stays this way? We know our knowledge of the inflation process is incomplete so please don't preach some theory to me. The Hawks on the Fed have made believers of some that the day of reckoning is nigh. But…there is no evidence. My little experiment suggests that base effects are not a concern here. Oil prices are another matter, but they have not have been generalized inflation catalysts in the recent past.
A Believer? Being honest, we know that our knowledge is limited. We think or believe or hypothesize certain things but we rarely really 'know.' That's why the old expression is this: "to forecast well, you must forecast often." Conditions in Japan and in EMU are different but in each they have prevented inflation from taking root or returning to normal. In each case there are somewhat different reasons, a shrinking population, fiscal austerity, a crippled banking system and so on. Now traditional inflation augmented by a weak exchange rate seems to be a threat in the U.K. Is that true? Is inflation really set to take root in the UK? And, what about in the US? Is the special period of ultra-low rates over? And, if so, why - what ended it? That's the rub for me. There is no catalyst for this alleged shift, so I am not a believer. Are you? The one inflation theory I do not believe in is spontaneous combustion. But I do look for something to blow up.
Disclosure: I/we have no positions in any stocks mentioned, and no plans to initiate any positions within the next 72 hours.
I wrote this article myself, and it expresses my own opinions. I am not receiving compensation for it (other than from Seeking Alpha). I have no business relationship with any company whose stock is mentioned in this article.