Capital Product Partners (NASDAQ:CPLP) is now trading down over 50% of its 52 week high of $7.65 in late 2015 at $3.11. A stock that falls to this degree warrants a closer look to determine if it may be undervalued or oversold.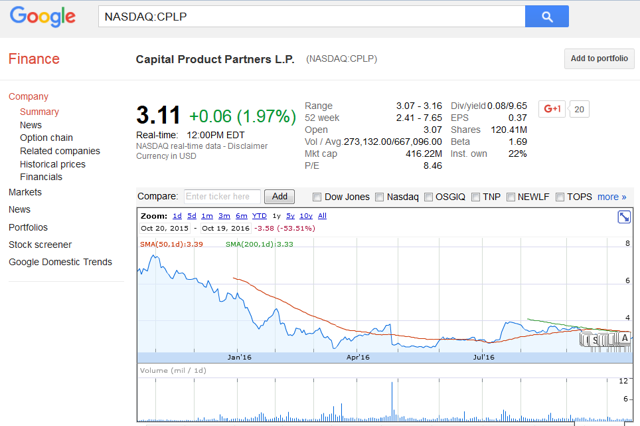 Capital Product Partners has traded publicly since 2007. It is a dividend stock with a current dividend yield of 9.65%. This makes for an attractive stock at first look.
The Graham number is a good place to start when looking for value stocks. The Graham number for CPLP using TTM data is as follows:
GTTM = SQRT of (22.5 * Tangible Book Value per Share * EPS)
Tangible Book Value per Share (TBVPS) = (Total Equity - Preferred Stock - Intangibles) / Shares Outstanding
TBVPS = (921 - 0 - 0) / 120.4
TBVPS = 7.65
GTTM = SQRT of (22.5 * TBVPS * EPS)
GTTM = SQRT of (22.5 * 7.65 * 0.37)
GTTM = $7.98
It also has a very attractive P/E ratio:
P/E ratio = $3.11 / $0.37 = 8.41
CPLP stock is now trading below its TTM Graham number. However, its next earnings statement is estimated to be released between Oct 26th, 2016 and Nov 4th, 2016. To determine if it is still reasonable to use for valuation consider the bear case of surprise earnings of zero for the most recent quarter. This drops the annual earnings to (0.00 + 0.10 + 0.08 + 0.10) = $0.28
GBear = SQRT of (22.5 * TBVPS * EPS)
GBear = SQRT of (22.5 * 7.65 * 0.28)
GBear = $6.94
This shows that even if CPLP reports no earning for the current quarter, the stock is still trading below its Graham number!
This also translates to an attractive P/E ratio:
P/E ratio = $3.11 / $0.28 = 11.11
Furthermore, the current trading price implies that the market expects an earnings loss. Assuming that the current trading price is equal to the Graham number, the Graham equation becomes:
$3.11 = SQRT of (22.5 * 7.65 * EPS)
EPS = $0.06
Hence, the implied loss would be:
$0.28 - $0.06 = $0.22
This means that CPLP could report a loss of $0.22 per share for the current quarter and trading at the current price would still be justified according to the very conservative Graham value.
This is strong evidence that CPLP is undervalued.
The above discussion was made with the assumption that TBVPS remains constant. This is a reasonable assumption as the components that comprise TBVPS (total equity, shares outstanding, etc.) have been stable and relatively unchanged over the last 4 quarters.
Looking at other indicators reveals that the CPLP RSI value recently fell below 30, where a value below 30 indicates oversold conditions. The reversal to back above 30 suggests a momentum reversal back in the positive direction. Furthermore, it has fast and slow full stochastic values of 15.62 and 15.60 respectively. Values here below 20 strongly indicate oversold conditions.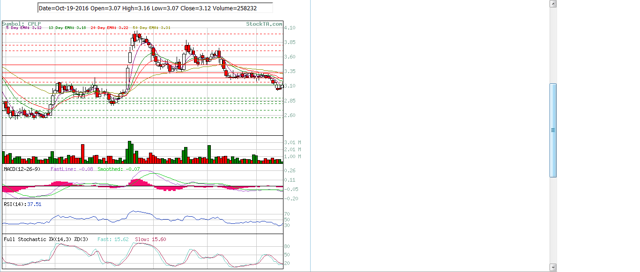 CPLP currently has an 'Overweight' rating with Wall Street analysts. At $3.11, CPLP is currently trading well below even the lowest price target of $4.00.
Conclusion
Given that Capital Partners is a stock paying good dividends in addition to that it is very possibly currently trading in undervalued and oversold conditions below its Graham number for current, bear and very bearish cases with attractive P/E ratios, CPLP appears to be offering alpha for conservative long-term deep-value investors.
Note: This article was written strictly for the purpose of 'Quick Ideas' on Seeking Alpha as a starting point for further research for investors. It is of utmost importance and highly recommended to thoroughly research and review all relevant information before investing (such as but not limited to financial strength, profitability, growth, valuation, dividends, the macroeconomic industry environment, competition, market share, company leadership & management quality, corporate governance, etc.).
Disclosure: I/we have no positions in any stocks mentioned, and no plans to initiate any positions within the next 72 hours.
I wrote this article myself, and it expresses my own opinions. I am not receiving compensation for it (other than from Seeking Alpha). I have no business relationship with any company whose stock is mentioned in this article.