Duke Energy (NYSE:DUK) is a widely held utility stock under pressure from several fronts. Major issues facing DUK include: environmental impact and litigation risk of coal ash disposal; high leverage; transformation of power generation from coal to natural gas and alternatives. Offsetting these is a history of dividend growth since 2007, and above peer credit rating of A-.
Even though Duke has closed 40 coal-fueled power plants in the past 5 years, the remnants of their once mighty position in the coal generating business is haunting the company. It is easy to find negative articles concerning DUK and coal ash ponds. A simple Google search of "Duke Energy Coal Ash" brought up 995,000 responses, with the latest concerning coal ash spills caused by Hurricane Mathew. According to information on the company's website, "coal ash has been accumulating at sites throughout the United States for more than nine decades" and its disposal is not a new issue. However, DUK's fuel mix profile favored coal for an extended time period, and the inventory of coal ash at 40 sites across the eastern US is concerning to some. Due to the coal ash issue, the sovereign-wealth fund of Norway in Sept took a position of banning investments in Duke Energy, and presumably sold its $465 million investment in their shares and bonds. DUK is not the only company to be blacklisted by the fund, as they also ban investments in 53 coal producing companies and 35 other firms whose conduct or products are unacceptable to the fund. In reality, these investments are of little concern to the overall financial health of DUK, but their ban demonstrates the level of perceived problems facing the firm.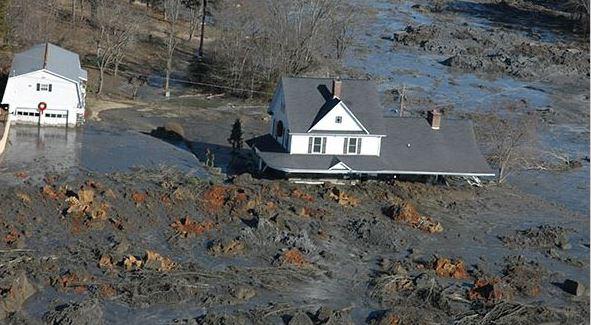 Source: watchdog.org. 40 homes were destroyed by a 1.1 billion-gallon spill of coal ash into the Emory River in Tennessee in 2008.
Since a horrific coal ash spill in 2008 in Tennessee, pictured above, regulators have been getting tough on its disposal. The projected bill for DUK to comply with current coal ash disposal regulations is between company estimates of $4 billion and environmental groups estimates of upwards of $10 billion. Similar to other government-imposed environmental expenditures, it is most likely these costs will be included in future rate increase requests, along with an allowed ~10% return on investment.
Duke Energy is not the only utility company with coal ash issues. While a bit outdated, the EPA's list of the top 44 high potential coal ash sites are owned by nine different utility companies and 18 utility companies own the top 100 coal ash sites, also compiled by the EPA. The map below identifies the location of 126 coal ash sites by generating plant in the Southeast.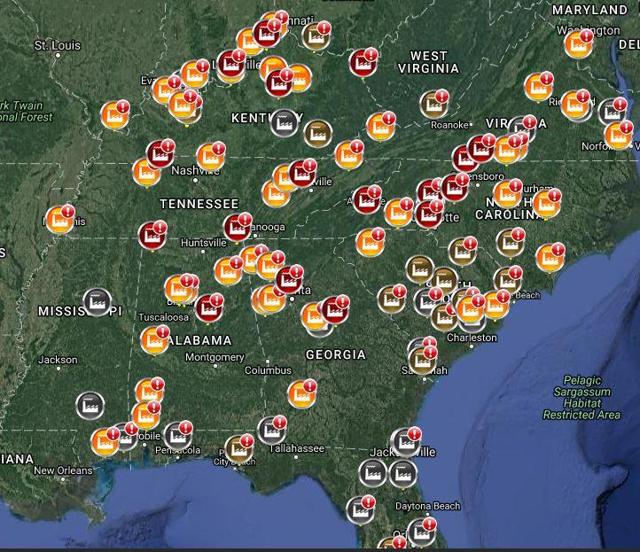 Source: southeastcoalash.org
Below is a national map of 539 coal ash sites considered as contaminated, spill sites, high hazard or significant hazard as reported in 2015 by Earthjustice.com.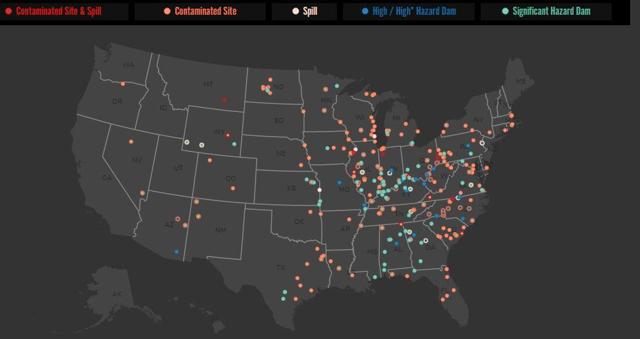 Source: earthjustice.com
Coal ash disposal remains a controversial EPA topic. Most utility websites contain some information and references to the issue. The industry trade group Edison Electric Institute EEI offers information on the latest 2015 legislative attempt to review the EPA guidelines, and is incorporated in H.R. 1734, which has passed the House but not the Senate.
While in itself coal ash exposure is insufficient to disqualify DUK as a utility stock investment, it is important for investors to research and feel comfortable with their company's legacy in coal ash disposal. As the factsheet offered by EEI states,
"EPA's decision to regulate coal ash as a non‐hazardous waste was broadly supported by the states, electric utilities, and those who beneficially reuse coal ash for transportation infrastructure and other important purposes. The decision was also consistent with decades of research and analysis by EPA, which has repeatedly concluded that coal combustion residuals CCR warrant regulation under the non‐hazardous waste provisions of the Resource Conservation and Recovery Act RCRA and not its hazardous waste provisions."
Duke Energy is rated as having a negative outlook by two rating agencies, Fitch and S&P. Below are the comments from Fitch concerning DUK's outlook:
"Key Rating Drivers

Asset Sale: Fitch views the sale of the Latin American Generation business and the associated reduction in earnings and cash flow volatility to be credit supportive. However, sale proceeds alone are not sufficient to achieve the debt reduction needed to bring leverage in line with the current ratings and business risk without further adjustments to the company's aggressive growth plan and timely capital recovery.

High Consolidated and Parent Leverage: Despite the anticipated debt reduction consolidated and parent leverage remains high. In the first full year of the Piedmont earnings contribution (2017), Fitch estimates Debt/EBITDAR will approximate 5.0x. Fitch will consider maintaining the rating if the company can demonstrate the ability to reduce leverage below 4.8x by 2019. Prior to the Piedmont acquisition Fitch expected consolidated leverage to be in the 4.5x range. The percentage of holding company debt (including intermediate holdco Progress Energy, Inc.) is also high. With the acquisition and proposed asset sale Fitch expects holdco debt to peak at about 35% in 2017 and not fall below 31% - 32% any time soon.

High Quality Core Businesses: The acquisition of Piedmont Natural Gas Co. and the announced sale of its Latin American business will complete DUK's transition to a primarily regulated business model. However, the transition was accompanied by a meaningful rise in leverage. The businesses provide regulatory and geographic diversity and relatively predictable earnings and cash flow. Each of the utilities have solid credit profiles and are well positioned within their respective rating levels. Investments in relatively low-risk contracted renewables and FERC-regulated electric and gas transmission projects round out the portfolio. The last vestiges of DUK's U.S. merchant generation portfolio were disposed of in April 2015.

Constructive Regulation: Each of the seven state regulatory jurisdictions in which the DUK subsidiaries operate is considered constructive by Fitch.

Aggressive Growth Plan: Consolidated capex is forecast to average approximately $8.4 billion (excluding Piedmont) annually over the next five years, well in excess of the $6.3 billion average spending over the prior two years. Regulated investments account for approximately 85% of the capex plan. The plan also includes investments in the Atlantic Coast Pipeline, renewable generation and discretionary growth. About 35% of growth capex is recoverable through rider mechanisms or power purchase agreements.

Pending Rate Case: DUK subsidiary Duke Energy Progress, LLC (NYSE:DEP) filed with the South Carolina Public Service Commission for a $79 million rate request in July 2016 based on a 10.75% return on equity (ROE). The rate request increase was based on a 2015 test year adjusted for known and measurable changes through Sept. 30, 2016. This is DEP's first rate filing in South Carolina since 1988. The majority of the rate request is driven by investments in major generation plant additions. A final decision is expected by January 2017. Given the level of investment by DEP and Duke Energy Carolinas, LLC, Fitch expects additional rate filings in North Carolina as early as 2017. In addition, rider mechanisms in effect in Florida and Indiana are expected to provide additional revenue increases.
Duke Energy recently announced the sale of $2.4 billion in international assets, mainly in South America. It is generally believed this will reduce the overall risk to DUK shareholders as the company trades non-regulated international assets for regulated US assets, such as the recent acquisition of Piedmont Gas.
Morningstar is upbeat on DUK with a current undervaluation of 7% from its estimated fair valuation of $84. Morningstar believes the current 5-year capital expenditure budget of $42 billion will produce earnings growth of 5.5% annually, inline with management's forecast of 5% to 6%. DUK's regulated assets generated 95% of 2015 earnings, and the divestiture of its international business along with the acquisition of Piedmont will drive this percentage higher by a few percentage points. Morningstar rates Duke Energy as 4 Stars.
FAST Graphs estimates a fair value of $69 based on 15x 2016 earning estimates of $4.60. FAST Graphs also calculates a return on invested capital of 4.2% which is about industry average. Below are their graphics: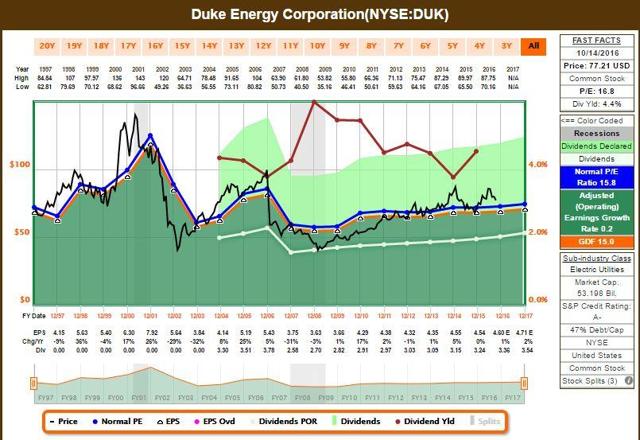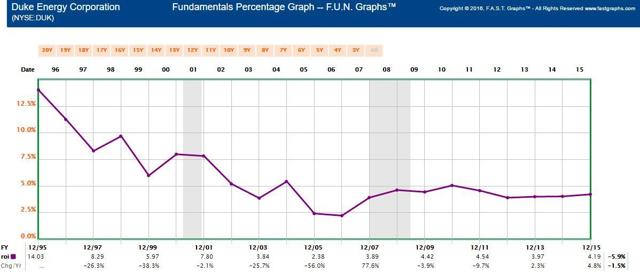 If the Democrats take control of the government after the next election, the issue of coal ash disposal could become a bigger factor in the electric utility business, especially if there is a change of heart concerning incorporation of remedial costs in their regulated rate base. This is one issue that all utility investors in companies with inventories of coal ash should be aware of.
I would take a conservative position concerning DUK and recommend a more Neutral stance. Investors need to research Duke Energy's exposure to coal ash and to feel comfortable with the risks as it may have an impact on future stock valuations.
Author's Note: Please review disclosure in Author's profile.
Disclosure: I/we have no positions in any stocks mentioned, and no plans to initiate any positions within the next 72 hours.
I wrote this article myself, and it expresses my own opinions. I am not receiving compensation for it (other than from Seeking Alpha). I have no business relationship with any company whose stock is mentioned in this article.