One year ago, the shares of General Electric (NYSE: GE) hit a 52-week high of about $29.1 following the release of third-quarter results that contributed to shore up its market value.
That came after a sustained two-weeks rally where, essentially, business fundamentals had something to do with a rising stock price, although the $2.5bn calculated bet made by Trian's Nelson Peltz turned out to be the main value-driver.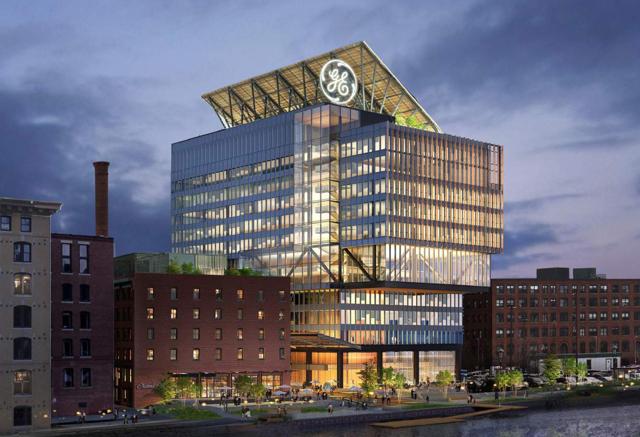 (Source: bostonglobe.com...and how to marry history with the future!)
What's next
Fast-forward to these days, and GE's stock performance reads -6% since the beginning of the year.
The world of finance can be ruthless at times; and now, just a day ahead of its quarterly results announcement, more downside could be on its way if one key financial metric -- earnings before interests and taxes margin, or EBIT margin -- does not meet expectations.
Then, another issue could be represented by the exit strategy of Mr Peltz if the activist investor decided to close his trade and wave goodbye to the GE family.
So, let's see what kind of risk shareholders actually have to face heading into third-quarter figures.
3Q Of Joy Or Pain?
In 2013, GE slightly missed sales and earnings per share targets, as the table below shows, and figures did not look pretty in the third quarter of 2014, either.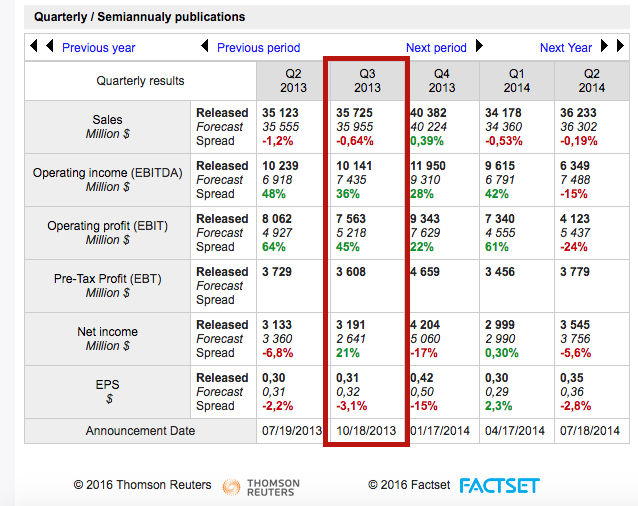 (Source: 4-traders.com)
As we moved closer to discover the New GE, however, third-quarter figures improved. In fact, while quarterly results in 2015 were a bit soft in terms of turnover, its operating income/adjusted operating cash flow performance was respectable, and it also beat bottom line estimates.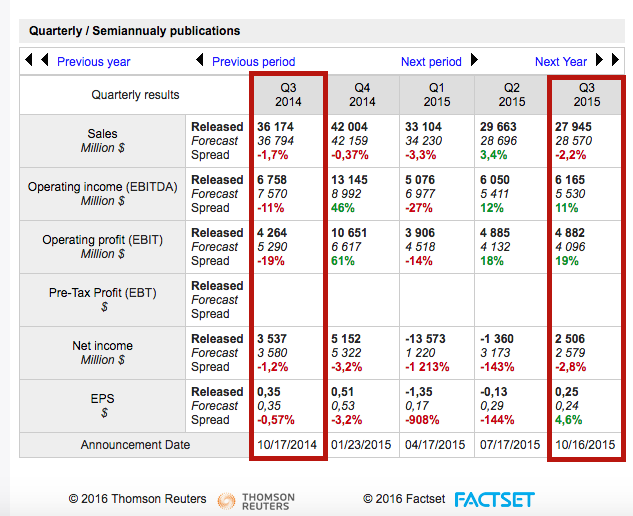 (Source: 4-traders.com)
What's next is anybody's guess, of course, but GE's top-line and margins aren't too difficult to model at least through to the end of this year, and analysts have penciled-in about $30bn of revenues in the third quarter, which is a reasonable assumption, as well as $30.5bn of sales in the third-quarter of 2017 -- this is where the similarities end. In fact, the big difference year-on-year resides in operating income and adjusted operating cash flows, which could surge by over $1bn year-on-year, despite flattish revenues.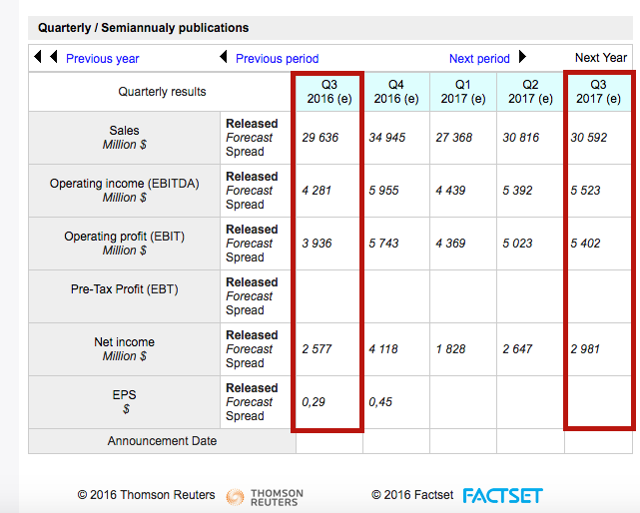 (Source: 4-traders.com)
Unfortunately, in the second quarter this year, revenue were higher than expected, but operating profits and net income were significantly lower than consensus estimates. Another element that GE investors ought to track closely is its industrial backlog of orders, which was mildly disappointing in recent times.
As execution risk heightens, GE executives must deliver based on forecasts that imply an EBIT margin at 17.7% for Q3 next year, against 13.1% in the current quarter. In short, it will need to find 460 basis points somewhere. But where?
Strategy
GE is betting that efficiency measures, targeted investments in more profitable units, digital innovation and Alstom-related synergies will do the trick.
It aggregate EBIT margin, assuming total revenues of $90bn in the first nine months of the year, hovers around 13.5%, so most of 'margin risk' could be on the level of profitability that GE will have to hit in the fourth quarter, when it will just have to repeat its last year's performance to push up its EBIT margin to 14.4% for the year.
That implies total revenues of about $125bn, and annual EBIT of $18.1bn.
I think it's fair to say that since GE moved into its temporary headquarters in Boston, the real story of the new GE could be just about to start, given its very ambitious targets for underlying profitability within a year.
Focus
Chief executive Jeff Immelt was recently quoted by the Bangkok Post as saying that:
In the industrial internet, the assets really matter. The knowledge of a jet engine, the knowledge of a gas turbine, the knowledge of a MRI scanner. The knowledge of the vertical space really matters. Our strategy is to go from the asset to the enterprise. So we need to be good in software. But we are trying to play in the unique space we have of being both a vertical and a horizontal company."
What that means in terms of execution and risk/project management, I am not entirely sure -- but the next few quarters will likely shed a light on the real effects that its digital strategy will have on its financials.
Because at a time when the corporate focus in many industries is on the Internet of Things (IOT), and as IoT is expected to revolutionize supply chain management even in the logistics world -- this space is traditionally a hard nut to crack when it comes to innovation, particularly in digital activities, in my experience -- GE is looking at ways to boost its performance while reducing costs with IoT. How cool is that? Will IoT be responsible for a significant expansion in margins within less than a year? Because then, some unrealistic fair value assumptions may end up to the true.
In this context, it might be too early to predict whether GE would actually manage to make billions with Predix, its cloud-based operating system for industrial applications, but the opportunity is huge -- hard to quantify, true, although a few observers agree that the New GE could seriously disrupt the industrial world.
Take supply chain management solutions, for example. GE has the capability to team up with most global leaders here, and it could benefit from steep growth rates in spending.
(Source: Bloomberg)
We'll see how this one goes, possibly as soon as Friday, when its trading update will be released before the bell rings.
Exit
As a possible side issue, it remains hard to predict the exit strategy that Mr Peltz has in mind. This is a nuisance perhaps, but in 2015 the announcement of the purchase of a stake in GE conveniently anticipated the release of third-quarter figures, boosting GE's stock price well above what I determined to be the high-end of fair value estimates at the time.
Inevitably, its intrinsic value also hinges on Mr Peltz's decision: so, is he staying or is he going? If the billionaire jumps ship, and the book-building process is arranged the usual way by the brokers, about 90 million shares will have to be allocated, which would likely dilute shareholders' returns.
The average length of stay in an investment is five years," Mr Peltz told Forbes earlier this year, without discussing his plan with regard to GE specifically.
Well, four more years to go, maybe. By then, I hope I'll have found a decent entry point.
Disclosure: I/we have no positions in any stocks mentioned, and no plans to initiate any positions within the next 72 hours.
I wrote this article myself, and it expresses my own opinions. I am not receiving compensation for it (other than from Seeking Alpha). I have no business relationship with any company whose stock is mentioned in this article.