Tractor Supply's (NASDAQ:TSCO) Q3 report seemed unlikely to cause much in the way of fireworks. The company already had disclosed preliminary Q3 results ahead of a conference in early September; the company's updated guidance for another negative comp - its third in four quarters - sent shares down nearly 17%. TSCO touched $65 on Tuesday, a 2-year low, before climbing ahead of Wednesday afternoon's report.
I'd expect another decline Thursday, as what news there was on the Q3 conference call didn't imply much optimism for 2017, in particular. 2017 estimates will have to come down sharply, given commentary on the call. Meanwhile, implied guidance for Q4 still looks a tad aggressive, which leaves me relatively uninterested in trying to catch a long-term bounce.
I do like the long-term story here, even if I did whiff on the stock near $90, and a sub-20x multiple might look attractive given existing whitespace, an interesting acquisition, and the continued strength in the core business outside of energy- and agriculture-impacted regions. But, particularly after Q3, I don't see much reason to jump in.
What Happened?
Tractor Supply management made a clear effort on the Q3 call to assign much of the blame for recent weakness to lower oil prices and lower farm income. And there is some evidence to support that theory. Stores in the West grew same-store sales above 5%, with a newer base improving after somewhat disappointing initial results; in the Southeast, the figure was ~3%. But 25% of stores are directly impacted by weakness in either oil and/or agriculture (and ranching), and that weakness read across to "big ticket" items, in particular, where comps were down 4.7%. Cold-weather sales were down as well in the Northeast.
So there's an argument that this is just a bump in the road. Traffic was still up - albeit just 0.5% - and the core "C.U.E." (consumable, usable, edible) business still seems strong. CEO Greg Sandfort cited the election as a possible overhang, and noted that surveys suggested consumers had become "more conservative" in their spending: "they are buying absolutely what they need at the time that they need it."
I do believe there's a risk of throwing the baby out with the bathwater here. Sandfort insisted that there was no change on the competitive front, in terms of lost share. Recent analyst commentary has suggested some weakness in merchandising, but I have a hard time believing that TSCO's relatively long-tenured management team suddenly forgot how to run a retailer. The model here is based on being a "needs-based" retailer, and on that front it seems like Tractor Supply still is succeeding. It's simply not getting the incremental sales that in the past made TSCO one of the best comp stores in all of retail - and certainly, macro headwinds are a part of that weakness, and likely a significant one at that.
The question, however, is to what extent the big-ticket/non-CUE weakness is a purely cyclical phenomenon. I've argued strenuously, and repeatedly, relative to oil bust-impacted Stage Stores (NYSE:SSI), that treating the decline in O&G employment as a cyclical low ignores the fact that early decade strength wasn't a cyclical high, but in retrospect a bubble (or at least close). Rural/ag-focused economies haven't been strong demographically or economically for years, even before the current decline in farm income (which is in its third year).
Looking at TSCO comps over the past nine years, it certainly looks like a cyclical decline: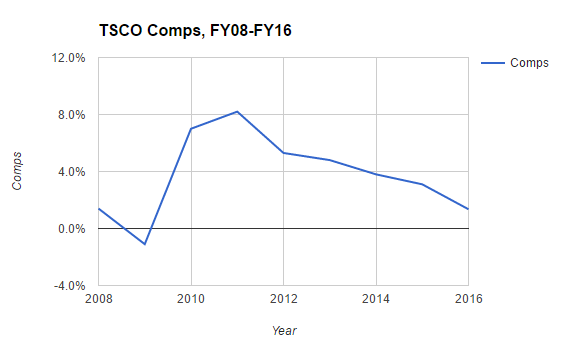 Source: author from TSCO filings; 2016 at midpoint of guidance for 1.0%-1.7%
But if you smooth out the curve somewhat to account for bubble-era help in 2010-2013, and perhaps add ~100 bps to 2016 results (and ~half that to 2015 figures), there's a rather steady decline. TSCO has averaged 3.8% comps over the period, in line with its long-term targets of 3-5% annually, but on a net basis the help from ag early in the period and elevated O&G employment (and mineral royalties) still seems likely to have been positive over that period.
Obviously, the market has retreated from pricing in those targets, already, given the steep decline in shares so far this year. But Tractor Supply doesn't have much of an answer at the moment for demand weakness, other than to do a little more of what it does a little better. For the 75% of the base not impacted by oil or agriculture (at least directly), the economy shouldn't be that bad; and backing out big ticket, it still looks like comps were flattish at best. If the sales deceleration isn't purely cyclically driven - and I don't believe that is - then it's not only that long-term growth targets come down. The whitespace for getting to 2,500 locations (from a current 1,575) shrinks. The room for error at stores with unfavorable demographics (rural residents skew older) or local economies narrows. And there isn't the same reason to price in a rebound starting in 2018 - which, given commentary on the call, appears the earliest to expect an inflection point.
The (Unofficial) 2017 Guidance
Meanwhile, Tractor Supply management, while not giving official guidance for 2017, made a clear effort to lighten expectations for the analysts on the call. Consensus is at $3.63, implying 12% year-over-year growth from the midpoint of 2016 guidance, but that figure intuitively seemed aggressive heading into the quarter and almost certainly will come down coming out of the report.
The issue is that TSCO's fiscal 2016 has 53 weeks, which the company has estimated provides a $0.05-$0.06 benefit. That aside, the Street was looking for ~14% year-over-year growth, an aggressive projection given that there's little reason to expect much improvement in energy-producing regions. (Farm income, obviously, is more difficult to predict.)
But CFO Tony Crudele also projected a $0.07-$0.08 increase in incentive-based compensation, a jump that doesn't appear to have been incorporated into most Street models. (That compensation also is expected to be more "normalized" in Q4, which appears a risk to that quarter: implied guidance even excluding the extra-week benefit suggests a nearly 7% increase in EPS year-over-year.) In the Q&A, JPMorgan's (NYSE:JPM) Christopher Horvers clarified the directional guidance, asking if consensus needed to be pulled down to $3.45-$3.50 to account for the 53rd week and the incentive comp; Crudele didn't appear to disagree, and also suggested that hitting the 3-5% target would be "difficult." That seems to require lower revenue projections for 2017 as well.
So Tractor Supply still is aiming for double-digit growth - which would imply ~$3.56 or so in 2017 EPS - but given the dual headwinds to the year-over-year comparison, that might be difficult. And given the change in the 'story' here, I'm skeptical that the market will be willing to give a 20x+ multiple to earnings next year barring some sort of change in the business. Unless the weather cooperates that seems unlikely and the current "big ticket" weakness portends a bit of a problem on that front. A cold snap might help in heating sales - but it might also dissuade traffic. And any improvement in farm income and/or oil & gas seems unlikely to show up until Q2 at the earliest.
Valuation
I'm curious to see how the market responds to TSCO in trading Thursday; shares were down 2%+ after-hours after a 3% gain in the regular session. If TSCO opens flattish, I'd consider making a small bet in the options market on an intra-day decline; shorts may jump on the weaker news and mid- to long-term bulls might step back ahead of a still-dangerous Q4 and little in the way of a catalyst that justifies trying to catch what has become a bit of a 'falling knife.'
Again, I still do like the story longer-term, for the most part. Tractor Supply drives a loyal base, it doesn't have a competitor at scale in much of its business, and it has more protection from e-commerce than most U.S. retailers. I don't think growth is off the table, and a mid-teen((ish)) multiple certainly would look attractive. A price under $60 doesn't seem out of the question at all over the next six months, whether out of Q3 or Q4, and depending on performance and 2017 guidance that could be very tempting.
Near-term, however, the numbers don't look particularly strong, and I'm not sure TSC provided much confidence in terms of a specific plan to combat the current weakness. Sandfort compared the current situation to the recession of 2008-09 - but I'm not sure the two environments necessarily are the same. If they're not - and if TSC might face more significant cyclical weakness down the line - that's a big problem for the company and the stock. Time will tell, of course; until then, I think TSCO may struggle.
Disclosure: I/we have no positions in any stocks mentioned, but may initiate a short position in TSCO over the next 72 hours.
I wrote this article myself, and it expresses my own opinions. I am not receiving compensation for it (other than from Seeking Alpha). I have no business relationship with any company whose stock is mentioned in this article.
Additional disclosure: Any short trade would be a small, short-term, option play.