Kinder Morgan (NYSE:KMI) announced third quarter earnings after the bell yesterday and it proved to be packed with information for shareholders. I was actually expecting Kinder Morgan to post a beat on this earnings report, however certain non-cash charges caused the bottom line to see weakness and lower volumes, across a majority of segments, caused the top-line miss. The company did make progress on debt reduction, however, which may enable a dividend increase as early as 1H17.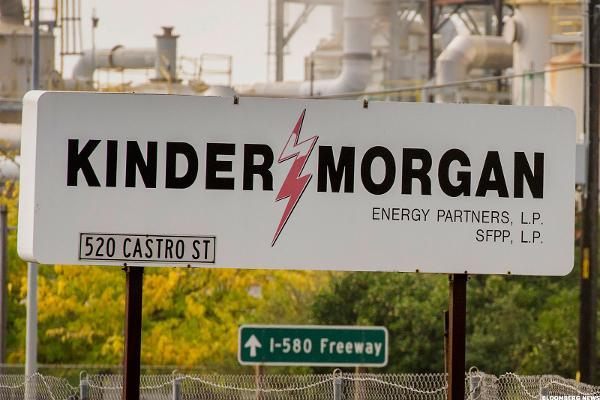 Source: The Street
Earnings Miss
The initial reaction to investors was that the company had both a top and bottom line miss against relatively YOY expectations. The company missed by $0.26 in EPS and missed by $120 million on the top-line. However, as I said last week, this is hardly the concern of investors. The focus remains on the potential for expansion, debt retraction, and dividend efficacy as it relates to distributable cash flow.
There were some very important pieces of information that were released during this earnings call that investors need to know. First, the significant debt reduction. Naturally, fears over KMI's debt are valid. The company has still an incredibly high debt level, but the point needs to be made that the company is actively reducing it and not ignoring the problem anymore. The company explicitly stated that the company is on track to meet their 5x net debt/adjusted EBITDA target and will likely end the year at 5.3x, down from their original guidance of 5.5x, which is largely a positive considering the magnitude of the debt.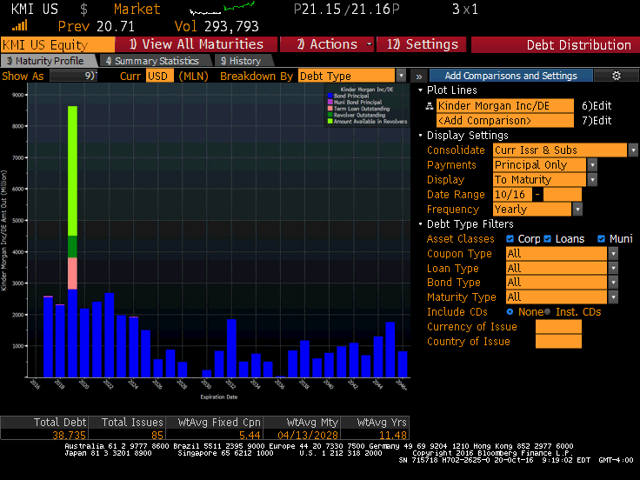 Source: Bloomberg
What was interesting about the debt progress was the somewhat contradictory statement that the company wants to use excess cash to pay out higher dividends. Now, the dividend for this quarter hasn't been altered as it has been kept at $0.125/share, but the forward-looking dividend is slated to increase by at least a few percentage points in 2017, although the company lacked to release specifics. I'd say this projected dividend increase is complemented by the company's 9% increase in gas demand YOY, a positive sign that the environment is seeing a bit of recovery. The company's main point for raising a dividend is that they've generated $2.5 billion in distributable cash flow YTD above the dividend expense, thus allowing them to have room to increase the payout.
Let's think about the dividend in terms of cash flow. Previously, I've talked about how important it is for this company to crack the $2.00 dcf/share statistic, as it sets the stage for long-term dividend increases and sustainability. Most street expectations for this full fiscal year is that the company will fall short of the level by about two cents.
The company posted distributable cash flow of $1.05 billion during the quarter. Unfortunately, this is about $0.47 dcf/share, which on an annualized basis is about $1.88 dcf/share. Now Q3 doesn't speak for the year, so an actual YTD basis, the company has produced $1.505 dcf/share, which means the company is averaging about $0.50 dcf/quarter. If it can continue this average through Q4, then it will hit the mark. This remains a major hurdle for the company to surpass. If the company could increase distributable cash flow such that the dividend is restored to even a higher percentage of the previous dividend or even be on track for a 15-20% medium-term growth rate, the company would be in good shape. Below are multi-year growth rates for the dividend.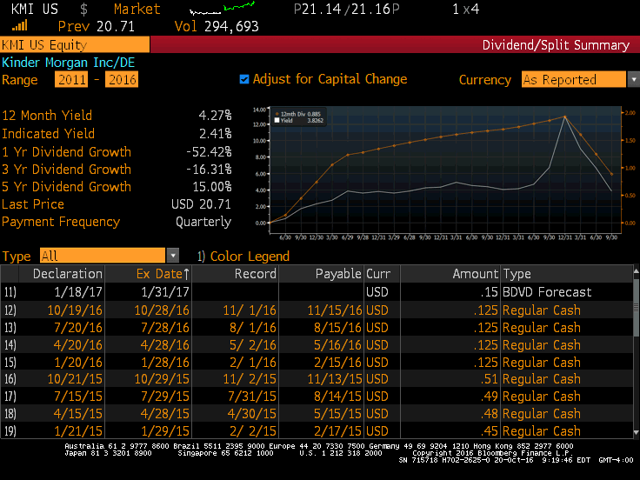 Source: Bloomberg
Another important element of this call was that the company dropped the backlog about $500 million. This is one of the lower backlog drops in the last twelve months, but nonetheless shows the company's continued focus to high-grade projects. At $13 billion, the backlog does represent significant opportunity and could really unlock medium to long-term shareholder value.
Perhaps after the Trans Mountain Pipeline Extension project is fully approved and built can portions of this backlog be realized. Interestingly enough, the backlog actually didn't see a retraction. The company, instead, put $600 million worth of projects online (notably a Texas pipeline extension) and then added just under $200 million worth of projects to the backlog, with the strong majority of those being natural gas focused.
CO2 Remains
I was really hoping that the company would at least consider divesting portions of the CO2 segment this quarter. Perhaps I was asking too much and according to the company, the CO2 segment is performing just fine.
"CO2 is down $53 million year-over-year due to lower prices $62 barrel realized versus $74 in the third quarter of last year and lower production. Nevertheless we expect CO2 to make plan due to some price improvement versus our plan price and good performance on cost savings for that segment."
Yet, when CFO Kim Dang took over the call, she noted there was a negative impact on the top-line of $377 million due to unrealized CO2 mark-to-market and hedging. In light of the top-line miss for the quarter being just a third of this, it is surprising that the company continually addresses the CO2 business in a positive light. In future quarters, I'd really like to see this segment addressed head on for the actual challenges it is creating for the company.
Q4 Performance Projection
This is perhaps one of the largest events for Kinder Morgan remaining this year. However, I will say that investors should be looking to the government's decision on the Trans Mountain Pipeline Extension (TMEP), as CEO Steve Kean said last night,
"We have our NEB recommendation finding the project to be in the public interest and the federal government has undertaken its further consultation process with the objective of a final decision in December of this year."
Source: Earnings Call
In line with this is that growth capex has been reduced by about $100 million, so while I'm not thrilled to see that the company is leaning out its future prospects, it's better than a far more substantial reduction. I am looking forward to seeing TMEP be realized and cause a significant boost in dcf attributable to shareholders. Switching gears, I think one thing that is critical to note about this quarter's performance is that KMI won't be a tax-loss sell-off candidate come December. Last year, this wasn't the case as shares sold off heavily.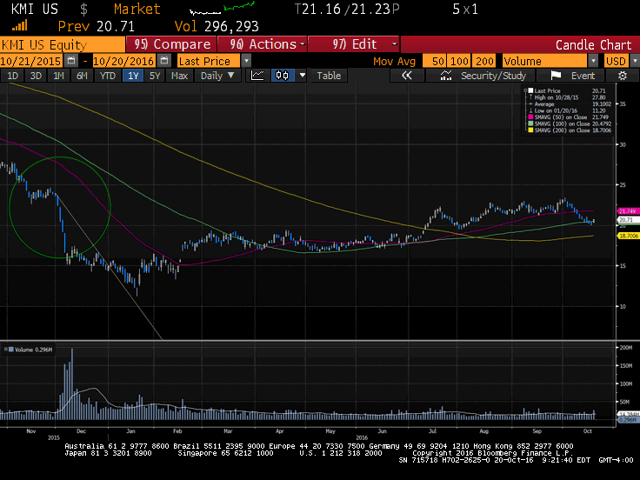 Source: Bloomberg
Whether or not KMI can replicate the near 24% gains in Q3 remains to be seen. Commodities have increased heavily in the last few months, so they may be temporarily out of steam. I expect a modest increase for KMI, but that could be aggravated upward by full approval for TMEP.
Conclusion
After the earnings call took place and investors could actually fully digest the call, we saw shares react positively. The headlines that read "Kinder Morgan misses earnings" were not encompassing of the entire story. The company noted on the earnings call that they are seeing increased demand from LNG exporting and from Mexico, which hopefully can show more of a positive effect on future earnings reports. While I expect natural gas volumes to show more strength this quarter in light of higher E&P output due to greater pricing strength, KMI needs to stay disciplined, reduce debt and hit their distributable cash flow per share target to keep shareholders happy.
Disclosure: I am/we are long KMI.
I wrote this article myself, and it expresses my own opinions. I am not receiving compensation for it (other than from Seeking Alpha). I have no business relationship with any company whose stock is mentioned in this article.